Many policy makers and educators ask how the United States will prepare its citizens for the challenges of the 21st century. To get to the root of the answer, we first have to ask:
How well we are preparing our children to succeed in school?
Are children entering kindergarten ready to learn?
Do we have an early education system robust enough to prepare all children, regardless of their backgrounds, for success?
These are the questions that a task force composed of interdisciplinary researchers from Brookings and a number of universities has attempted to answer. Their report—The Current State of Scientific Knowledge on Pre-Kindergarten Effects—describes the issues and challenges surrounding pre-k program design.
What do we mean by "pre-k"? The authors explain that state-funded pre-k programs cannot be considered a single approach to preparing children for formal schooling. Rather, "pre-k is better conceived as a funding stream that supports many widely divergent practices in different settings, with teachers who have experienced different types and amounts of preparation." Combine this inherent variety with the approaches of Head Start, special education, and child care, and pre-k programs demonstrate wide differences in structure and impact.
In this series, we will summarize the report's key points and findings. The authors began by examining "The Current Landscape for Public Pre-Kindergarten Programs." They found:
Nearly 60 percent of all children aged 3-5 years who are not yet in kindergarten attend center-based preschool, including publicly-funded pre-k, Head Start, and private preschool programs. The remaining 40 percent are either in home-based child care arrangements with relatives or other non-parental care providers or only in parental care.
The current system is a mix of public and private provision for services, and, in many cases, multiple funding sources may support the individual care of children. In detail,

Just over 50 percent of providers are affiliated with non-profit organizations, and one-third are operated by for-profit organizations, and the remainder are operated by government agencies.
30 percent of providers are publicly-funded and 30 percent are privately-funded, while 36 percent mix the two funding sources. The funding mix can be complicated: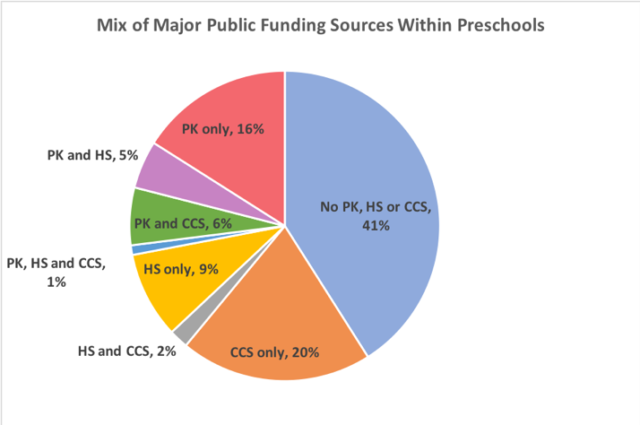 Eight states have no publicly-funded pre-k, and another 10 states serve less than 5 percent of all three- and four-year-olds in their jurisdictions. Typically, far more four-year-olds are enrolled in pre-k programs of all types than three-year-olds.
Many programs target children from economically disadvantaged backgrounds; Head Start and child care subsidies are directed toward such children. That said, there is still a significant disparity in rates of enrollments between children from low- and middle-income families and those from higher-income families.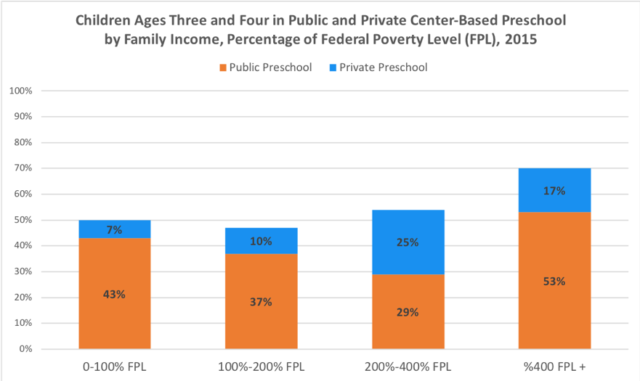 Naturally, these statistics show great variation between states. Evaluating what leads to quality in pre-k, therefore, is a complex undertaking: the authors write, "The extent to which there may be no 'one thing' that is public pre-kindergarten can make it difficult to learn lessons about effective designs and their impacts on children nationally. Still, it is critical that these discussions take into account many basic features of program design and what exists now."
Tips for Parents
How can parents put this information into action?
Pre-K matters. We know you're busy and the time moves quickly. But finding a pre-K program for your child can pay off.
Finding the right program may take work… but it's worth it. If the first program you find doesn't seem right, feel confident in asking if that program's leaders know of other options. They likely will.
Don't get discouraged. Easy to say, we know. But particularly for lower-income families – or families where English might not be the first language – entering children in pre-K programs can bring extra benefits.
If your state doesn't have publicly-funded pre-K programs, search for local programs funded through non-profits. Reaching out to local education non-profits for guidance can be a good place to start.