To complete our series on the Brookings Institution report "The Current State of Scientific Knowledge on Pre-Kindergarten Effects," we look at chapters 9-11.
In chapter 9, "The Promise of Preschool Education: Challenges for Policy and Governance," the author notes that there is no "standard" pre-k model across the United States—in fact, there isn't even a standard definition for pre-k across states. Different states use different combinations of program funding sources, each with their own requirements, and they follow different administrative models. For example:
Eight states offer no pre-k programs at all.
Of the 42 states and the District of Columbia that do offer pre-k programs,

10 states serve less than 5 percent of the three- and four-years-olds in their states.
3 states serve at between 25 and 50 percent of the three- and four-years-olds in their states.
7 states and DC serve more than 50 percent of the three- and four-years-olds in their states.
Half of these states (and DC) target their programs to children from low-income families; half do not.
Other differences: some pre-k programs are half-day while others are full-day; some are housed in public schools while others are in community centers; they set different teacher qualification standards; they offer different curricula; and they use different standards to measure program quality.
The bottom line, the author explains, is that it is difficult with such variety to truly understand which programmatic aspects of pre-k should replicated, strengthened or modified to increase the effectiveness of pre-k programs on school readiness. He calls for more research to help policymakers answer these questions.
Chapter 10, "Financing Early Childhood Programs," surveys the current (as of 2015) federal and state spending on child care and pre-k programs. It notes that, according to the Urban Institute, "between 1960 and 2010 federal spending on children as a share of all federal spending increased in most years and over the period increased from 3.2 percent to 10.7 percent of federal spending," but since 2010, spending on children has fallen from 10.7 percent to 7.7 percent, or by nearly 30 percent of total federal spending," and this trend can be expected to accelerate. Given states' dependence on federal grants, state spending on pre-k has shown a similar pattern, although some states have been able to increase the pre-k spending.
The author conservatively estimates that a nationwide universal one-year pre-k program would cost an additional $8.78 billion per year, and he concludes with some recommendations about advocacy for funding.
In Chapter 11, the authors argue that stakeholders need to re-frame their knowledge about early childhood development in order to "produce a fresh, relevant, and constructive agenda for public action." Rather than debating the best setting for pre-k or the best targeting strategy, the discussion should begin with an understanding of what children need at different stages of development: with scientific evidence as a basis,"[w]e should be seeking to identify how children can obtain equitable and high-quality care and education whether they receive it in their own family or relatives' homes or in public and/or private settings."
As America's economy, social needs and demographic trends have changed over the decades, the American educational system has changed as well, and early childhood education is a relatively new focus. The question is how to ensure that this area receives the necessary support from stakeholders—policymakers, educators, funders and families, not all of whom have always been fully engaged in design and operation of early childhood education programs. The authors propose a comprehensive, "Four Diamond Model for Improving the Quality of Early Education and Child Care" (see diagram) that incorporates measures to strengthen the home environment, integrated with supportive educational structures, situated within a favorable political and economic climate, i.e., a comprehensive process in which all stakeholders actively participate.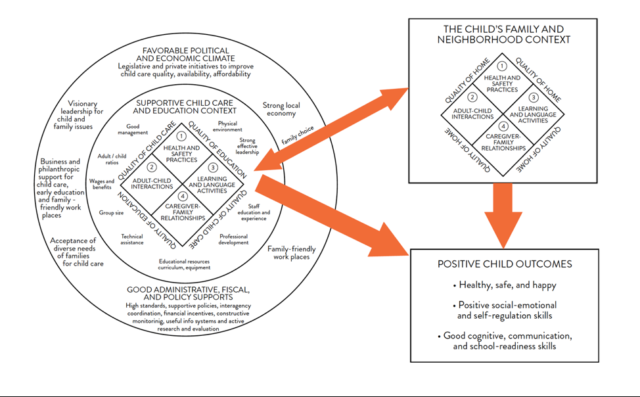 The authors propose that this model is achievable, and that it would be a significant break from past well-intentioned, but incomplete, efforts to improve the early education and child care system. Combined with a system of continuous assessment and improvement, stakeholders can create a high quality of support for children and families.