Education Week reports that corporal punishment still occurs in schools and, shockingly, even in pre-K. "Nineteen states permit corporal punishment, and the federal Civil Rights Data Collection has for some time collected information on how often K-12 students are spanked, paddled, swatted, or subjected to other forms of physical discipline in schools. Students ages 3 to 5 who attend public preschool programs were for the first time included in the latest data collection, which is based on the 2015-16 school year."
The Education Week Research Center's analysis of the data showed that just under 1,500 children, out of a pre-K population of 1.6 million, were reported as experiencing corporal punishment. This is a very small number, but it is still a concern that corporal punishment is legal at all, never mind that it is used on children aged 5 or younger.
The data broken out by race shows that white children, who are 47% of the pre-K students at schools that allow corporal punishment, received 54% of those punishments. For black children, those same figures are 19% and 22%; for Latino children, they are 29% and 10%; for Native American children, they are 1% and 9%; and for other races, they are 9% and 5%. Conversely, when it came to suspensions from pre-K, black children were 42% of those suspended, while white children were 30%, Latino children were 22%, Native American children were 1%, and children of other races were 6%.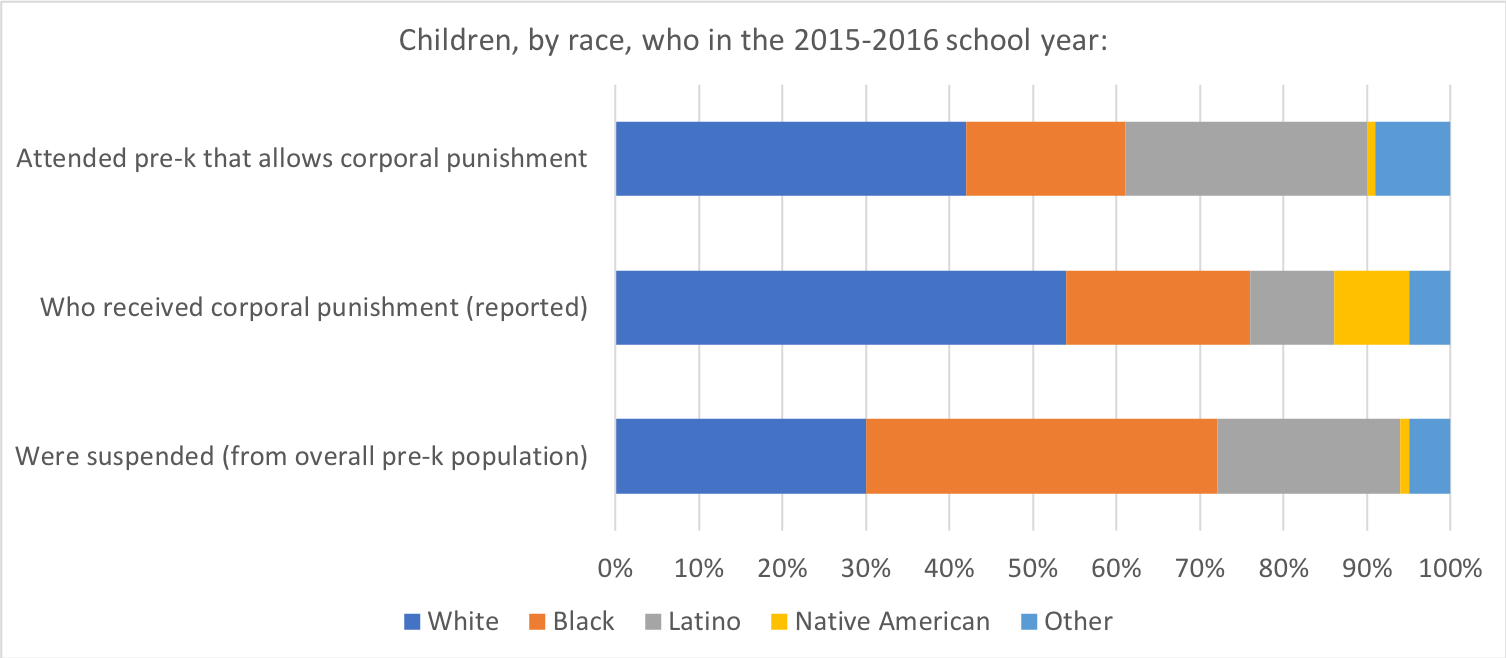 Education Week does note that "the data also contain puzzling numbers that cast doubt on some conclusions." For example, over 1,000 incidents of corporal punishment were reported in just two states, Oklahoma and Texas; and one school district in Texas was reported to have expelled 400 Latino children, but the executive director for student services said that none were expelled and that Texas actually prohibits the practice at the pre-K and kindergarten levels. Nevertheless, the fact that such forms of discipline are used at all at the pre-K level is an issue that merits further discussion.
The full article includes a brief discussion of these policies.
State-level policies regarding discipline in schools and in pre-K continue to undergo change. However, for parents, there are steps they can take to protect their children from corporal punishment in states where the practice is still permitted. These include obtaining a written copy of your school district's punishment policy as well as your specific school's policy; making your wishes known about whether the school may administer corporal punishment to your child, regardless of its policy; and putting your wishes in writing.