The Center for the Study of Child Care Employment at the University of California, Berkeley has released its Early Childhood Workforce Index 2018. The report's executive summary opens with a warning:
Early educators' skills, knowledge, and well-being are inseparable from the quality of children's early learning experiences, yet our system of preparing, supporting, and rewarding early educators in the United States remains largely ineffective, inefficient, and inequitable. While a major goal of early childhood services has been to relieve poverty among children, many of these same efforts continue to generate poverty in the early care and education (ECE) workforce, who are predominantly female, ethnically and racially diverse, and often have children of their own. Inadequate levels of public financing and heavy reliance on families to cover the costs of ECE services render professional pay for early educators unattainable.
The report goes on to highlight some key findings:
Approximately 2 million adults care for and educate approximately 10 million children aged 0-5 in home-based and center-based child care and preschool programs.
Although the median wage for child care workers nationwide increased by 6.6 percent between 2015 and 2017, these workers still earned less than two-thirds of the median wage for all occupations in the state.

The families of child care workers and preschool/kindergarten teachers participate in public income support programs (the Federal Earned Income Tax Credit, Medicaid and the Children's Health Insurance program; Supplemental Nutrition Assistance Program, and Temporary Assistance for Needy Families) at a rate of more than twice that for workers across all occupations—53% vs. 21% overall.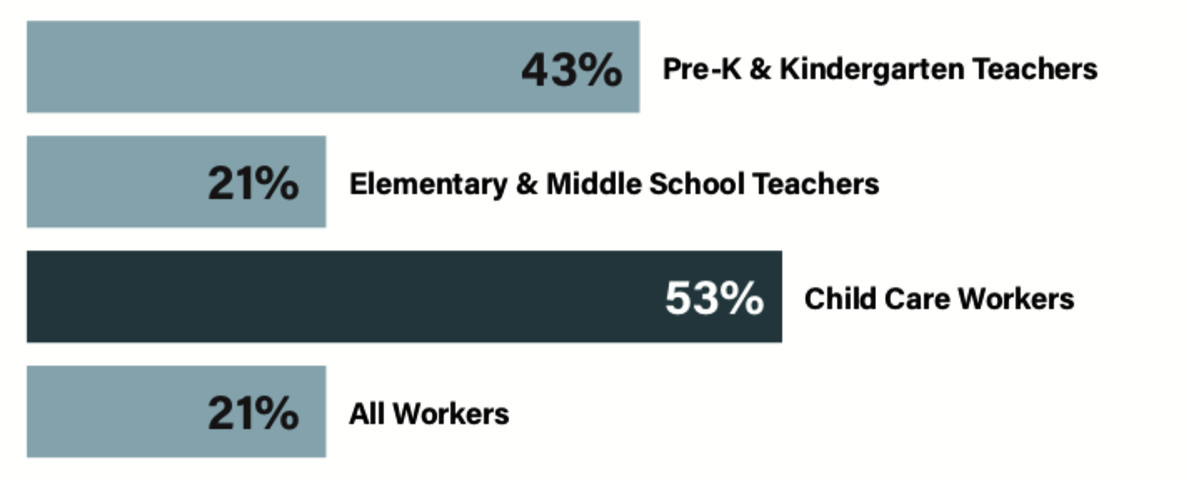 African-American early childhood workers of color are even more wage-disadvantaged than their peers: for example, "center-based African American early educators are more likely to earn less than $15 per hour than all other racial/ethnic groups in the early education workforce nationwide."
Further detail is provided on wages by the worker educational level and ages of children taught, as well as state-level data on wages and early childhood educator support policies.