When state policymakers want to know how many children of preschool age are in families receiving public assistance in their jurisdiction, they can consult the databases of the state's Department of Social Services. When they want to know the number of preschool children with developmental disabilities, they can consult the databases of the Department of Health. And when they want to know how many trained special education instructors there are in the school system, they can consult the records of the Department of Education.
But if they want to get an overall picture of the reach of early childhood education (ECE) in their state—particularly as it affects low-income children, or children with special needs—many of them have no single "dashboard" of data to consult. This is the conclusion of the "2018 State of State Early Childhood Data Systems" report issued last month by the Early Childhood Data Collaborative (ECDC).
The ECDC, part of the Child Trends research organization, acts to promote the development and integration of state-level ECE data collection systems, to help state policymakers better understand ECE program quality, access and outcomes, as well as staffing and professional development needs and opportunities.
Why data collection and integration matter
A successful early childhood development strategy—one that covers children from the prenatal stage up to age 8, to promote positive health and education outcomes—involves a variety of services from multiple agencies. Particularly in cases of poverty, health problems or trauma, young children may need particular interventions to ensure they enter kindergarten ready to learn, rather than risk falling behind their peers. However, because these services are split across different agencies, there is no easy way for policy makers to take in the entire landscape, to see whether the individual interventions are tying into a broader successful strategy. The ECDC writes,
To make informed policy decisions about whether government services are equitable, cost-effective, and responsive to the diverse needs of families while also yielding the greatest benefits, policymakers need access to accurate and comprehensive information about who receives the services and how they fare later in life. Such information promotes policymaking that brings the best quality of services to the families and communities that need them.
Moreover, the ECDC notes, federal policy is moving states in the direction of greater data integration. Both the Child Care and Development Block Grant Reauthorization (2014) and the Every Student Succeeds Act (2015) promote holistic data assessments to evaluate whether states are prioritizing service delivery to children in need and are preparing them for successful transitions from pre-k to kindergarten.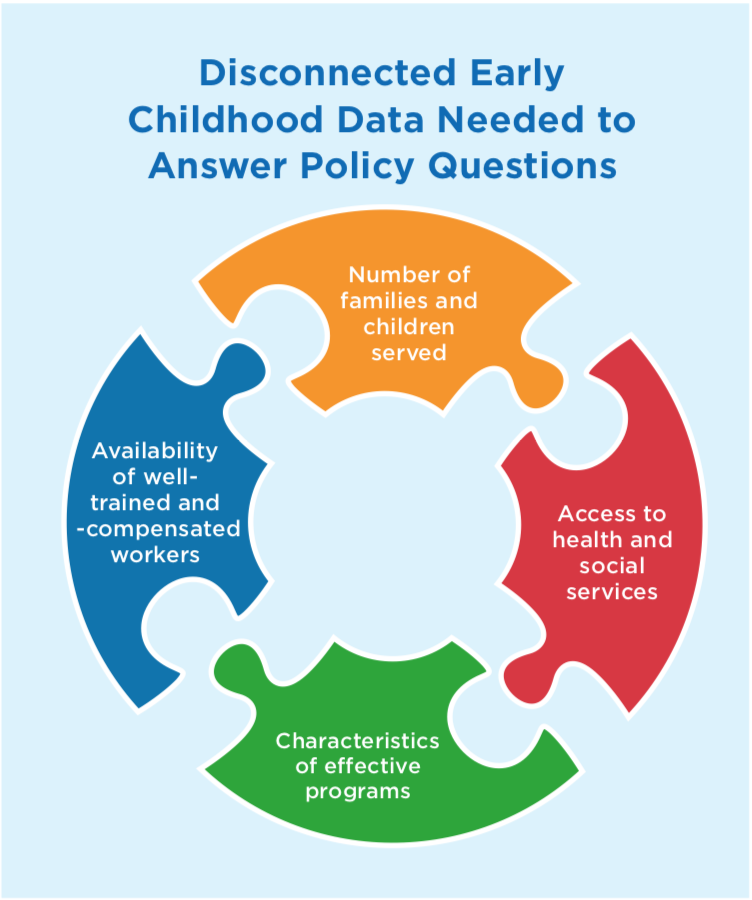 The challenges of data integration
Although there are benefits to be gained from data and sharing integration, there are a number of challenges to doing so. Specifically, because different departments carry out different programs, there is a natural "siloing" effect: each department collects data in a different way, perhaps using different systems, and different definitions. They may account for their clients in ways that make connecting individual children, families, and physical educational sites difficult if not impossible. The result is that policymakers cannot see how all the pieces of the early childhood development puzzle fit together, either for individual families or for the system as a whole, as the report graphic to the right illustrates.
Findings and Recommendations
The latest report, based on survey results from the 50 states, builds from the findings of the first two reports, issued in 2010 and 2013. There are seven key findings:
Policymakers still lack comprehensive data needed to assess early childhood policies and outcomes. Fewer than half of states currently link child-level data to gain a comprehensive picture of early learning (22 states), social services (11 states), and children's health history (8 states). These numbers represent a decrease from 2013.
Home visiting and federally funded Head Start programs are least likely to be linked compared to other ECE programs. A majority of states linking data did not include Head Start or home visiting child-, program-, or workforce-level data as part of their data integration efforts.
An increased number of states link child-level data from subsidized child care programs compared to 2013. The number of states linking child-level data from subsidized child care programs, funded by the Child Care and Development Block Grant, increased from 12 to 17.
Data about program site quality are linked most frequently by states compared to other types of data such as workforce conditions (e.g., turnover) or structural standards (e.g., class size). Of the 22 states linking program site data across programs, most (91 percent) linked data measuring program quality for at least one ECE program, compared to 68 percent linking information about working conditions (e.g., wages, benefits, turnover).
States were least likely to link workforce-level data compared to child- and program-level data. While most states (84 percent) collect some workforce data in a workforce registry, only 15 states (30 percent) reported the capacity to link workforce data across ECE programs, which is critical to answering questions about the changing demographics, qualifications, and needs of the workforce over time.
Fewer states have a defined data governance body to support the coordination and use of ECE data compared to 2013. The number of states with a defined data governance body decreased from 32 to 22 in our 2018 survey.
States lack processes to engage the public about data privacy policies. Fewer than one third of those states with a governance structure indicated that information about data privacy is publicly available (27 percent) or that public comment is solicited (27 percent).
The ECDC's recommendations, naturally, involved strengthening the coordination of data-collection and integration:
Establish and strengthen state ECE data governance bodies to guide the coordination, security, and appropriate use of ECE data.
Strengthen states' capacity to securely link data on young children across all state and federal ECE programs, including Head Start and home visiting.
Expand efforts to collect and link data about the early childhood workforce.
Communicate with parents about data privacy policies and uses of early childhood data.
Use existing data systems planning tools and technical assistance to support early childhood data system integration.
The report includes a number of examples of state-level data-integration projects, such as
The Georgia Cross Agency Data System, which links child-level data across all six major early care and education programs;
Rhode Island's KIDSNET, which links child health data across Newborn Screening Programs; Home Visiting; Women, Infants, & Children (WIC) Supplemental Nutrition Program; Childhood Immunization Program; Childhood Lead Poisoning Prevention Program; and Birth Defects Program; and
Minnesota's Early Childhood Longitudinal Data System (ECLDS), which is a public portal data access system linking education, health services, and human services information.
(Note: For more insights based on U.S. data, see our earlier piece "Nearly 20 Percent of U.S. Children in Poverty: U.S. Census.")