Yesterday we began our focus on that important transition from preschool to kindergarten. But there's another key aspect to making sure early childhood learning translates into a successful grade school experience: Alignment.
The findings come form a new report, Transitions and Alignment From Preschool to Kindergarten, produced by the Education Commission of the States, which partners "with education policy leaders to address issues by sharing resources and expertise."
The authors write: "A smooth transition between preschool and kindergarten is key to a child's social adjustment and future educational success. This alignment aids in ensuring that as students move from one system to another, they experience consistency in standards, curricula, instruction and assessments. Linking systems through new policies and intentional alignment of policies that support all elements of the education continuum — and are e ectively implemented in schools — may result in better outcomes for children and foster a child's love of learning.
What is Alignment?
So what is alignment? It "refers to the continuous interrelated nature of education programs and practices in early learning settings and the early grades — an important component of a successful early learning experience for students."
More specifically:
"Alignment within a program may highlight the coherence or interconnectedness between standards (what children are expected to know and do), curricula (what children are taught), instruction (how children are taught) and assessments (what and how children's progress is measured)."
"Aligned experiences include all areas of learning (social, emotional, physical and cognitive) that are developmentally appropriate and matched to the individual abilities of the child."
"Intentional alignment of these interconnected pieces increases the consistency of children's experiences across and within grades to create a continuum of learning that builds on the previous year."


---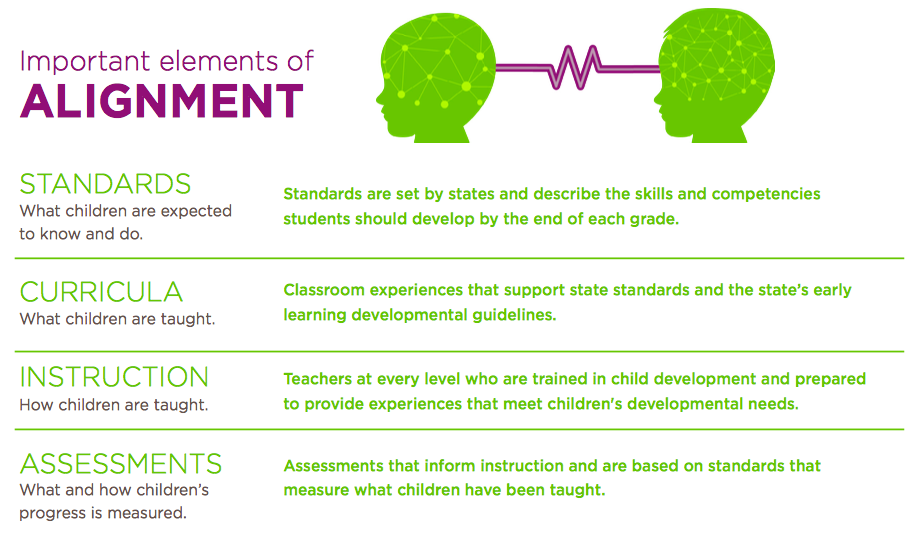 ---
Why does alignment matter? Done well, it can help ensure that gains made through early childhood learning can carry over into elementary school.
In addition to parents and practitioners, there are also important lessons for policymakers: Getting alignment right isn't a one-time effort. The coordination and programming must continue as the children advance through school.
The authors write: "As states continue to invest in early childhood education with a commitment to educational attainment, one possibility for state policymakers is to make quality transition- and alignment-focused decisions. However, aligning early childhood education and K-3 policies is not a one-time project; it is incremental and a continuous process that requires systematic collaboration and communication among leaders across the preschool-to-third-grade continuum to develop a coherent strategy for improving student achievement."