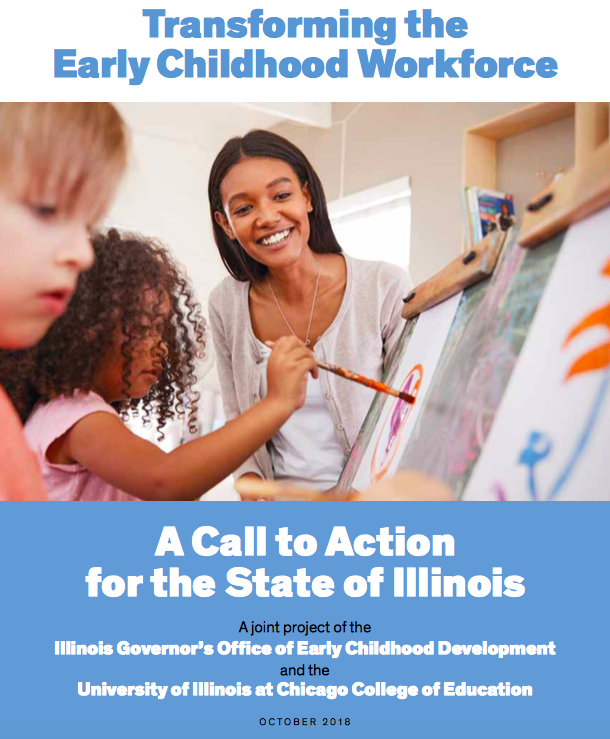 As we continue our discussion of the role for state governments and policymakers in early childhood education — and for an early learning teachers — the State of Illinois recently offered an important report: "Transforming the Early Childhood Workforce: A Call to Action for the State of Illinois."
The report, released by the Governor's Office of Early Childhood Development and the University of Illinois at Chicago College of Education, "lays out a vision for elevating the early childhood workforce, with a focus on appropriate qualifications and providing pathways and supports for aspiring educators," according to Illinois State University.
The report is grounded in the science of early childhood learning. It states: "A growing body of research has provided valuable insights into the science of early childhood development and how we can best support our nation's youngest learners with high-quality early childhood programming. The science of child development and early learning confirms the critical importance of a well-prepared early childhood workforce, as well as consistency and continuity in early care and education."
The logic for this focus is clear: "The foundation for lifelong learning is laid during the rst years of a child's life—from birth to age eight. Young children thrive when they have secure, positive relationships with adults who are knowledgeable about how to support their development and learning and responsive to their individual progress. Thus, the early childhood professionals entrusted with the care and education of young children bear a great responsibility."
The report outlines the "Distinguishing Characteristics of High-Quality Early Childhood Programs," stating that "Research shows that effective early care and education programs have all of the following elements:"
Qualified and appropriately compensated staff
Small group sizes and high adult-child ratios
A language-rich environment A developmentally appropriate and well-implemented curriculum
A safe physical setting
Warm and responsive adult-child interactions
Further, high-quality early childhood programs bring clear benefits, according to the report. These include: Increased kindergarten readiness
Fewer placements in special education
Increased high school graduation rates
Less criminal behavior in adolescence and adulthood
Increased productivity and earning potential
Improved health outcomes
It states: "Through rigorous analysis, economists have shown that public investments in early childhood care and education have a return on investment of anywhere from four to nine dollars per dollar invested. A solid body of research, including longitudinal and meta-analysis studies, has consistently shown that high-quality early childhood education programs also have positive short- and long-term impacts on children's development, health, learning and academic outcomes."
Early Learning Teachers: Building a Platform
The report notes that Illinois has a history of private and public investment in early learning. With that context, it cites the National Academy of Medicine's 2015 report Transforming the Workforce for Children Birth Through Age 8: A Unifying Foundation as offering a "clarion call for early childhood policymakers across the nation."
In response, the state created the Illinois Innovation to Incubation ( i2I ) team. With that structure, "from early on in the process, the team focused on collaborating with and leveraging the momentum of existing efforts—including initiatives funded through the Race to the Top Early Learning Challenge, as well as other state-level early childhood systems-building bodies such as the Professional Development Advisory Council and the Illinois Early Learning Council—to lay the groundwork for changes in workforce policy and practice."
The results are a set of guiding principles and recommendations outlined in the Illinois report. We'll have more on those results in posts over the next weeks.