We recently highlighted an important new report titled "Transforming the Early Childhood Workforce: A Call to Action for the State of Illinois." The report, released by the Governor's Office of Early Childhood Development and the University of Illinois at Chicago College of Education, "lays out a vision for elevating the early childhood workforce, with a focus on appropriate qualifications and providing pathways and supports for aspiring educators," according to Illinois State University.
As part of the report, the Illinois Innovation to Incubation (i2I) team outlined several guiding principles for transforming the state's childhood workforce.
Principles: Investment in Child Education
These principles offer useful insights not only to other state policymakers, but also to practitioners, parents, and caregivers who seek to build effective early childhood learning environments. The principles include: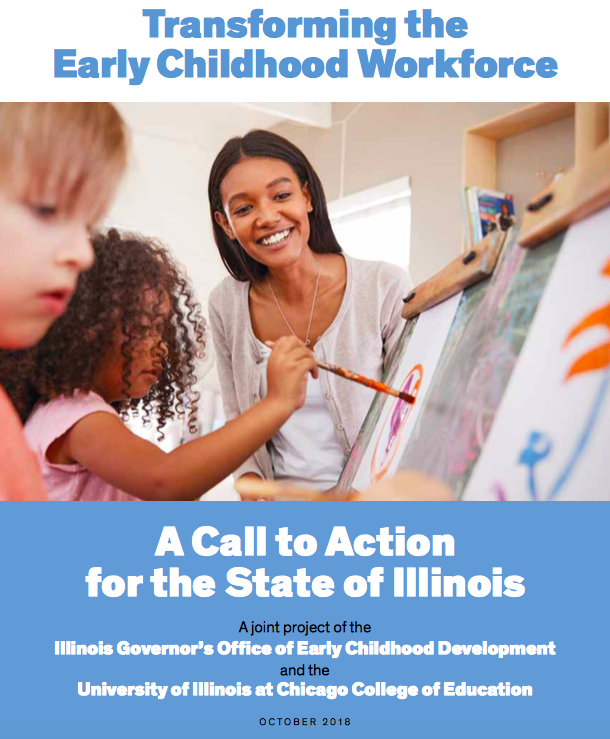 Principle 1: Adults are central to the healthy early learning and development of children. Educators have a greater impact on classroom quality than any other variable.
The report states: "Researchers have identified several indicators of high-quality early childhood education programs—including small group sizes and high adult-child ratios, language-rich environments, developmentally appropriate curricula and safe physical settings. However, the quality of adult-child interactions has the greatest impact on the health, development and future academic success of young children. Close relationships with caring adults give children the security and stability they need to grow and learn."
The report notes the importance of "serve and return" interaction, as well as "intentional and explicit interactions between adults and children that support children's higher-order thinking skills."
The report highlights the important role teachers play: "A teacher's ability to effectively implement a curriculum is more important than the type of curriculum being used. Adults who understand early childhood development—and know how to interact with young children in a sensitive and responsive manner—can develop supportive and affirming relationships with young learners and provide the stimulating, developmentally appropriate learning opportunities that are essential to high-quality early childhood education. Conversely, adults who are underprepared, under-informed and overly stressed may contribute to adverse experiences for young children and undermine their development and learning."
Principle 2: Because adults are so central to the health and development of young children, early childhood educators must have a common set of core competencies, and early childhood workforce members must re ect the diversity of the children and families they serve.
The report states: "While a competent workforce is fundamental, a diverse workforce that reflects the sociocultural composition of Illinois families is also a high priority. Children's experiences are embedded in their familial and sociocultural contexts. Thus, their development and learning can only truly be understood in terms of the practices, goals and values of their families and community cultures. As our society becomes increasingly multiethnic, we must embed these cultural competencies in our qualifications systems and equip our early childhood educators with a knowledge of how to work with diverse populations of children; an understanding of minority culture, language and dispositions; and a respect for diversity in all of its forms. While all early childhood educators should be equipped with these cultural competencies, educators who share a sociocultural background with the children and families they serve may provide additional benefits."
It continues: "Beyond language, shared cultural understandings between teachers and parents often lead to more effective communication with parents and the development of trusting, collaborative relationships. By building bridges between home and school, we can promote language and social-emotional development, support cultural identity development and deepen learning."
Principle 3: Illinois early childhood professional development programs and pathways must support the development of an increasingly diverse early learning workforce and meet the needs of adults who are pursuing additional education and credentials while juggling academic demands with full-time employment and family responsibilities.
"This principle highlights the importance of developing policy and professional development programs and systems that are tailored to the needs of current and future workforce members. We cannot develop early childhood education policies without thinking about the impact of these policies on current workforce members, as well as those who aspire to a career in early childhood education. We must offer innovative and nontraditional pathways that are tailored to the specific needs of those currently in the field, while attracting new individuals from diverse backgrounds to the workforce. To develop user-centered policies and programs, we must consider the makeup of the workforce, the skills and knowledge that early childhood educators need to do their jobs well, the tasks that they must carry out and the environments in which they work."
Principle 4: Policy decisions regarding early childhood programming and the early childhood workforce must be guided by a knowledge base consisting of relevant scientific research, accurate and comprehensive data from the Illinois early child care system and input from the stakeholders ultimately responsible for implementing these policy decisions.
"Decisions about the early childhood workforce are too important, given the profound potential impact of these decisions on children and families, to be made in siloed systems without the benefit of the most recent scientific research, accurate and relevant contextual data and the expertise of key stakeholders actively working in the field… Scientific research has provided us with compelling evidence regarding early childhood development and the critical role that early childhood educators play in this development. Studies have also shed light on the societal and economic benefits of high-quality early childhood programming."
Next: What actions the State of Illinois recommends.