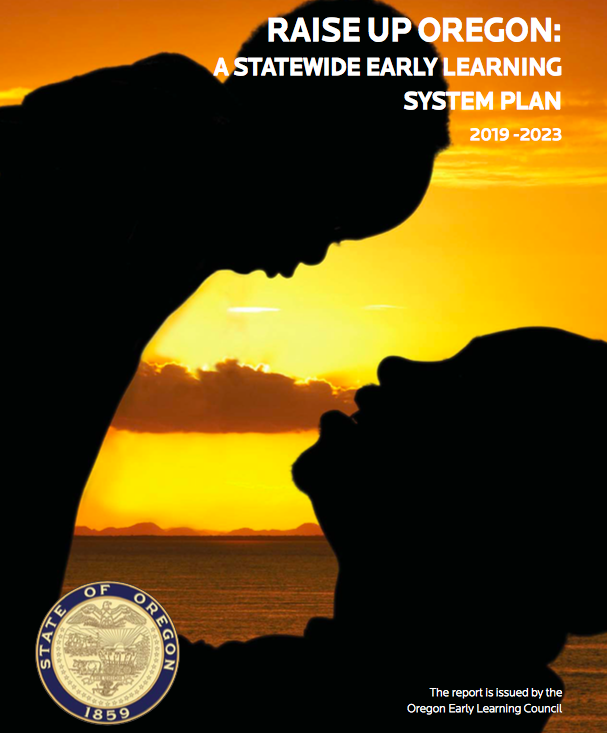 Last week we noted the unveiling of Raise Up Oregon: A Statewide Early Learning System Plan, which, according to KTVZ-TV (Oregon) provides a roadmap for how state and local communities can work together to ensure Oregon's youngest children can enter school ready to learn."
Said Governor Kate Brown: "Too many young children and their families in Oregon struggle to access and afford housing, child care, and preschool. This plan contains bold, actionable strategies that will help us better support them so that all Oregon children can reach their full potential."
The report itself merits deeper consideration.
'Multi-Sector Solutions Grounded in Science and Equity'
The report notes: "Brain science makes clear that the first 2,000 days of a child's life – the time between birth and kindergarten entry – represent the most consequential period in human development. From birth to age three, a child's brain makes one million new neural connections every second. The rapid pace of synapse formation in the brain sets the architecture for future health and learning. During this time, children are establishing critical attachment to caregivers as well as learning to communicate with others and regulate their emotions. The quality of their relationships, experiences, and interactions matters greatly."
And why is further focus in early learning needed in Oregon?
The report: "The evidence notwithstanding, less than 10% of Oregon's combined federal and state investment in children's education occurs before age five. The state investments from cradle to career accrue gradually in the first five years and increase rapidly once a child enters kindergarten. This is the antithesis of an approach that would be consistent with the brain science. By kindergarten entry, the brain has matured, reaching 90% of its adult size; however, most of the public investments in education are made after this point."
Addressing Opportunity Gaps
As part of the work, researchers explored "opportunity gaps," seeking to understand persistent connections among various areas (many outside of a child's control) and robust development.
The researchers note: "Oregon's equity lens helps us understand that adversity in early childhood is rooted in chronic and persistent opportunity gaps. Income, race, and zip code are powerful predictors of whether children and their families experience the conditions that are optimal for young children's development, including access to high-quality child care and preschool. Breaking the link between these inherited factors and life outcomes can only happen if we change the circumstances of families, which means changing the distribution of opportunities in those years.
"This will require addressing the economic well-being of families with young children, and recognizing that income is closely linked with race and geography. Nearly 50,000 young children in Oregon live in poverty, which means their families earn below $20,780 for a family of three. More than one in five children in rural Oregon live in poverty, with children of color disproportionately represented among them.
Objectives & Strategies: Oregon Early Learning
To address the challenges, Raise Up Oregon outlines three overarching system goals and several objectives — for policymakers, practitioners, researchers, parents, and caregivers — to meet each goal. For more detail, see pages 9-24 of the report.
SYSTEM GOAL 1: CHILDREN ARRIVE READY FOR KINDERGARTEN
OBJECTIVE 1: Families are supported and engaged as their child's first teachers.
OBJECTIVE 2: Families have access to high-quality (culturally responsive, inclusive, developmentally appropriate) affordable early care and education that meets their needs.
OBJECTIVE 3: The early care and education workforce is diverse, culturally responsive, high quality and well compensated.
OBJECTIVE 4: Early childhood physical and social-emotional health promotion and prevention is increased.
OBJECTIVE 5: Young children with social-emotional, developmental, and health care needs are identified early and supported to reach their full potential.
OBJECTIVE 6: Children and families experience supportive transitions and continuity of services across early care and education and K-12 settings.
SYSTEM GOAL 2: CHILDREN ARE RAISED IN HEALTHY, STABLE, AND ATTACHED FAMILIES
OBJECTIVE 7: Parents and caregivers have equitable access to support for their physical and social- emotional health.
OBJECTIVE 8: All families with infants have opportunities for connection.
OBJECTIVE 9: Families with young children who are experiencing adversity have access to coordinated and comprehensive services.
SYSTEM GOAL 3: THE EARLY LEARNING SYSTEM IS ALIGNED, COORDINATED, AND FAMILY CENTERED
OBJECTIVE 10: State-community connections and regional systems are strengthened.
OBJECTIVE 11: Investments are prioritized in support of equitable outcomes for children and families.
OBJECTIVE 12: The alignment and capacity of the cross-sector early learning workforce is supported.
OBJECTIVE 13: The business and philanthropic communities champion the early learning system.
OBJECTIVE 14: The data infrastructure is developed to enhance service delivery, systems building, and outcome reporting.
The report concludes with a view towards how to bring these goals and objectives to life: "Moving from this plan to action requires many partners working together as we strive to do more and better for young children and their families. Within state government, key systems partners will create implementation plans with measurable outcomes and timelines. The Early Learning Council will maintain an active role in overseeing, disseminating, and championing the plan, and supporting the state's early learning system in moving it forward."