Lived Experience
Sabra Bell remembers what it was like to be pregnant and low on funds. "Extra cash would have been useful," she says. "I would have paid off my debts and bought a nice stroller, crib, breast pump, baby clothes and more."
The Abundant Birth Project is grounded in both science and respect for moms.
Today, Bell and other mothers are drawing on their personal experience in their work as researchers on the Abundant Birth Project, an ambitious pilot seeking to reduce the incidence of premature birth in San Francisco. Starting in 2021, the program will distribute a monthly income supplement of $1,000-$1,500 per month to 100 low-income black and Pacific Islander pregnant women. Payments will continue for the duration of a woman's pregnancy and then for the first two months of the baby's life.
👉 Read more: The Connection between Maternal Health and Infant Health: Asking the Difficult Questions
Kara Dukakis, an early childhood development senior program officer at
Tipping Point Community
, which is one of the pilot's funders, champions the Abundant Birth Project for the way it explicitly acknowledges racism as a factor in these women's lives. "An incredibly important part of the pilot is that women of color are hired to be the researchers," she says. "Because they have lived the experience, they can truly empathize with the women the project supports." Maile Chand, another researcher who has "been there" herself, adds, "Not only will this financial opportunity help San Francisco black and Pacific Islander families better provide for their children, but it will also transform the emotional and physical state mothers are in going into their birth."
The Science Behind the Project
The Abundant Birth Project is grounded in both science and respect for moms. Thanks to advances in medical science, premature babies have a far greater chance to survive and thrive than ever before, but it's still ideal for a pregnancy to last 40 weeks, or close to it. Cognitive deficits and physical disabilities frequently accompany preterm births, and black women give birth prematurely (i.e., at 37 weeks or earlier)
nearly twice as much
as white women. "The strain of ongoing financial insecurity," says Dr. Zea Malawa, Director of Expecting Justice, "contributes to chronic stress and is associated with premature birth. Although San Francisco has programs to address poverty, they are not enough to close the gaps. The high rates of preterm birth experienced by the black and Pacific Islander community require a more urgent and upstream intervention." The Abundant Birth Project builds on
Magnolia Mothers Trust
of Jackson, MS, which distributed $1,000 monthly for 12 months to 20 women.
A similar program in Manitoba, Canada
, was found to help women to improve their nutrition, prepare for baby and engage in self-care to moderate the effect of stressful life events. Reduced incidence of low-birth-weight infants and pre-term birth also resulted.
Free Money? What's the Catch?
Partners in the Abundant Birth Project, an Initiative of Expecting Justice
San Francisco Department of Public Health The University of California, San Francisco University of California, Berkeley The Federal Reserve Bank of San Francisco The San Francisco Human Rights Commission The San Francisco Human Services Agency The San Francisco Treasurer's Office First 5 San Francisco The San Francisco Department of Children, Youth, and Families San Francisco Unified School District The Bayview YMCA Office of the District 5 Supervisor The National Health Law Program Tipping Point Community
There is no catch. Unlike conditional cash transfer programs, which distribute money only when subjects adhere to certain behaviors (for example, attending school or visiting the doctor), the program commits to awarding stipends without stipulation. "Most public assistance programs have complicated eligibility requirements," says Deborah Karasek, a researcher with the
California Preterm Birth Initiative
at the University of California, San Francisco, which is partnering with
Expecting Justice
on the Abundant Birth Project. "However well intentioned, these requirements often prevent black and Pacific Islander pregnant women from obtaining the resources they need—and they tend to exacerbate mistrust in the system." The Abundant Birth Project, in contrast, provides direct,
unconditional
cash aid—returning to women the power to make their own decisions.
👉 Read more: Guaranteed Income and Cash Infusions: A Three-Part Series from the Aspen Institute
Pregnancy can simultaneously bring great joy and acute stress. Even for mothers with a steady partner, financial resources and robust social networks, this time can be overwhelming, even traumatic. Pregnant women without these assets are susceptible to mental and physical health threats—and this is
before
a new person suddenly enters the picture, demanding food, attention and medical care. The Abundant Birth Project won't make everything right for the moms and babies it touches—but it's a start.
---
Learn More:
Read
: Using Policy to Plant a Powerful Future for New Mexico's Children
Read
: Geography and Race, State by State, Can Determine the Fate of Both Mother and Baby
Read
: Facing Facts, Finding Solutions in the Race Against Black Postpartum Depression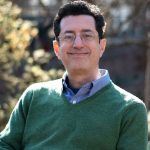 Early Learning Nation columnist Mark Swartz writes for and about nonprofit organizations. Author of the children's books Werner Herzog Eats His Shoe, Lost Flamingo, Magpie Bridge and The Giant of the Flood as well as a few novels, he lives in Takoma Park, MD, with his wife and two children.