"We as a nation are taking parenting seriously for the first time," economic researcher
Martha Gimbel recently told
The Washington Post
's Caroline Kitchener. "People are being smacked in the face with the intersection between parenting and economic growth."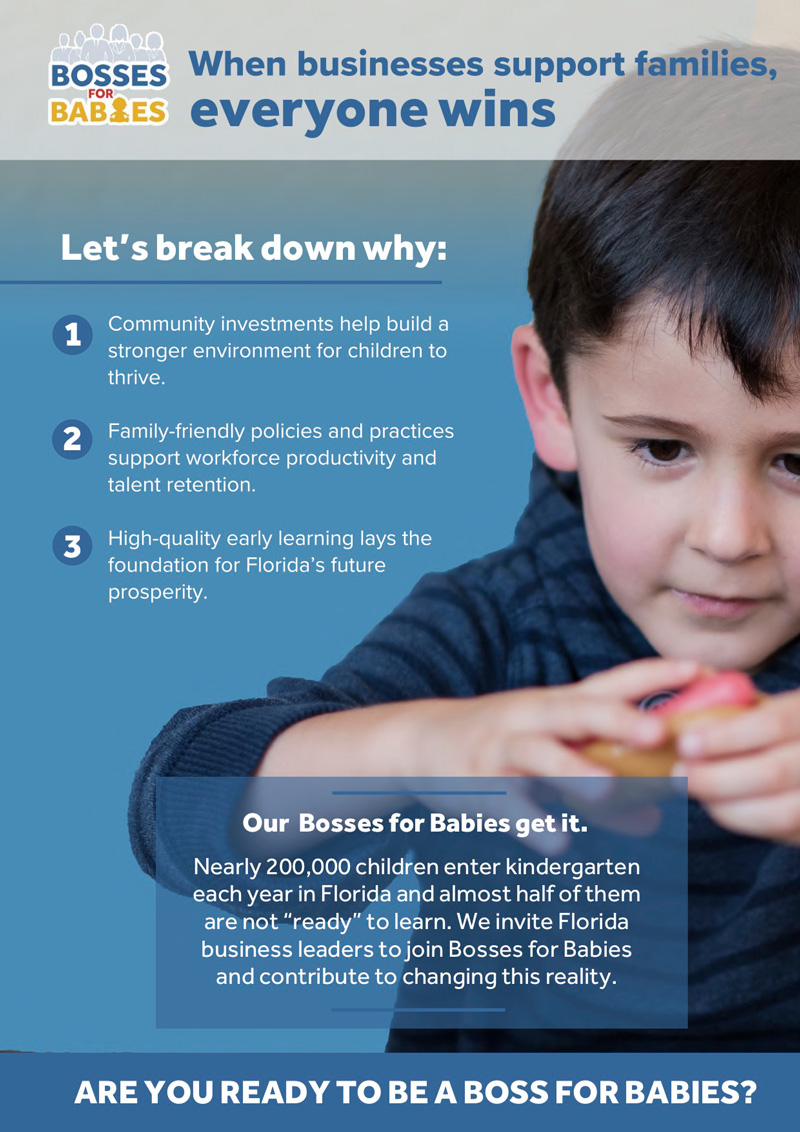 A group of Florida executives is seeking to direct traffic at this intersection. Organized by The Children's Movement of Florida,
Bosses for Babies
model how to make an impact in their companies and communities. In doing so, they are inspiring others to follow suit. For Chad Loar, Regional President of PNC Bank in west and central Florida, joining Bosses for Babies made sense, given PNC's $500 million
Grow Up Great
initiative, which serves children from birth to five, by empowering their caregivers and supporting their teachers. "Our regional presidents are encouraged to advocate on behalf of quality early learning legislation that benefits families, caregivers and teachers," says Loar. "We believe that more resources are needed to relieve the financial burden that is placed on families to find affordable options for their children, while also advocating for improvement of the business model for providers." Michelle Kapreilian, CEO of Forty Carrots in Sarasota, appreciates Bosses for Babies' efforts during the Covid pandemic: "The negative effects of isolation, financial insecurity and instability are increasing anxiety, tension and stress for children and families." Noting significant increases in requests for mental health services for children, as well as increases in the severity and frequency of mental health issues and serious parenting concerns, she adds, "Quality and available child care is necessary for families to get back to work, and it is a vital component in supporting our community's most vulnerable families." In
a recent Bosses for Babies Live event
, Eddie Gonzalez-Loumiet (CEO, Ruvos) noted how the competition for talent often comes down to factors affecting the families of potential hires, saying, "When you interview someone, they ask, 'Tell me about the schools, the parks, the health care.'" He cited research showing that employees are more engaged and more productive if they have flexibility. He also added that since one of Ruvos's initiatives involves data on newborn screenings, he regards babies as a business and personal priority.
In a LinkedIn post
, Gonzalez-Loumiet shares what he thinks goes into a family-friendly work environment:
Starting a conversation with employees about family, early education and health care
Sharing community resources for families and review human resources policies
Updating the employee handbook to fit what is happening in the world and maintain flexibility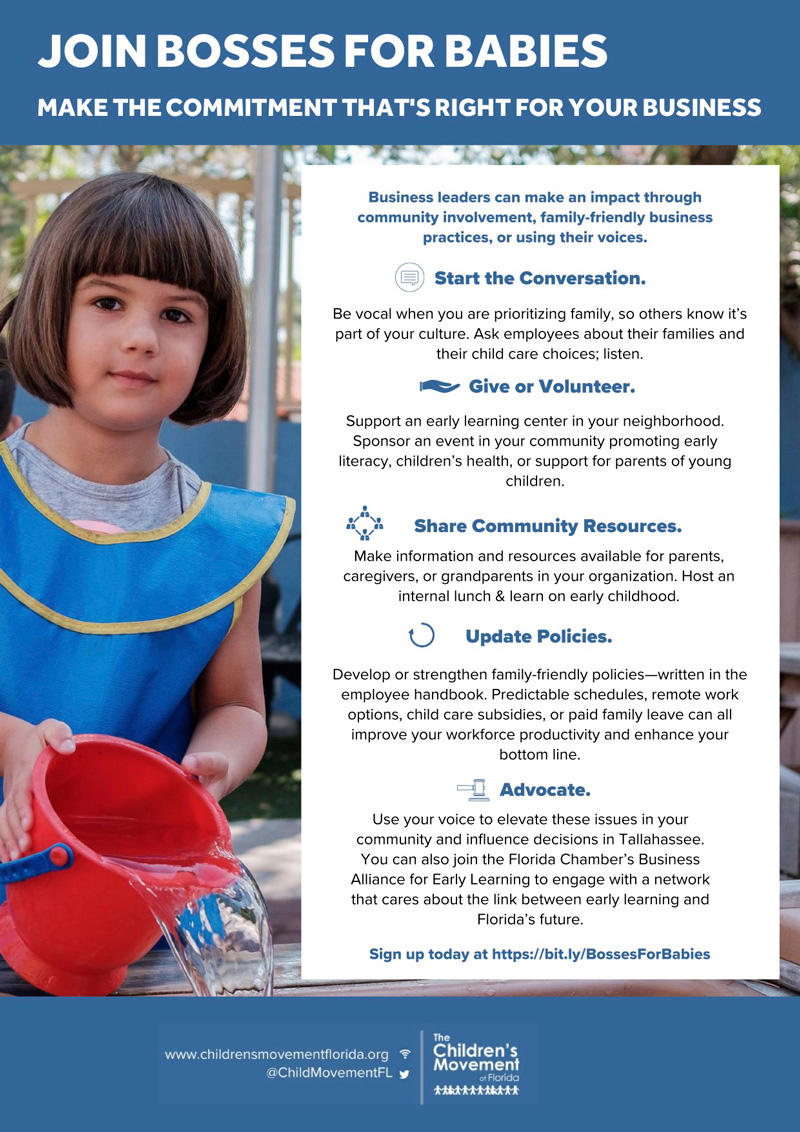 The hope is that over time, family-friendly policies will proliferate and become the norm. And yet peer pressure alone may not influence profit-driven companies to do enough. As
economist Noam Scheiber has argued
, "Child care has all kinds of benefits to society, from the healthy development of children to allowing mothers, who still disproportionately shoulder the task of child rearing, to be fully employed. But most employers will subsidize child care only if they can recoup the costs through lower absenteeism and turnover, so they spend less than is ideal." That's where federal, state and municipal policies can be most efficient, treating early childhood education as a public good like K-12 education. Elliot Haspel, author of
Crawling Behind
and a frequent Early Learning Nation contributor,
has addressed this subject
in The New York Times. Aakash Patel, founder and president of Elevate Inc., a Tampa-based strategic business consulting firm,
recently told the Business Observer
it goes beyond family-friendly
company
policies: "We can advocate on behalf of early learning with lawmakers. At the state level, we should oppose any cuts to already-meager early learning budgets and support programs that help the early learning workforce." In another
Bosses for Babies Live discussion
, The Children's Movement CEO Vance Aloupis confessed, "I'm an advocate, so when I walk into a room, people know what I'm going to be talking about." Business leaders, on the other hand, have the ear of their peers as well as legislators. "We used to think,
Somebody else has this,
" responded Mark Wilson, CEO of the Florida Chamber of Commerce. "But many of us have come to realize that an investment in children is an investment in all of us. These are future workers. They're going to make our economy work."
---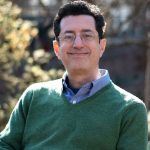 Early Learning Nation columnist Mark Swartz writes for and about nonprofit organizations. Author of the children's books Werner Herzog Eats His Shoe, Lost Flamingo, Magpie Bridge and The Giant of the Flood as well as a few novels, he lives in Takoma Park, MD, with his wife and two children.