Don't miss the companion article to this one:
The children attending Tiny Trees Preschool classrooms in Seattle and King County parks may look like they're "just playing," but those little boots are actually marching, climbing, stomping and squishing their way to a well-rounded preschool education. Reading, math and science come alive for the more than 315 students who splash and gallop their way around 12 outdoor classrooms throughout the Seattle urban area. Guided by wonder, the children explore their world with shovels, binoculars, maps, magnifying glasses and all their senses.
Tiny Trees' children are not outside on recess, nor are they on a field trip. The school itself — all classes, every day, rain or shine (in Seattle, that can involve significant portions of the former and not so much of the latter) — takes place outdoors. The school operates year-round and is the largest outdoor preschool in the U.S. and possibly in the world, according to Philanthropy and Communications Manager Katie Weiss. After three years working with the state as part of the outdoor preschool licensing pilot program, the state Department of Children, Youth and Families has created licensing requirements for outdoor preschools, which means Tiny Trees will be one of the first licensed outdoor preschool programs in the U.S.
"Prior to this," Weiss says, "the state licensing regulations were a lot about 'How many outlets do you have and how high up are they and what sorts of faucets do you have?' Mostly, that isn't relevant to outdoor schools."
Guided by wonder, the children explore their world with shovels, binoculars, maps, magnifying glasses and all their senses.
What licensing means in part is that the idea of outdoor preschool itself is legitimized. It creates a roadmap for new programs so others don't have to bushwhack through such a bramble of licensing challenges and will have established language for how to handle "bath-rooming and hand-washing, which may have been kind of a mystery," she says. Best of all, licensing means that low-income families can now access government funding to allow their children to attend the outdoor preschool.
Equity is a big part of Tiny Trees' mission, she says, and 50 percent of its students receive free or reduced tuition. "We really want to make sure every child has access to quality, healthy, safe outdoor learning experiences. When we talk about equity and access, we're not just talking about access to early learning programs. We're talking about access to the outdoors. We work with families to make sure they have the resources they need and the information they need to know what sort of gear they need. We can provide them with discounted gear or gear swaps with other families so that they have what they need.
"We're working with King County's Best Starts for Kids program on a project that's called 'decolonizing the outdoors,' specifically focused on creating new programming to provide opportunities to families of color, low-income families, and refugee and immigrant families to engage in quality outdoor learning. There are a lot of systemic barriers, such as neighborhoods with fewer green spaces that are safe and healthy or historical trauma that might not be the same for everyone. So, we are in the community-building phase with that where we're talking with different community partners, organizations and neighborhoods to find out what people want and what works for them in creating opportunities to spend time outside."
Tiny Trees' funding comes from a variety of sources, including a boost in the beginning from Washington State's No Child Left Inside grant program. Public funding is important, she says, because it allows the school to open access to new families and to have a more sustainable program without the cost normally associated with the high-quality education it provides. About 15 to 25 percent of the school's funding comes from philanthropy, including purchase of all that tiny, high-quality rain gear—made of the same material you've seen on fishermen in shows like Deadliest Catch.
Whether the quarry is Alaska king crabs or earthworms, good gear makes all the difference. To paraphrase the Scandinavian programs where outdoor preschools are commonplace, Weiss says, Tiny Trees' philosophy is that "there is no bad weather, there is just bad clothing."
So, they zip up their rain suits, pull up their boots, and a pack of exuberant preschoolers head off to discover their world in all its moods, complexity and seasons.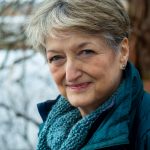 K.C. Compton worked as a reporter, editor and columnist for newspapers throughout the Rocky Mountain region for 20 years before moving to the Kansas City area as an editor for Mother Earth News. She has been in Seattle since 2016, enjoying life as a freelance and contract writer and editor.