Where do you go for the top news in Early Learning at the state level? Check out "5 Questions for the Governor," where we'll explore the top Early Learning challenges and successes in states across the nation. We're thrilled to partner with
The Hunt Institute
on this new series.
1.

You are a lifelong Missourian. What makes the state such a special place to live and work?
Missouri and its people have been important to me all my life. Missouri has many qualities that make it one of the top states in the United States. Once you see Missouri, you will notice the beauty of the rivers, farm lands, rolling hills and the cities. Missouri is a special place to live because of the people and their values. It is made up of hard-working people who do what's right. Missouri is also a great place to live and work because of its location. Our state sits in middle of the United States. We are the gateway for transporting people and goods all over this country, as well as overseas. Nonetheless, the cost of living is appealing as well. You can live, work or do business at an affordable price.
2.

As the former Sheriff of Polk County, you have strong ties to the criminal justice community. How did your time as Sheriff inform your thinking about the importance of early childhood education and other prevention strategies?
I was a sheriff for 22 years. What I learned the most is that we must be proactive instead of reactive. Bettering our communities starts with taking care of our children. I believe that if our childcare, preschool and early childhood programs improve, criminal activity will decrease in the future. The early childhood programs reach children at critical times in their lives when their brains and social skills are developing. If we focus on the early years, we can help prevent lives that seem to have no purpose and seek criminal activity.
3.

Missouri just received a second Preschool Development Grant from the U.S. Department of Health and Human Services. What did the state learn through the needs assessment required by the initial planning grant and how will it take action to address these needs moving forward?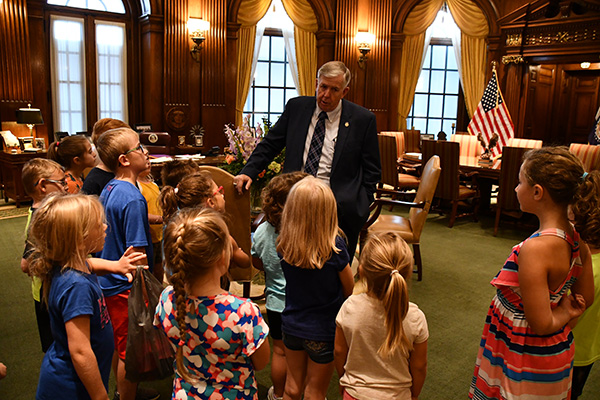 In the needs assessment work, we heard from primarily three audiences: families, providers of early childhood care and education, and stakeholders of the early childhood care and education system. Families' primary concerns were about access, availability and affordability. Providers expressed the need for coordination of professional development and practice alignment. Stakeholders see a need to coordinate service and support to families by better coordination between state agencies. With the Preschool Development Grant B-5 Renewal, we are looking at opportunities to coordinate enrollment and referral systems at a regional point for families. We will also work to include professionals working in home visiting programs in Missouri's professional development registry and calendar system, building towards one professional development system for all early childhood professionals. Our state child-serving agencies will also be enhancing data systems to identify and provide more efficient and effective services.
4.

You recently seated a Child Care Working Group to explore ways to ensure quality and safety within the child care settings. How is the state working with preschool providers to ensure all Missouri children get off to great start?
Missouri preschool providers gave valuable stakeholder input to the Child Care Working Group. The child care working group made recommendations to include changes to child care licensing – removing outdated or unnecessary requirements, ensuring transparency by incorporating policies into rule and revising child care staff training requirements. The working group also enhanced interagency collaboration, resulting in more immediate responses to safety needs within our early childhood care and education programs. There are a number of providers voluntarily participating in Missouri's Quality Assurance Report pilot, which is Missouri's version of a Quality Rating and Improvement System. This pilot offers an opportunity for providers to receive feedback on their program quality. It also provides them with quality improvement strategies to support continuous quality improvement. Missouri also worked closely with preschool providers to update the State's Early Childhood Strategic Plan following the PDG B-5 needs assessment. Under this updated plan, Missouri will begin a multi-year effort to establish and support a coordinated and aligned comprehensive system of early learning and care. Missouri's child serving agencies are on a mission to provide every Missouri family with opportunities to raise children that are safe, healthy and ready to learn.
5.

You have six grandchildren. What have you learned as a father and grandfather about the importance of the earliest years of life?
The first few years of a child's life are extremely important. From pregnancy through the first five years of life, the environment, the relationships, the health and the learning children are exposed to shapes them for years to come.