A librarian right down to her sensible shoes, Dr. Carla Hayden greets visitors to her office in the Library of Congress with books she thinks they'll like. In an incredible coincidence, she brought me Eric Klinenberg's
Palaces of the People: How Social Infrastructure Can Help Fight Inequality, Polarization, and the Decline of Civic Life,
which I had just checked out from my local branch. (Our interview took place before the pandemic forced the Library of Congress to temporarily shut down.) She gets misty over the books that meant a lot to her as a child.
Dr. Hayden strongly believes in libraries as "community hubs," connecting people to resources like tax forms, voter registration and passport services.
"
Bright April
by Marguerite de Angeli was
that book
for me," she says of the 1946 classic. "I had never 'seen myself' in the pages of a book before, and I'll never forget that feeling." She also fondly remembers her grandmother reading the tales of Hans Christian Andersen aloud. Nevertheless, Dr. Hayden is emphatically
not
a book snob. "It doesn't have to be
War and Peace,
" she insists, noting that Dav Pilkey's
Captain Underpants
series works just fine for some readers. She dismisses any notion of imposing "book guilt" on lovers of graphic novels or audiobooks. "We know more than ever before about how visual and auditory learners need to absorb information," she says.
It was fun to have 4-year-old Daliyah Marie Arana of Gainesville, GA as "Librarian For The Day." She's already read more than a 1,000 books. pic.twitter.com/MQfwlUrakO

— Carla Hayden (@LibnOfCongress) January 11, 2017
👉 Read more: Dr. Hayden appoints four-year-old Daliyah Marie Arana "Librarian for the Day"
It's even okay to leave a book unfinished if it doesn't speak to you. (Remember, this comes straight from the Librarian of Congress!) "Reading is not like eating your vegetables," Dr. Hayden says, noting that Jason Reynolds,
YA phenomenon
and
Library of Congress's new National Ambassador for Young People's Literature
, didn't read a whole book until he was 17 years old.
As she recently told The New Yorker
,
libraries anchor her favorite childhood memories: "My early experiences with libraries were all about being comfortable with being around books, being around stacks, feeling free to be around them." Dr. Hayden is not just the first woman and the first African American appointed Librarian of Congress. She's also only the second person whose profession was librarian before assuming the role. In many ways she's continuing the work of Herbert Putnam (see sidebar), who held the post for the first four decades of the 20th century. Dr. Hayden's library career began in 1973, running story time in a Chicago neighborhood library, a trial by fire she still reflects upon when steeling herself for public speaking engagements. After serving as chief librarian of the Chicago Public Library from 1991 to 1993, she moved to Baltimore to lead the Enoch Pratt Free Library. Pratt, whose namesake institution opened its doors in 1886, proclaimed it "a free circulating public library, open to all citizens regardless of property or color." His example inspired Andrew Carnegie—philanthropist and,
make no mistake, robber baron
—to endow more than 2,500 libraries. Dr. Hayden strove to live up to Pratt's vision, modernizing the 22 branches to serve a cross-section of Baltimore.
👉 Listen: "The Library Was a Safe Place." Dr. Hayden explores the unrest in Baltimore after Freddie Gray's death in 2015, on The Story Corps' Great Listen (starts at 6:00)
Herbert Putnam, Father of the Children's Room
Herbert Putnam
was the tenth child of book publisher George Palmer Putnam. While also working as a lawyer, he led public libraries in Minneapolis and then Boston, where he established one of the first library children's room. President William McKinley named him Librarian of Congress in 1899 and he served for the next 40 years. During his tenure he moved the books to a new Beaux-Arts building across from the Capitol, instituted interlibrary loans and collaborated with the American Library Association.
Upon her arrival at the Library of Congress in 2016, she initiated visitor surveys and sifted through reviews and comments on TripAdvisor and other sites. She found that a substantial proportion who were aware of and who even passed through the space didn't
use
it and didn't realize they could. For a real librarian, that was just unacceptable. Now, a
major gift from philanthropist David Rubenstein
is fueling a reconfiguration of the monumental spaces to make them more inviting. In other words, Dr. Hayden is putting the
library
in Library of Congress. Dr. Hayden, who also served as the president of the American Librarian Association, strongly believes in libraries as "community hubs," connecting people to resources like tax forms, voter registration and passport services. "There are meeting rooms. Sometimes there's yoga or classes. Or you can go as an individual and
not
connect if you don't feel like it." She also travels widely, visiting more than 20 states in the past three years. She's doubled down on digitizing the collection and on traveling exhibitions that allow people to experience the Library's treasures without having to come to Washington. And vice versa: she encourages community libraries across the country to make their assets accessible to all. "If you have something that's unique," she says, "digitize it."i "Librarians are librarians," Dr. Hayden says. "We serve our constituencies, whether it's for a small town, a college campus, a business, or an entire country." She adds, with a smile that is not too modest: "We do very well on Jeopardy."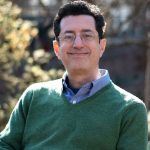 Early Learning Nation columnist Mark Swartz writes for and about nonprofit organizations. Author of the children's books Werner Herzog Eats His Shoe, Lost Flamingo, Magpie Bridge and The Giant of the Flood as well as a few novels, he lives in Takoma Park, MD, with his wife and two children.