Because we can't take our Early Learning Nation Studio on the road during this time, stay tuned as ELN recaps Top Takeaways from important webinars, town halls and virtual events from the Early Learning field. 
Read them all
 and
join the conversation! And visit our 
Early Learning Nation channel
 on YouTube for interviews with leaders from education, child development, business, politics and more. 
---
On Tuesday, July 14, Mississippi's Superintendent of Education, Dr. Carey Wright, shared the story of grade-level reading success in her state. The
Campaign for Grade-Level Reading
(CGLR) powered the conversation as part of their
Learning Tuesdays
webinar series. Dr. Wright was joined by Gray Tollison (former Mississippi State Senator and Education Chairman), Kymyona Burk, Ed.D. (Early Literacy Policy Director at the Foundation of Excellence in Education) and Kelly Butler (CEO, the Barksdale Reading Institute). Tate Reeves, the 65th Governor of Mississippi, made opening remarks, and Dr. Angela Rutherford, Director at the Center of Excellence in Literacy Instruction at the University of Mississippi, moderated the discussion. Below are our top five takeaways from the event.
1.

Mississippi is no longer in last place for fourth-grade reading.
According to the
National Assessment of Educational Progress
(NAEP), the state recently rose from ranking 39th in 2013 to 2nd place, when controlling for demographics. Additionally, the state ranks 4th in growth among poor kids and 7th in growth among African American students. While it seems that, "the stars lined up in Mississippi," as Butler put it, this story of remarkable success took investments of time and effort and has required a true interest in innovation to stay on a positive trajectory.
2.

The change required a culture shift.
While explaining how the state reached this point, Dr. Wright focused on the importance of a vision and mission statement, "If you don't know where you're headed, you're never going to get there," she said. She described the vision for change that she instituted upon joining the department in 2013: "From the boardroom to the classroom, every interaction is done with our mission and vision in mind." In addition to a shift in ideas and culture, a new team of people was put in place and equipped with the tools and training necessary for success. "We had to invest in people, not just programs," Burk said, "and be consistent with professional development."
3.

Funding is critical.
Participants mentioned the
Barksdale Reading Institute
(BRI) as a key catalyst for the improvements. Jump-started by a $100 million donation from Mississippi natives Jim and Sally Barksdale in 2000, BRI boosts literacy throughout the state. The Barksdales also funded the
Mississippi Principal Corps
, a program that trains and develops effective school administrators.
4.

State governments can and must be innovative.
The
Literacy-Based Promotion Act
(LBPA), passed in 2013, places an emphasis on supporting and training teachers on research-based instructional strategies and grade-level reading skills, particularly as students' progress through kindergarten to third grade. "The path to student success was paved with good legislation and intentions," explained Senator Tollison, "but implementation was key." With so much progress made, the state is thinking creatively on how to maintain momentum while facing new challenges due to coronavirus. "School closures have unmasked equity concerns," Dr. Wright explained. "Students without access to the internet are at a disadvantage, and this especially affects students of color and those living in poverty." Speakers acknowledged the need for teaching and learning modifications to align with suggestions made by the CDC and local health organizations to keep teachers, students and families safe. Dr. Wright said that they can't leave students behind and are taking a "statewide approach to mitigate learning loss." Her department recently completed a needs assessment so the state can source and provide the support needed for each district, such as internet access, virtual learning equipment and digital learning plans.
5.

Partnerships are critical to continued success.
In addition to continuous training and resources for teachers during this time, the state is exploring ways to increase parent support. Dr. Wright expressed the need to engage with and empower families, since you cannot have successful children without parents. "Parents want what's best for their children," Wright affirmed. "We need to help them; they are essential partners." Virtual learning is clearly part of the new learning frontier, and moving forward, the science of reading curriculum must be sustained. With that goal in mind, the state is working all angles to prepare for this future, including higher education institutions training new teachers. Dr. Wright explained, "We are committed to changing the trajectory of the state, not just pre-K but education through college and into the workforce as well."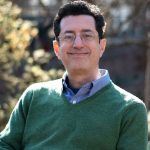 Early Learning Nation columnist Mark Swartz writes for and about nonprofit organizations. Author of the children's books Werner Herzog Eats His Shoe, Lost Flamingo, Magpie Bridge and The Giant of the Flood as well as a few novels, he lives in Takoma Park, MD, with his wife and two children.