Where do you go for the top news in Early Learning at the state level? Check out "5 Questions for the Governor," where we'll explore the top Early Learning challenges and successes in states across the nation. We're thrilled to partner with The Hunt Institute on this series. Read them all. 
COVID-19 has obviously been the big story of 2020. What part of Michigan's response to the pandemic has made you most proud?
Right off the bat, we took aggressive action in Michigan to protect families and frontline workers from the spread of COVID-19. I had to make some hard choices, whether it was closing down schools or issuing the "Stay Home, Stay Safe" order. But those tough decisions, and the fact that the vast majority of Michiganders did their part by staying home, proved to save thousands of lives. Of course, we wouldn't have been able to navigate this crisis without the brave men and women serving on the front lines – our first responders, health care workers, child care workers and grocery store workers. The work done to continue providing these crucial services undoubtedly saved thousands of lives.
The Futures for Frontliners program is the nation's first scholarship program offering tuition-free college to an estimated 625,000 Michiganders who provided essential, frontline services between April and June of 2020.
What are the biggest challenges being experienced by the young children and families during the pandemic and how is the state working to address them?
I think the thing that's had the biggest impact on children and families is the closure of schools for in-person learning. And for families with parents who are on the front lines, making sure they have access to safe, quality child care for their kids.
I know a lot of parents are scared right now – scared that something could happen to them or their kids. A lot of parents are working from home while trying to care for their children at the same time. I've been working hard over the past several months to ensure parents and kids have the resources they need to stay safe and ensure access to child care.
When I issued the "Stay Home, Stay Safe" order, I made sure to keep child care providers open so our frontline workers had safe places for their kids during the day, and expanded access and capacity for child care services, giving priority to essential workforce. I made sure that employers, like hospitals, could operate a disaster relief child care center for their employees. And I signed an executive order which requires face coverings to be worn in all child-care centers and camps.
My team and I are working around the clock to make sure our families have the resources they need to get through this crisis. Roughly 65 percent of our child care providers are open right now. That's a good start, but we have more to do to make sure every family has the care they need.
Your administration recently announced the Michigan Child Care Relief Fund, which is providing direct, non-competitive grants to child care providers in the  state. Why is child care so critical to both Michigan's recovery and its long-term prosperity?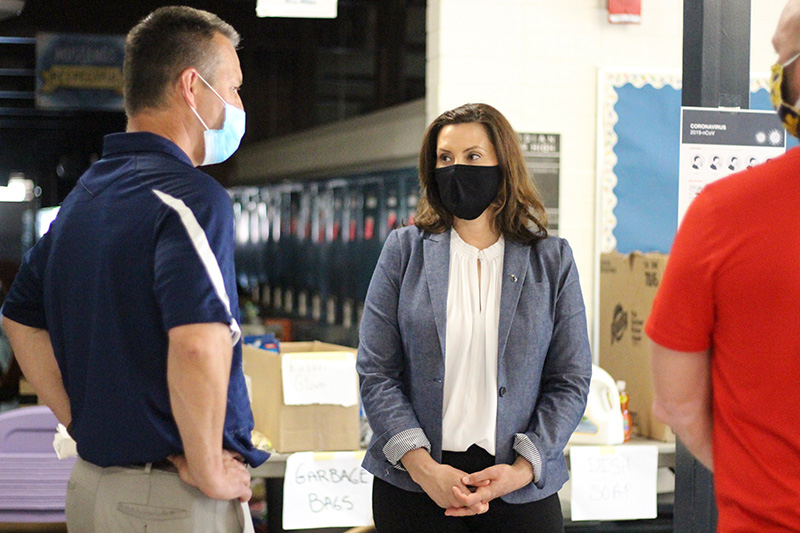 Quality, safe, affordable child care is no doubt crucial to Michigan's economy. Parents need child care that is available when they need it and in a convenient location. However, across Michigan and for families at all income levels, care is too expensive and difficult to find. This is especially true for parents with infants and toddlers, and those needing care during non-traditional hours. That's why in Michigan, we're making child care a top priority. Because child care keeps Michigan working and builds a stronger future for all of us.
As the nation engages in deep conversations around equity, many point to early childhood investment as one mechanism through which to address historic disparities. How does the administration's focus on the expansion of pre-kindergarten, for example, align with its priorities from an equity viewpoint?  
I've been focused on expanding Pre-K for families that need it most since the beginning of my administration. I made it a priority in my last State of the State Address because I know how crucial it is for our families and for our economy. Children who attend a full-day preschool program have an increased vocabulary and outperform their peers in cognition, literacy, math and physical development. Investing in quality early education is essential to eliminate the disparity of low-income children who fall behind in third grade reading.
Here's what we have to do to expand Pre-K for Michigan kids:
Provide additional funding to the Great Start Readiness Program.
Coordinate with existing structures to direct the increased funding to the kids who need it the most.
Create a continuum of care from birth through kindergarten for low- and moderate-income families.
Child care workers are central to expanding access to quality care. What is Michigan doing to strengthen the child care workforce?
I couldn't agree more. Child care workers have been an essential part of Michigan's workforce throughout this pandemic. One way we are thanking them is by launching the Futures for Frontliners program. The program is the nation's first scholarship program offering tuition-free college to an estimated 625,000 Michiganders who provided essential, frontline services between April and June of 2020. It is Michigan's way of expressing gratitude to essential workers, like child care providers, for protecting public health and keeping our state running.
Futures for Frontliners, inspired by the GI Bill which provided college degrees to those serving their country in WWII, offers Michigan adults without college degrees or high school diplomas who provided essential services during the pandemic a tuition-free pathway to gaining the skills needed to obtain high-demand, high-wage careers. We know early education is a skilled profession, and we are reaching out to child care workers to help them take advantage of this opportunity.