Because we can't take our Early Learning Nation Studio on the road during this time, stay tuned as ELN recaps Top Takeaways from important conversations, town halls, webinars and virtual events from the Early Learning field. Read them all and join the conversation! And visit our Early Learning Nation channel on YouTube for interviews with leaders from education, child development, business, politics and more.
---
On December 3, Council for a Strong America hosted a roundtable discussion in conjunction with the release of their national report and short film exploring the current state of child care and preschool in rural communities, and the impact they have on kids' development, local economies, public safety and national security.
Sandra Bishop, Research Director at Council for a Strong America, provided initial context before the following panelists presented.
Thomas Dempster, Director at IFAM Capital and former South Dakota State Senator
Geoff Spalding, Police Chief, Astoria, Ore.
James C. Johnson, Retired Gen., U.S. Air Force
Mindy Young, Early Education Consultant and Trainer, Neb.
Leigh Sargent, Director, Tallahatchie Early Learning Alliance
Below are our top five takeaways from the conversation.
1. Defining "rural" correctly matters. Bishop explained that there are various definitions, but two of the most common come from the U.S. Census Bureau, which defines an area that has fewer than 2,500 residents as rural, and the U.S Department of Agriculture, which has a more nuanced definition applying nine categories of rural-urban continuum coding. "Using the U.S. Department of Agriculture definition, approximately 14 percent of the American population live in rural areas, and there are rural areas across all 50 states," Bishop said.
2.

Poverty rates are on the rise.
Children and families in rural areas have a higher poverty rate than those in metro areas: 22 percent compared to 17 percent. The poverty rate increases to 25 percent for children under the age five living in rural areas. More than three-fourths of the U.S. counties with persistently high child-poverty rates are rural. While these counties span the U.S. and have different demographic representation, they are disportionately populated by children of color. "The children of color in those areas have rates of poverty that are more than double those of non-Hispanic white children in the same counties," Bishop said.
3. Access to quality early child care and education is essential. "What early childhood education does, especially with targeted investments, is allow disadvantaged children to participate and to own the American Dream," Dempster said.
However, children in these rural communities are less likely to have access to these vital programs. Chief Spalding explained, "Rural areas are more likely to be classified as child care deserts," which are areas where children under 5 years old outnumber the available licensed child care slots by 3 to 1 or more. "Research shows the kids who participate in high quality early learning programs are better prepared to start kindergarten, more likely to graduate from high school, less likely to have behavioral problems and less likely to become involved in crime."
4. Population and employment are declining. For the first time in history, rural America lost population between 2010 and 2016. Contributors to this population loss are threefold, "This is due in large part to young people leaving rural areas," Bishop explained. "There have also been fewer births and an aging population." These declines have led to a decrease in business, employment and critical services like health care.
5. Critical recruitment systems are suffering. The U.S. military and local law enforcement agencies are struggling to recruit qualified applicants, especially in rural areas, for the reasons previously explained. Of the pool of 20 million 17-24-year-old individuals that have the potential to serve in the nation's military, 3 out of every 4 are ineligible due to medical, academic or conduct issues. "The physical, mental and emotional capabilities that we need our service members to have are all rooted in those first five years," General Johnson explained. "Those years are foundational."
---
Learn More
Access the Council for a Strong America report and watch the first short film here.
In 2018, we brought our mobile Early Learning Nation Studio to the Ready Nation Global Business Summit on Early Childhood. We captured it all on video as global business leaders, public officials and nonprofits gathered in New York City to discuss what works in early childhood development and learning — and how to support young children to build the current and future workforce. View all the videos.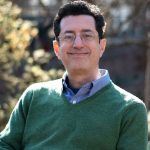 Early Learning Nation columnist Mark Swartz writes for and about nonprofit organizations. Author of the children's books Werner Herzog Eats His Shoe, Lost Flamingo, Magpie Bridge and The Giant of the Flood as well as a few novels, he lives in Takoma Park, MD, with his wife and two children.