Where do you go for the top news in Early Learning at the state level? Check out "5 Questions for the Governor," where we'll explore the top Early Learning challenges and successes in states across the nation. We're thrilled to partner with The Hunt Institute on this series. Read them all.
---
1. Governing through a global pandemic is obviously a different type of challenge. What about Oregonians' response to the crisis has given you the greatest sense of pride?
It feels like a cruel twist of fate that many Oregon communities already disproportionately suffering from the impacts of COVID-19, or the flooding in Umatilla earlier this year, now face even more hardship with the fallout from a historic wildfire. I'm grateful that even in the darkest of times, Oregonians are stepping up to help one another in extraordinary ways.
Like Sarah in Mollala, who was forced to leave her home and evacuate with her kids during the unprecedented wildfires in Oregon. Once safe, she returned to deliver water to firefighters on the frontlines. Or Alba in Medford, who was able to safely evacuate the children in her child care, her neighbor's two children and their three dogs as the fire quickly spread. She and her husband then opened their church, providing refuge to 40 members of their community.
I've been told that there were so many donations to the Expo Center in Jackson County in Medford that they had to ask people to stop donating after the communities of Phoenix and Talent were burned. The center was filled with mountains of blankets, pillows and supplies. And restaurants like Conway's in Springfield and La Margarita in Salem provided free hot meals to Oregonians impacted by the fires.
That's what we do here in Oregon. We take care of one another. And this is what gives me confidence that we will come out of this disaster, and we will be stronger for it.
We will have a long road ahead, but I am heartened by all the Oregonians who are coming together right now to help us build back a stronger and more resilient Oregon.
2. In late March, you made the difficult decision to temporarily close child care (with exceptions for emergency care for essential staff) as the state dealt with the initial onset of the virus. What lessons has Oregon learned about the importance and needs of the child care industry during this challenging time and what additional supports are needed to ensure the availability of care as Oregonians return to work.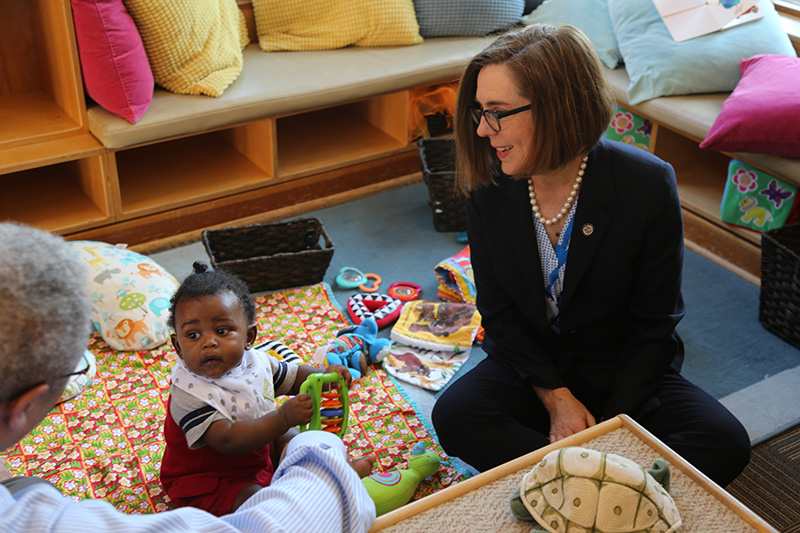 I've known the importance of high-quality early care and education settings for child development and supporting our workforce – particularly women in the workforce. But this pandemic has shown that child care and ECE settings are the foundation of our system. Oregon was already a child care desert before this pandemic, and COVID-19 has closed half of our supply. Lack of access to child care has implications for our businesses and our economy, and the physical closure of schools has only exacerbated this issue. It's also highlighted the importance of our early care and education workforce. These educators – mostly women and largely women of color – are putting themselves at risk for less than minimum wage.
Our Preschool Promise and Baby Promise funding formulas include wage parity, and we were able to secure parity for our Oregon PreKindergarten and Head Start educators last year. But it doesn't go far enough. Child care is essential and the educators in these programs are essential – they need to be compensated as such. We need additional federal support to ensure that our remaining programs can stay open and that we can reopen our closed programs.
3. This fall, you convened a Racial Justice Council and Education Recovery Committee. What is the purpose of the Council and Committee, and what do you hope it will accomplish over the next several months?
I've asked the
Racial Justice Council
to recommend changes to state policies, practices, budgets and structures to align them within a racial justice and equity framework. Right now, they are focused on identifying priorities for my Governor's Recommended Budget that will be released later this year, but I am looking to them to set the trajectory for the remainder of my term and – ideally – beyond.
The Education Recovery Committee is one of six subcommittees of the Racial Justice Council. Their focus is to recommend key priorities for system improvement in response to COVID-19, and to remove barriers to child and youth access, opportunity and outcomes in early care and education, K-12 and higher education.
They are currently closing out their budget discussions to recommend priorities to the Racial Justice Council. Once we get through the budget, I will be looking to them to draw that roadmap for education. What do they want to see from our education system in the next two years? How can we begin to transform our Prenatal to Grade 20 (P-20) education system to best serve our communities of color? I am looking forward to their continued work.
4. Oregon has made a commitment to a mixed-delivery system for high-quality preschool and, now, infant-toddler care. How does this approach improve access to care for families across the state, and why is it so important to you?
When it comes to a child's education, I believe families should have a choice. Families, especially our families who have been historically underserved, deserve to choose where they want their child spend the day.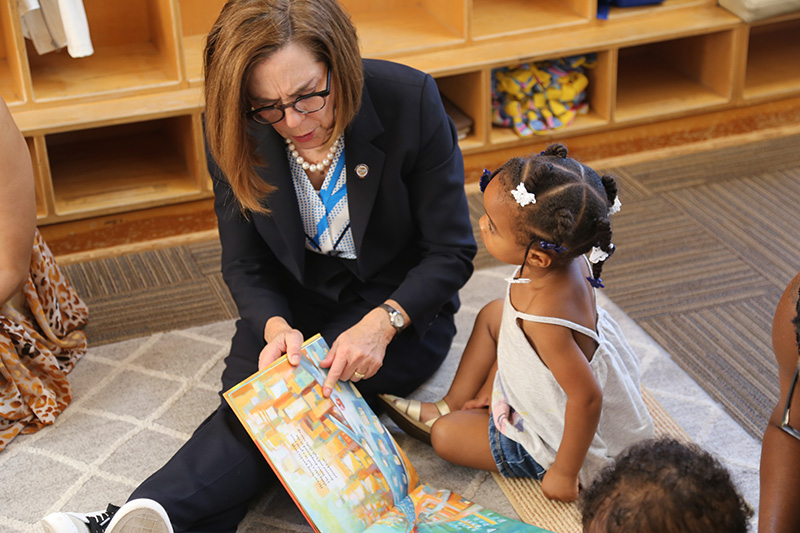 Preschool Promise serves families up to 200% of the Federal Poverty Level and we have funded slots in homes, schools and centers across the state. Our investment in an Early Childhood Equity Fund allowed us to further expand some of our strongest culturally-responsive early care and education settings. This helps ensure that families have the opportunity to place their child in the care of someone who will elevate their culture and help foster positive racial identity during these crucial years of child development.
We were recently able to launch a pilot program, Baby Promise, which builds on these same principles, but for our very youngest Oregonians.
5. Oregon recently became one of the only states in the nation to offer home visiting to all new parents. How has the program been received, and what benefits does the program offer to Oregon families and taxpayers?
I am proud to have worked with the Legislature to fund universally offered Home Visiting for all families of newborns for our state. While COVID-19 has delayed some of its implementation, we have eight pilot sites in 18 counties that are preparing their local systems of care to receive referrals and support these families.
Actual home visits will begin in late-January, 2021, with gradual scale up within these communities throughout the year. There is much excitement and collaboration from stakeholders, health plans and communities. They understand firsthand how connecting families of newborns with the supports they need from the start sets them on a trajectory of lifelong improved health. Now, more than ever, it's important that some of our most vulnerable families have access to home visiting services across the state.