Because we can't take our Early Learning Nation Studio on the road during this time, stay tuned as ELN recaps Top Takeaways from important conversations, town halls, webinars and virtual events from the Early Learning field. Read them all and join the conversation! And visit our Early Learning Nation channel on YouTube for interviews with leaders from education, child development, business, politics and more.
---
On January 27, Promise Venture Studio hosted a "Show+Tell" in partnership with Sesame Workshop and The Center on the Developing Child. The showcase featured 10 companies and the social entrepreneurs in the 2020 Promising Ventures Fellowship Program.
Promise partners Michael Dougherty and Corey Zimmerman co-hosted the event. Dr. Joan Lombardi (Director, Early Opportunities, LLC), Steve Youngwood (CEO, Sesame Workshop) and Akimi Gibson (VP and Education Publisher, Sesame Workshop) were special guests.
Acknowledging the challenges of 2020, Dr. Lombardi said, "While we've got a lot of work ahead of us to recover and rebuild, events like this one renew our spirit and give us hope." Youngwood spoke about Sesame's start in a similarly turbulent time, the late 1960s, "Back then TV was proving to be captivating to children, so Sesame Street was created to use that innovation to extend early learning to every child."
Below are our top four takeaways and notes about the companies looking to scale their impact to meet the specific challenges of today.
1. Community connections accelerate change
2. Quality resources are essential for sustainable businesses
3. Help is on the way for home-based providers
4. Resiliency is a muscle
"One in four children under the age of six suffers from one or more traumatic experiences," Gibson said, citing food insecurity and racial injustice as examples. "High-quality interactions and relationships, and attending to children's social emotional learning, work together seamlessly to deepen children's capacity to be resilient." These final two companies do just that.
Search the Venture Database for contact information, videos and pitch decks, and subscribe here for updates from Promise Venture.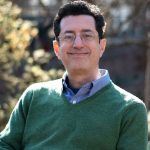 Early Learning Nation columnist Mark Swartz writes for and about nonprofit organizations. Author of the children's books Werner Herzog Eats His Shoe, Lost Flamingo, Magpie Bridge and The Giant of the Flood as well as a few novels, he lives in Takoma Park, MD, with his wife and two children.