Where do you go for the top news in Early Learning at the state level? Check out "5 Questions for the Governor," where we'll explore the top Early Learning challenges and successes in states across the nation. We're thrilled to partner with The Hunt Institute on this series. Read them all.
---
1. Governing through a global pandemic obviously presents a unique set of challenges. What have you learned as a leader over the past year, and what about Kansans' response to the crisis has given you the greatest sense of pride?
COVID-19 has created many new challenges for Kansans. However, my administration took aggressive steps right away to slow the spread of the virus and protect Kansas families. When schools had to move to all virtual settings, a team of teachers came together and created the continuous learning program – in three days. When it was time to begin reopening, we engaged stakeholders from across the state to develop a comprehensive, phased-in plan that let businesses open safely.
"Medicaid expansion is about more than expanding access to health care. It creates jobs, injects billions of dollars into our economies, protects our rural hospitals and boosts access to mental health services. Expansion will only benefit Kansas. It's a no-brainer." — Laura Kelly, Governor of Kansas
My team is also working hard on Kansas' recovery. This year alone, we've brought in $2.5 billion dollars in capital investment. That's more jobs and more businesses coming to Kansas in a time when we need them the most.
I am proud of the tireless work of our health care professionals, essential workers, teachers, and all those who have drastically changed their routines to keep people safe. Kansans worked hard to mitigate the spread of the virus and protect their communities. Everyone has really stepped up.
2. Kansas has provided a variety of pandemic-related supports to child care – and has classified child care teachers as critical workers in phase 2 of its COVID-19 vaccine plan. Why is child care a critical consideration in the state's response to the pandemic?
Child care workers and teachers are critical workers. During the COVID-19 pandemic, families have faced many challenges – including child care access.
We know that if we wanted to keep essential workers, teachers, law enforcement and many other essential employees and their services functioning, we needed to ensure access to child care.
Access to quality, affordable child care will ensure our parents can get back to work as soon as possible, ensuring they can keep their families housed and fed, while also protecting our economy and bolstering our workforce.
3. The state recently announced over $2.8 million in grant funding to fuel 'All in for Kansas Kids' Quality Subgrants, helping communities, child care providers, and other early childhood champions address needs and gaps in the early childhood care and education system through locally-driven ideas and approaches. What do you hope the grants will accomplish and what do you see as the primary benefit of sharing these funds directly with communities?
Our hope for these grants is that they will increase access to quality, affordable child care for Kansans in every community – particularly in rural or otherwise underserved areas.
Additionally, we want to break down the barriers to success our kids face every day. The child care and education professionals who live and work in our communities have a deeper understanding of those barriers, and what can be done to remove them.
These grants will be used for enhancing supplies and activities, increasing access to mental health services, making sure our kids are ready for kindergarten, ensuring families are aware of the resources available to them, and more. They will make a significant difference for Kansas families.
4. You recently announced legislation to expand Medicaid and to provide health insurance for 165,000 Kansans. The legislation also establishes a regulatory framework to make Kansas the 48th state to legalize medical marijuana. How else do you see the expansion of Medicaid as critical to meeting the needs of Kansas children and families?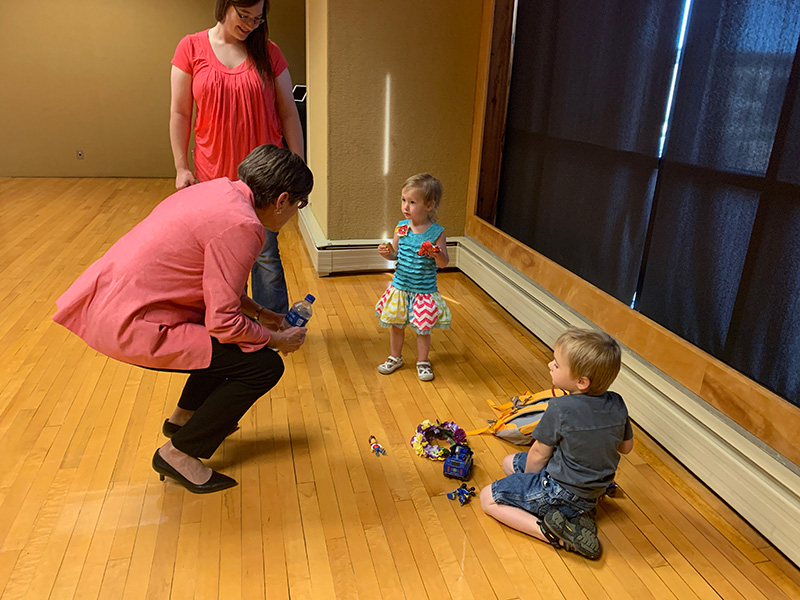 Families in Kansas are struggling to meet basic needs – especially access to affordable health care. This was true before the pandemic and the realities are even starker for families now. Healthy Kansans are critical to our state's recovery.
Our 2019 Early Childhood and Education Needs Assessment's main findings were that young children were growing up in families where basic needs are not met and that experiences are shaped by where you live in the state. Almost 20% of children under the age of 5 live in poverty. And, children in western Kansas are more likely to be uninsured with ranges from 3-14% for children under 18.
In our 53 community engagement sessions across the state, two-thirds of communities cited Medicaid expansion and health care access as a critical need.
But Medicaid expansion is about more than expanding access to health care. It creates jobs, injects billions of dollars into our economies, protects our rural hospitals and boosts access to mental health services. Expansion will only benefit Kansas. It's a no-brainer.
5. Child Care Aware of Kansas, in partnership with the Kansas Department of Health and Environment and the Kansas Office of Recovery, has launched a new Child Care Health Consultant Network. What will the network do and why was launching it a top priority for the state?
The Child Care Health Consultant (CCHC) Network provides technical assistance to licensed child care providers as they implement COVID-19 health and safety guidance from the Centers for Disease Control and Prevention (CDC).
After working directly with a consultant to assess the environment, child care programs are eligible to apply for grant funding to purchase supplies or make modifications to home or center-based facilities serving children, infant through school age. The network is a critical support for child care programs that are working hard to remain open and ensure that children are safe and healthy in the midst of the pandemic.
Child care is essential to a thriving Kansas economy and families want to know that their children are cared for in a safe, nurturing environment so they can go to work.