Because we can't take our Early Learning Nation Studio on the road during this time, stay tuned as ELN recaps Top Takeaways from important conversations, town halls, webinars and virtual events from the Early Learning field.
Read them all
and join the conversation! And visit our
Early Learning Nation channel
on YouTube for interviews with leaders from education, child development, business, politics and more.
On March 16, the National League of Cities (NLC) hosted a virtual fireside chat titled "State and Local Government Prenatal-to-Three Collaboration in Action." The conversation focused on political leaders in Wisconsin, but the lessons were applicable beyond America's Dairyland. Noting that the pandemic has hastened collaboration and yielded "a moment to think creatively and deepen partnerships," NLC's Tonja Rucker moderated the panel featuring:
Tom Barrett, Mayor of Milwaukee
David Crowley, County Executive of Milwaukee County
Bethany Rasmussen, Chief of Staff to State Representative Joan Ballweg
Before the speakers were introduced, a video played, featuring three legislators from around the country who are also parents of young children: council member Zeke Cohen of Baltimore, council member Teresa Mosqueda of Seattle and alderman Cavalier Johnson of Milwaukee—a father of twins—to highlight how they are bringing their lived experience to policy.
👉 April 22: Early Childhood Municipal Policy 101: Aligning City, County and State Policies & Practices
Here are our takeaways from the conversation:
1.

Health comes first.
Mayor Barrett declared his "moral and ethical responsibility to care for the youngest among us," citing home visits and prenatal and postnatal care as ways of ensuring that "all babies can blow out the candles on their first birthday cake." He acknowledged that continued racial disparities—which have widened during the pandemic—have made it harder to attain this goal. Dedicated resources, including full-time doulas, have been deployed to address the issue. County Executive Crowley mentioned the support made possible by the
Advancing a Healthier Wisconsin Endowment
. Read more about Mayor Barrett's work to advance early learning in this
"5 Questions for the Mayor"
article.
2.

The American Rescue Plan ushers in new possibilities.
"When we work in partnership, we can move mountains," said county executive Crowley, who admitted he was breathing a sigh of relief after passage of the funding package. Although specifics around how the funds would be allocated were not yet available, he foresaw "targeted investments in historically marginalized communities" as well as long-term initiatives.
3.

Staffing demonstrates commitment.
It's a lot more likely that campaign promises will come true if somebody on staff is in charge of seeing to it. Two years ago, Mayor Barrett established an Office of Early Childhood Initiatives dedicated to ensuring every Milwaukee family has access to high-quality child care; improving early literacy scores; increasing state reimbursement rates for day care centers; and leveraging resources to ensure a high-quality learning experience from day care to school.
4.

Public-private partnerships are worth it—but they take work.
Mayor Barrett emphasized the importance of "knowing the lay of the land in your community. What efforts are others making? Where are the overlaps?" Coordinating with the faith-based community on early childhood issues, for example, has helped the City to reach more families more effectively. Councilman Crowley emphasized that government doesn't operate in a vacuum and that businesses have a role to play in building healthier communities.
5.

Science-driven policy makes sense. "
Good data is important for telling a story," said Rasmussen. Experts like economist James Heckman and Seth Pollak of the
Child Emotion Lab
at the University of Wisconsin have addressed gatherings of policymakers, making the case for targeted investment. She cited a home visiting program in Racine County as the type of success that, on the basis of the data, might be scaled.
---
Resources for Collaboration in Action
The Wisconsin Legislative Children's Caucus
aims to cultivate a legislature dedicated to advancing evidence-informed public policy that improves the life of every Wisconsin child.
The Wisconsin Infant Toddler Policy Project
, operated by the Wisconsin Early Childhood Association, works with early childhood educators and other multi-sector partners to form a united voice on the importance of infant and toddler care in Wisconsin.
The National Collaborative for Infants & Toddlers
, powered by the BUILD Initiative, advances policies and programs that ensure every parent has the support they need to give their children a strong start in life.
Counties for Kids
is a public awareness campaign for county leaders who are committed to making investments in young children from prenatal to age three.
The National Conference of State Legislators
advances the effectiveness, independence and integrity of legislatures, fosters interstate cooperation and facilitates the exchange of information among legislatures.
The Institute for Youth, Education and Families
, a project of the National League of Cities, brings together local leaders to develop strategies via technical assistance projects, peer learning networks, leadership academies and Mayors' Institutes.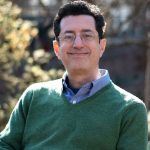 Early Learning Nation columnist Mark Swartz writes for and about nonprofit organizations. Author of the children's books Werner Herzog Eats His Shoe, Lost Flamingo, Magpie Bridge and The Giant of the Flood as well as a few novels, he lives in Takoma Park, MD, with his wife and two children.