"Have a belief in yourself that is bigger than anyone's disbelief," said August Wilson, playwright of the great "Pittsburgh Cycle." The statement could serve as a motto for the city as a whole, known for its grit and, in recent years, for
reinventing itself
as a metropolis with a creative and innovative postindustrial future. Wilson (1945-2005) is also the namesake of one of the city's 165 parks, which have proved to be vital "lungs" during the Covid pandemic—places where families with young children can go and be together in (almost) any weather. Collaboration drives Pittsburgh's thriving early-childhood ecosystem. Gregg Behr, executive director of the Grable Foundation, says, "I view our entire community as one big campus, a genuine learning network." Decades of investment in families, parents and caregivers built resilience and may have cushioned the blow of the pandemic. As in many cities, he notes, the past year has affected different families differently. "Experience is hyperlocal," he says. "Some families are doing better than others."
Although many programs have had to be suspended or postponed, playful learning remains alive and well in Pittsburgh. According to Jen Schnakenberg, assistant director of Education at Pittsburgh Parks Conservancy's Frick Environmental Center, connecting children to nature through play builds gross- and fine-motor skills and sparks "unconstrained imaginative freedom." Unlike traditional playgrounds with equipment bolted to the ground, this mode derives from "Loose Parts Play"—a concept originated by British architect Simon Nicholson,
who wrote
, "In any environment, both the degree of inventiveness and creativity, and the possibility of discovery, are directly proportional to the number and kind of variables in it." Schnakenberg and her colleagues also encourage children to use sticks and any other handy play materials in their own creative ways.
👉 Learn more about Loose Parts Play
Parks Prescriptions
encourage children and families to take advantage of their local green spaces. Pediatricians, other health care professionals at UPMC Children's Hospital of Pittsburgh, and staff at the
Family Support Centers
that operate primarily in low-income neighborhoods, issue these prescriptions, which experts endorse as a way of addressing obesity, depression, ADHD and other conditions that disproportionately affect young children of color. "A child might see the doctor once a year," says Kathryn Hunninen, senior manager of Special Initiatives at the Pittsburgh Parks Conservancy. "Teachers, school nurses and other professionals interact with children more frequently and get to know them and their families." She says that more than 1,600 prescriptions have been issued so far in doctor's offices and over 5,000 people have interacted with the program in community settings since 2016. While it's difficult to track the compliance rate, the program is an important way to remind families that the heading outdoors is a part of staying healthy. Hunninen always feels gratified when families discover nature in their community, whether it's down the block or a quick bus ride away. One of her favorite trips was to a nearby state park for hiking and swimming. Another fond memory took place on "a gorgeous, 60-degree day in November" when families went on a Story Walk, which involves posting enlarged, laminated pages of children's books along a trail, to encourage both exercise and literacy. "The children were wearing their little masks," she recalls. "And they were having so much fun they wouldn't go home." Behr is looking forward to
Remake Learning Days
this May. The series, which comprises virtual, in-person and hybrid coding, inventing and play activities, started in 2016 and now reaches beyond its Pittsburgh origins. Chicago, Oregon, San Diego and the DMV (for the uninitiated, that's District of Columbia, Maryland and Virginia) are all set to participate. "There's something for every family," he promises.
---
How Pittsburgh Plays Together
A partial list of organizations and resources that bring out the kid in Steel City: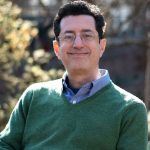 Early Learning Nation columnist Mark Swartz writes for and about nonprofit organizations. Author of the children's books Werner Herzog Eats His Shoe, Lost Flamingo, Magpie Bridge and The Giant of the Flood as well as a few novels, he lives in Takoma Park, MD, with his wife and two children.