"This is a moment for difficult conversations," says Dr. Robert Blaine, who recently became senior executive of the Institute for Youth, Education and Families at the National League of Cities (NLC). "We've lived too long with the legacy of policies that have been detrimental to society." As America's 19,000 cities, towns and villages recover from the health and economic consequences of the pandemic, his job is to help them acquire and deploy funding to improve children's futures. There is a lot of work to be done.
Dr. Blaine is something of a Renaissance man. Born in a Maryland suburb of Washington, D.C., he initially pursued a musical career, studying at the Eastman School of Music and becoming conductor for the Mississippi Symphony Orchestra, but the field of higher education lured him away. He became dean of Undergraduate Studies and CyberLearning at Jackson State University, where, as a 2016 TEDxJackson Talk captures, he advocated for education reforms based on brain science.
"The students of today," he said, "have new experiences that have never been experienced by any other generation in the history of mankind. And those new experiences have created new neural pathways in those students. They literally think differently. But if you think about the way that we educate students today, it hasn't changed since the beginning of the Industrial Revolution."
The confluence of higher education and urban policy led Dr. Blaine to his next appointment, chief administrative officer of Jackson, Miss., serving alongside Mayor Chokwe Antar Lumumba, and this experience prepared him for the role at NLC. It may seem like he's strayed a long way from his musical roots, but he continues to draw upon his training, citing Leonard Bernstein's description of the person holding the baton: "The conductor is the least powerful person in the room, his instrument makes no noise, yet he must convince those with the power to conform to his vision. This is achieved by allowing each artist room for individual interpretation within the vision of the whole."
Extending the musical metaphor, Dr. Blaine describes a city's strategic plan as the score and says that every community has to have a voice, forming a harmony out of disparate interests. "It's about providing a framework that allows for flexibility," he says.
NLC advocated for the $65 billion in direct funding for cities that's in the American Rescue Plan Act (ARPA). Dr. Blaine notes that there hasn't been an opportunity like this in a long time. "Austerity has been the pattern for more than a generation," he says. "Now we have to figure out how to leverage this infusion of cash for long-term gain."
The institute he leads is providing technical assistance for cities that want to use ARPA funds to confront racial strife and build economic resilience. Dr. Blaine says there is much to be done for the 18,000 municipalities that have less than 50,000 people, which are "often overlooked and often vulnerable." Many lack the staff and knowhow to access grant funding, as well as historically disinvested communities in cities of all sizes.
👉 Read more: Six Considerations to Leverage ARPA Funds for Economic Mobility
The endeavor builds upon the Early Learning Communities work that NLC has done in collaboration with the Center for the Study of Social Policy, which focused on programs designed around the health of pregnant women and young children; school readiness; and stable, nurturing communities, including:
Parent Cafés (Oakland, Calif.), a six-week series of guided conversations among parents about the protective factors that keep their families strong
The City of Learners Committee (Dayton, Ohio), comprising more than 70 community leaders who have committed to ensure that children receive a high-quality education
The Parent Leadership Pathway (Boston, Mass.) a parent-driven approach to family engagement in early care and education programs
The South Jersey Strengthening Families Initiative, which builds up public transit options in largely rural counties
The Cradle to K Cabinet (Minneapolis, Minn.) which focuses on eliminating race- and place-based disparities
Since at least the 1960s, Dr. Blaine notes, our cities have lived under "economic models of humiliation." Stories of blight and violent crime have predominated for so long that we don't recognize the biases embedded in them. The alternative vision goes beyond specific policies and programs; it's a new economic model focused on the inherent dignity of all residents. He embraces the ambition of this paradigm shift, saying, "The greatest opportunities are embedded in the greatest challenges."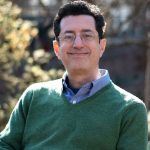 Early Learning Nation columnist Mark Swartz writes for and about nonprofit organizations. Author of the children's books Werner Herzog Eats His Shoe, Lost Flamingo, Magpie Bridge and The Giant of the Flood as well as a few novels, he lives in Takoma Park, MD, with his wife and two children.