Erikson Institute
's new
Master of Science in Early Childhood Education (MSECE) licensure program
is designed to prepare teachers to teach in underinvested communities. The program combines early education, special education and bilingual/English as a Second Language (ESL). Erikson is fielding applications from career changers (with a bachelor's degree in something other than education) as well as individuals who are in the classroom as assistant teachers or another role. Classes start May 15.
Applications are due April 21
. "When children have teachers who reflect them, who look like they do, they're more likely to do well in school," says Sandra Osorio, associate professor, Raciolinguistic Justice and director of Teacher Education. Osorio, who came to Erikson last summer from Illinois State University, says her move was partly inspired by Erikson's new president, Mariana Souto-Manning, who is seeking to redress inequities and injustices in early childhood teaching and teacher education. Souto-Manning says she hopes graduates of the program will "ensure that the brilliance of children who have historically been marginalized or come from disinvested communities continues to shine." An advisory council of local educators is taking part in the program's design, signaling what they need in their communities. "We don't want a tourist view of the city," she says. "We want this to be for the real Chicago." Chrishana Lloyd, Ph.D., researcher at Child Trends, says, "An educated citizenry is one of the most important assets of a nation. This program's emphasis on opening educational doors to those who are typically shut out has the potential to strengthen the lifelong prospects of those who engage in the program, as well as positively influence endless generations of children and families who benefit from access to well prepared and highly skilled early care and education professionals. Three qualities distinguish the new program, which Osorio sees as "a blueprint that other universities can take up":
1.

Integrating Certification
Traditionally, graduate students at Erikson would earn their early childhood licensure and then add special education or English as a Second Language (ESL), aspects of early education that are traditionally presented in isolation. It would take three years, and the tuition costs were often prohibitive. Erikson integrates the content, so participants master a wider range of issues they are likely to encounter in the real world. "Multilingual students are everywhere, and so are students with identified disabilities," says Osorio. "As a teacher, you'd better be prepared." Osorio herself was born in Chicago and went to bilingual preschool in the basement of her church. When she started kindergarten, her parents were advised to stop speaking Spanish at home—even though the research then and now
confirms bilingualism as an asset
. Early in her career, she taught Head Start to the children of migrant farm workers. She repeatedly encountered administrators and educators who tried to "squash" Spanish. Erikson is cultivating a space where multilingualism is welcome.
2.

An Assets-Based Approach
When we talk about kindergarten readiness, what are we really talking about?
For Osorio, the traditional orientation means: "the child's lacking something. There's something wrong with them." The new program views children from a different angle. It encourages teachers to ask, in Osorio's words, "What is the wealth and knowledge they have? How can we bring their languages into the classroom space?" This shift in perspective signals a departure from what Osorio terms "ethnocentric white scholarship that doesn't really speak to students of color." She and the Erikson team are reinventing the curriculum to incorporate a new wave of scholarship that intentionally includes researchers of color who use an asset-based perspective. The shift entails recognizing that there is no "normal" child. Children show up in preschool with a wide variety of abilities, skills and knowledge, and it's the educator's job to support all of them. According to Osorio, "The number one thing I've heard from the teachers we've recruited is, 'Are we going to learn about autism? Are we going to learn what supports we can give? How do we support parents? What am I supposed to be doing?' Everybody wants to know how to support children."
3.

Full Tuition Grants
Thanks to philanthropic support, Educator Impact Grants will enable four cohorts of 30 educators to go through the program with minimal fees. "One of the interviewees told us, 'I didn't ever think I was ever going to be able to do this, but now I can'," says Osorio. "That's the icing on the cake," says Lloyd. "No debt. In this climate and economy, the Erikson program is worthy of celebration." To qualify for the grant, participants need to sign a service agreement saying they will teach four years in an underinvested community. Osorio says she expects that while some graduates will seek positions at new facilities, others will remain in same schools and centers, ready to take on new responsibilities. "They are part of the community," she says, "and they plan to stay in the community." Educator Impact Grants include a two-year professional learning community post-graduation. Groups of 10 graduates will meet every month with a faculty member to discuss topics decided on by the participants, who will earn professional development credit. Full-time students in the new master's program will take four courses at a time, graduating in three semesters (summer, fall, spring). Others will opt to take two courses at a time, and they'll finish in six semesters. Initially, the program will be hybrid in-person and virtual, and Erikson plans to launch a fully virtual option next year.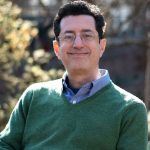 Early Learning Nation columnist Mark Swartz writes for and about nonprofit organizations. Author of the children's books Werner Herzog Eats His Shoe, Lost Flamingo, Magpie Bridge and The Giant of the Flood as well as a few novels, he lives in Takoma Park, MD, with his wife and two children.