Because we're still working remotely and not yet taking our Early Learning Nation Studio on the road during this time, stay tuned as ELN recaps Top Takeaways from important conversations, town halls, webinars and virtual events from the Early Learning field. And visit our Early Learning Nation channel on YouTube for interviews with leaders from education, child development, business, politics and more.
---
On May 23, Abt Associates hosted a learning session to share strategies for raising compensation for the child care workforce, using initiatives in Washington, D.C., and Connecticut as case studies.
David Kaz facilitated the conversation with Abt colleagues Adele Robinson and Deena Schwartz. Panelists and policy leaders Beth Bye (Commissioner, Connecticut Office of Early Childhood) and Kimberly Perry (Executive Director, DC Action for Children) discussed developments in their respective regions.
Here are our top five takeaways from the presentation.
1. Low retention and wages observed in early care and education (ECE) career trajectories. An interactive dataset created by Abt for the Department of Labor, following workers over 10 years (1998-2018) after they started in the occupation shows that child care workers, and preschool and kindergarten teachers, on average, rank low in starting wages compared to other professions. Still, only 5% of such workers remain in the same job 10 years later, with 14% staying to work in the field. "Often when child care workers move on, it's outside of the field," explained Schwartz, citing retail sales and administrative assistance as common next jobs.
2. Wage growth varies by workers' race and gender. When looking at two people starting in the same occupation at a similar wage, income disparities are observed a decade later in ECE occupations. "Men, on average, are earning $6.75 per hour more than women, and white workers are earning $3.80 more than Black workers," Schwartz said. The increases can be explained by a wage bump from a new role or promotions, and pay increases in the same job.
3. All early care providers deserve worthy wages. Robinson noted the difficulty of allocating limited funds in the space. "A lot of decisions have to be made about who gets compensated. It's not universal." In the case of Washington, D.C., Perry said the D.C. Council created a task force to tackle the issue, comprising providers, teachers, academics and policy experts. "Ultimately, there was an acknowledgment that we were losing teachers to nonteaching jobs.…What they were looking for was better pay and benefits."
D.C. started its compensation program with early care teachers, and health, dental and vision benefits were included, and not just for teachers. "The task force had a vision to ensure everyone could enjoy the benefits," Perry explained. The additional compensation in Washington is funded by a tax on income earners of $200,000 or more.
4. Equitable funding is a priority. In remembering what early child care providers did during the pandemic, Bye said, "Our governor had that idea that frontline workers need to be rewarded." The state sent stabilization funds directly to programs for dispensation, and 25% of it had to be given as compensation to workers. The iterative process involved community proposals, feedback and edits based on input.
"We felt that COVID did not hit communities equally, and we wanted to ensure equity was at the center," Bye said. Connecticut advantaged high-need, subsidized, accredited and infant and toddler programs, which were observed to struggle the most with hiring and keeping workers. D.C. similarly focused on equitable allocation. "An equity adjustment will provide programs with an additional amount of dollars to go to their administration based on the number of subsidy seats they have," Perry said.
5. The United States needs long-term planning and can learn much from models abroad. Raising and adjusting the salaries of every single worker in an early learning program is the long-term goal for a pressing and persistent problem. Worthy wages, Perry said, "are the only way I believe we are going to keep our workers and make sure people feel seen and appreciated for the work they do every day."
Bye said, "We are at least a decade away from having the workforce we need, and the current crisis is huge. We will need some scaffolding and temporary measures for the next five to ten years as we build the long-term solutions," citing Scotland and Germany as examples of countries doing long-term planning. "Even with all these funds, it's not building a system."
---
References and continued reading: 
Abt Associates
Connecticut
District of Columbia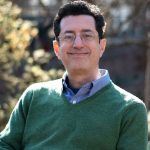 Early Learning Nation columnist Mark Swartz writes for and about nonprofit organizations. Author of the children's books Werner Herzog Eats His Shoe, Lost Flamingo, Magpie Bridge and The Giant of the Flood as well as a few novels, he lives in Takoma Park, MD, with his wife and two children.