Jasmine Smith couldn't have guessed the cascading effect her three-year-old daughter's broken arm would have on their lives. The older woman who watched her daughter while Smith worked wouldn't let her daughter return while her arm was in a cast. Smith had to leave her job as a substitute teacher for Buffalo Public Schools to care for her daughter.
Then Smith found out she was pregnant. To make some money she started watching two other children along with her daughter, but the further she got into her pregnancy the harder it was, and she eventually had to stop. The foregone income meant that she couldn't afford to buy the things she needed for a new baby. She and her husband are separated and Smith is solely responsible for financially supporting both kids.
"At that point I really didn't have anything," Smith said. She hadn't planned to have another child, so she had given everything of her older daughter's away except a crib. She still needed not just a car seat, but smaller things like an outfit to bring her home in from the hospital. She simply couldn't afford to buy diapers and wipes. "It was emotional for me because I was realizing, 'I'm about to have a baby in a month or so… and I don't have anything to even bring her home in,'" she said. "It was very scary because I didn't know what I was going to do."
Then Smith found what she calls a "blessing": the Every Bottom Covered diaper bank in Buffalo, New York. The executive director started sending supplies to Smith's home: diapers, wipes, bottles, and even an outfit. "It was literally the very first thing, the only thing I had for my unborn child at the time," she said. Seeing the packages arrive brought her to tears.
In a new survey of American families, the National Diaper Bank Network has found something alarming: diaper need has increased significantly since the last time it surveyed families in 2017. Today nearly half, or 47 percent, of families report not always having enough diapers to change their children as often as they would like, finding it difficult to afford buying diapers for their children, and/or running out of diapers because they couldn't afford enough.
"It was embarrassing," she said. "It's a very humbling experience to have to ask somebody to help you provide for your family in that way." But finding a resource that could help her get the necessities she needed to care for her new baby at least offered her relief. "I just looked at it like, 'I can't believe that somebody I don't even know is helping me with something that's so important to me,'" she said.
Smith is just one of millions of parents who struggle to afford diapers for their children. In a new survey of American families, the National Diaper Bank Network has found something alarming: diaper need has increased significantly since the last time it surveyed families in 2017. Today nearly half, or 47 percent, of families report not always having enough diapers to change their children as often as they would like, finding it difficult to afford buying diapers for their children, and/or running out of diapers because they couldn't afford enough. That's much higher than the one in three families who reported diaper need in 2017. With such high levels, perhaps it's not surprising that the newest survey found diaper need among all income levels. It was very high for low-income households, two-thirds of whom had diaper need, but over a third of middle-income families and even 6 percent of high-income ones also dealt with it.
The survey of 1,000 families with a child under the age of four currently wearing diapers, which was conducted by YouGov, is comparable to the 2017 version, said Kelley Massengale, director of research and evaluation at the Diaper Bank of North Carolina. Both surveyed nationally representative groups of families—this survey based its demographics on the 2019 American Community Survey—using the same screening questions to identify those with diaper need. There was one change in the most recent version: clarifying that running out of diapers because a parent forgot to pack enough on an outing doesn't qualify as diaper need; in this survey, language was added to make it clear it was about being able to afford enough.
When the pandemic hit and governments shut down businesses and enacted stay at home orders, families lost jobs and income, and diaper need rose sharply. "Diaper banks across the country responded to an unprecedented request for diapers," Massengale said. "Many families experienced diaper need for the first time." Even after the federal government launched a number of programs aimed at helping households remain financially whole, many families still struggled to buy basic needs. The new survey, conducted in April and May of this year, shows that those struggles continue. "It's persistent," Massengale said. Not to mention that most of the pandemic-era programs, from rental assistance and eviction moratoria to extra food stamp benefits to an increased Child Tax Credit, have all ended.
Increasing inflation, meanwhile, has been squeezing family budgets—the cost of diapers has risen along with food, rent, and other goods. All of this has meant that the crush of demand sparked by the start of the pandemic hasn't eased. At the Diaper Bank of North Carolina, "it hasn't stopped. It just hasn't slowed down at all," Massengale said. "We get calls daily asking where they can go for diapers."
The survey also sheds light on what it means for families to experience diaper need. Among those who reported it, nearly half said they reduced their spending on other needs to afford them, the most common of which was entertainment outside of the home. That can mean a family forgoing a museum outing or the chance to see a movie in the theater. Perhaps more dire, however, was that over a third cut back on food, while one in five reduced spending on utilities. Over a quarter skipped meals so they could buy more diapers. "Parents are doing everything they can for their children," said Joanne Goldblum, chief executive officer of the National Diaper Bank Network. "We have a system that is so barbaric that we expect parents not to eat in order to provide for the basic needs of their children."
Diaper need also has a big impact on a family's ability to work. Most child care centers require families to send their children with a set supply of diapers. Among those with diaper need, a quarter of parents and caregivers said they had to miss school or work because they didn't have enough to send a child to child care. They had missed about five days, on average, in the month prior to the survey.
Diaper need also has mental health impacts. Seventy percent of those who reported diaper need said they were stressed or anxious about caregiving responsibilities, while over half felt judged as a bad parent or caregiver.
Smith is now back to work: she works part-time for Every Bottom Covered. But she's still struggling to afford diapers and the other necessities her daughters need. "There are times when she may run out before I can afford to get her some more," Smith said of her baby. She gets diapers through the diaper bank, but it's a set amount every 30 days. She is sometimes forced to choose between the basics: paying rent, buying enough food, getting feminine products for herself, or buying diapers and wipes for her youngest. Sometimes she's foregone feminine products and used some tissue instead so she could afford diapers. Sometimes she's run out completely and had to use some extra blankets or sheets.
"It's embarrassing and it makes you feel bad," Smith said. "Mommy guilt is a real thing, to not be able to do essential things for your kids."
Diaper need is not really a disease itself; it's a symptom of how many American families live in such financial precarity that they can't afford the most basic of necessities. "It is not logical to think that a family would only struggle with diaper need," Goldblum said. The survey illustrates that "families are making untenable choices, and diapers are one of those things."
The country made a different choice in 2021 when it expanded the Child Tax Credit, offering it to all low-income families, even those earning little to no income, sending it out monthly, and increasing the amount to $300 a month for children under age six and $250 for older ones. Child poverty fell by 30 percent by the end of the year, which meant families had more resources to afford all of their needs, including diapers. "The problem with poverty is not having the money you need," Goldblum pointed out. These kind of payments lifted the burden of diaper need from far more families.
There are other big policy solutions Goldblum says would address the problem, such as universal, affordable child care and preschool—both of which would ease families' budgets and therefore make more room to afford diapers—or a minimum wage that increases automatically with inflation so families' pay can keep up with the cost of their needs.
One thing that won't necessarily solve the problem: cloth diapers. They require families to do extra laundry—families who are already struggling to afford basics like laundry detergent or laundromat money. Plus, many child care providers won't even accept cloth diapers given that soiled ones have to be stored for a parent to take back home. It's therefore "not necessarily a solution that parents can access all the time," Massengale said.
Smaller but meaningful solutions to diaper need could include adding federal funding to ensure every child care center that accepts subsidies is also given money to provide families with diapers. "That is something that could be done easily," Goldblum said. "It's a single budget line item." The Temporary Assistance for Needy Families program, which provides qualifying low-income families with cash, could add a diaper credit, similar to what California did in 2017. Federal buildings, homeless shelters and federally qualified health centers could have diapers to give away for free.
Some action has already been taken. In 2022, the federal Administration for Children and Families announced it would for the first time give six states $8 million in grants to get more diapers to families struggling to afford them. Eight states have exempted diapers from sales tax, with more currently considering doing the same.
But it's not clear when larger-scale relief will come. The expanded Child Tax Credit expired at the end of 2021, as one potent example, and lawmakers haven't brought it back.
"There's still not a unified response, on a policy level, to address child poverty in the United States," Goldblum said.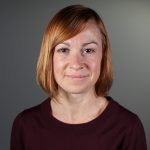 Bryce Covert is an independent journalist writing about the economy. She is a contributing op-ed writer at the New York Times and a contributing writer at The Nation. Her writing has appeared in Time Magazine, the Washington Post, New York Magazine, the New Republic, Slate, and others, and she won a 2016 Exceptional Merit in Media Award from the National Women's Political Caucus. She has appeared on ABC, CBS, MSNBC, NPR, and other outlets. She was previously Economic Editor at ThinkProgress, Editor of the Roosevelt Institute's Next New Deal blog, and a contributor at Forbes. She also worked as a financial reporter and head of the energy sector at mergermarket, an online newswire that is part of the Financial Times group.