On July 18, the Bipartisan Policy Center (BPC), Children's Equity Project and Start Early  cohosted the final part of their event series on Early Head Start-Child Care Partnerships (EHS-CCP), a funding initiative of the federal Office of Early Childhood Development.
EHS-CCP funds and equips local child care providers with the materials, services and support they need to provide comprehensive, quality infant and toddler care. We heard from grantees about how they helped local communities stabilize child care partners during the pandemic, expand access to comprehensive services for children and families and strengthen workforce development and retention.
👉 Discover BPC's Roadmap for Early Head Start-Child Care Partnerships
Here are our takeaways:
1. EHS-CCP helped boost the quality of care for infants and toddlers during a tumultuous time. Technical assistance and professional development support were critically important in helping the local chapters weather the pandemic. "Providers had to be able to address things like masking with young children, accessing Covid tests or getting families supplies they needed like diapers, toilet paper and food," explained Dr. Eric Bucher of the Children's Equity Project (CEP) at Arizona State University.
"They modified settings to accommodate safer learning and play spaces, provided up-to-date health and safety guidance related to the pandemic and assisted providers in accessing stabilization funds made available through federal relief dollars."
👉 Using Design Thinking to Reimagine the Child Development Associate Credential
2. Increased wages and training efforts pay off. Efforts to increase pay and expand learning opportunities for staff prove helpful for the early childcare workforce. In Phoenix, Mindy Zapata's team at Southwest Human Development helped partners access and direct some of the pandemic funds to "address wages, credentials and to retrain, sustain and engage new professionals as we've all experienced so much turnover in the workforce."
A similar effort took shape with Judy Williams's team at Early Learning Ventures Alliance, in the form of a retention and completion bonuses program. "It was very motivating to work with our child care partners to help create that program, fund it and have a career ladder with a retention bonus," she said.
👉 The Lesser-Known Effort to Help Fix Child Care and Pay Teachers More
3. It is possible to attract and retain quality early childhood education staff. In Miami, the benefits of the EHS-CCP are apparent. Turnover has decreased by more than 30%, said Gladys Montes, former VP of the United Way Miami Center for Excellence in Early Education. She attributed this impact to competitive compensation as well as hiring, retention and legacy bonuses. Underwriting professional development outside of work hours also helped to reduce turnover.
👉 Pandemic Responses in Three Cities
4. Comprehensive, family-centered care is at the core. Caregivers and kids are equally supported and nurtured in this family- and community-centered dynamic. "Our main focus during the pandemic and the months beyond was connection," Colleen Bosch of Aware said of their work in Montana. "We want to maintain the connection between staff and parents in such a time of isolation."
In addition to smaller group sizes and teacher-student ratios, they incorporated mental, behavioral and developmental screenings and consultations. "The model is really about using community connections to ensure that families have what they need, whatever that is," explained CEP's Dr. Shantel Meek.
Parents receive access to resources like professional development and housing assistance. "There is not only support for their organizing and advocacy but also for their child's development and support for them as people."
👉 The Raising Child Care Fund: Centering the Most Impacted Voices
5. The benefits of this investment go beyond those immediately receiving care. In explaining the spillover effect, Zapata said, "There is a cost per child that funds the EHS-CCP grant nationally, but the residual benefit to the local community and providers and children served throughout that center is immeasurable." All panelists agreed that continued and expanded funding is imperative for the larger early care and education system.
👉 Educator Burnout: Another Child Care Struggle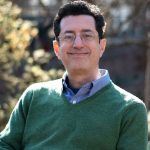 Early Learning Nation columnist Mark Swartz writes for and about nonprofit organizations. Author of the children's books Werner Herzog Eats His Shoe, Lost Flamingo, Magpie Bridge and The Giant of the Flood as well as a few novels, he lives in Takoma Park, MD, with his wife and two children.