How can the United States ensure that the next generation will be prepared for the responsibilities of citizenship? Barry D. Ford, President and CEO, Council for a Strong America, has a concise answer to that question: "Life doesn't start at five."
In other words, if we don't start educating our children until they reach kindergarten, we're too late. The first years literally offer a once-in-a-lifetime opportunity to lay the foundation for a productive life as a contributing member of society.
Today, we are falling short of doing what we can for today's young children. Hard data supports this contention in an urgent new ReadyNation report published by Council for a Strong America, a national, bipartisan nonprofit comprising law enforcement leaders, retired admirals and generals, business executives, pastors and figures from the world of athletics. (ReadyNation is the business-leader membership organization under the Council for a Strong America umbrella.)
Based in part on a survey of a nationally representative sample of 812 parents—both mothers and fathers—of children under age three, the report paints a stark picture:
At least 30 percent of respondents reported challenges in finding care that was affordable, high quality, convenient, had open slots, was available on an emergency/sick child basis or available outside Monday-Friday daytime hours.
25 percent report having reduced regular work hours due to child care problems. The same percent report having turned down a new job offer as well as further education or training.
55 percent have missed a full day of work because of child care problems.
I spoke to Ford and his colleagues about the creation of this hard-hitting report and why this is the right moment for bipartisan action. The report lays out its argument in dollars and cents. "$57 billion," Ford says. "That's the cost we pay every year by failing to address this crisis. We can't afford to waste the time, talent, focus and energy. We can't spare that potential and opportunity."
"There are so many reasons that law enforcement have been talking about preschool for 20 plus years," Ford says. "They see it with their own eyes, the difference between the child who has social support and the one who doesn't."
He continues. "Our members experience this crisis in their companies and congregations, on their teams and in their platoons."
Jenny Wing Harper, Council for a Strong America's Vice President of Federal Policy and Strategic Communications, views the issue as both an advocate and someone who experiences it on a daily basis. "I'm in it," says the mother of a four-year-old and a two-year old.
Leaders, communities and employers across the country are trying to find solutions for working families. Harper praises Sheetz, Inc, the convenience store chain, for building an onsite child education center for its employees in Blair County, PA. It opens at 4:30 in the morning. "That's an investment in the workforce," she states. "They know the brain science that demonstrates the value of quality child care."
"But companies can't do this on their own," Kalli Krumpos, the organization's Senior Associate, Strategic Planning and Development, adds. "We need bigger solutions." She notes that two-thirds of U.S. children under age 6 have all available parents in the labor force.
Harper concurs. "It's relevant to everyone who has kids, and to every employer whose employees have kids." That's why, as the report emphasizes, child care is a workforce issue.
The crisis has ramifications for spheres of American life that are not, at first glance, tied to child care. For example, 71 percent of young Americans between 17 and 24 are ineligible to serve in the United States military. Studies show that the main causes of ineligibility—inadequate education, criminality and obesity—can all be alleviated by quality early-childhood care and education. This looming personnel shortage brought about by failing to act could be devastating to our national security.
Council for a Strong America's commitment to changing the child care landscape builds on newfound momentum around an issue that matters to Americans regardless of their party affiliation. Bipartisan consensus has already resulted in real victories. In 2018, funding for the Child Care Development Block Grants (CCDBG) program went up to $5.226 billion, an increase of $2.37 billion over the previous year, doubling the program's discretionary funding.
Harper believes one explanation for the progress is that more legislators have personal experience with the challenge of finding reliable child care. A record number of women are in Congress, and the average age of Congressional representatives is starting to come down.
As Director of State Policy at Council for a Strong America, Eoin Dillon works on state child care issues as they manifest in a wide variety of regional, ideological and economic settings. "Our members are promoting the importance of early childhood programs in 27 states, with staff in nine" he explains. "Each is different. For example, the challenges that Wisconsin faces aren't the same as what we see in North Carolina. But some common themes do emerge. One is that it's hard to maintain a steady workforce in child care, because the pay is poor."
Dillon points to Louisiana's tax credit for early-childhood workers as an example of an affordable measure that states can implement. As a result of the program, more children from low-income families are participating in high-quality child care and teachers are building their skills, as evidenced by sharp increase in credentials.
In spite of this and other signs that elected officials are starting to recognize the crisis and respond to it, Ford, who has two grown children, acknowledges that ReadyNation faces an uphill battle. "We as a society rarely prioritize the interest of children. We like to say the children are our future, but public constraints show we're not serious. When we're serious we spend the money."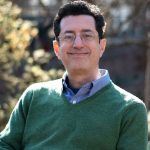 Early Learning Nation columnist Mark Swartz writes for and about nonprofit organizations. Author of the children's books Werner Herzog Eats His Shoe, Lost Flamingo, Magpie Bridge and The Giant of the Flood as well as a few novels, he lives in Takoma Park, MD, with his wife and two children.