Daniel Hudson, a 32-year-old pitcher for Major League Baseball's Washington Nationals, was criticized by some for missing a playoff game in mid-October because he took a day of paternity leave to witness the birth of his third child.
A couple of weeks later, Hudson clinched the World Series for his team by pitching the final three outs of the series' Game 7.
"Taking #paternityleave isn't just good for families & businesses, it's also good for winning #WorldSeries," tweeted Reddit co-founder and parental leave advocate Alexis Ohanian Sr., who has a young daughter with his wife, tennis star Serena Williams.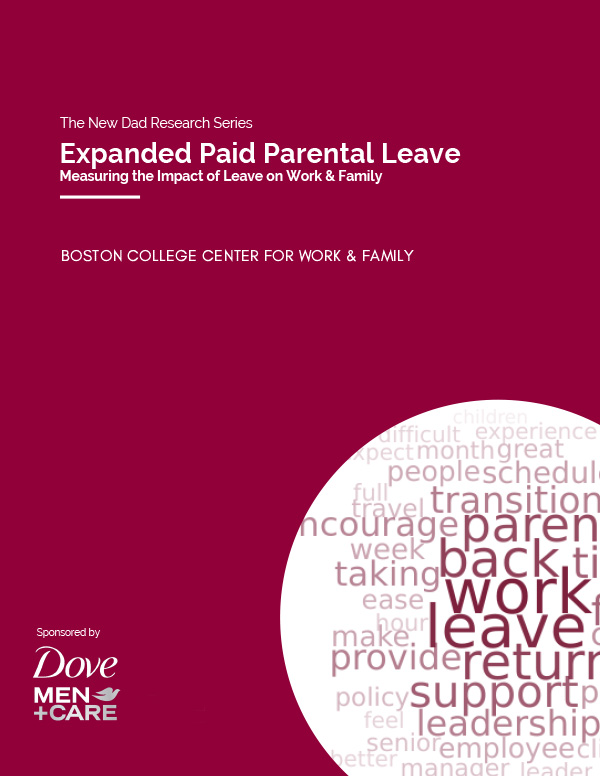 Most working men and women in the U.S. aren't offered paid paternity leave. But a study of four large corporations just released (November 7) by the Boston College Center for Work & Family, which studies contemporary workforce issues, finds that expanded parental leave "is a highly valued benefit for both men and women (that) yields positive outcomes for organizations in terms of employee recruitment, loyalty and retention."
In the study, which surveyed 1,240 male and female employees at four large corporations, 62 percent of the men responding took the full amount of paid paternity leave—six to 16 weeks—that was offered.
"That's a much higher stat than I think most people would expect," says Dr. Brad Harrington, author of the white paper, and executive director of the center and research professor at Boston College's School of Management. "I can tell you that we were pleasantly surprised to see so many men being so positive about the uptake."
Family leave
Let's take a step back and look at the bigger picture: family leave.
The Family and Medical Leave Act of 1993, also known as FMLA, was the first major piece of legislation that President Bill Clinton signed into law. It entitles workers to up to 12 weeks of unpaid leave for certain family caregiving needs, such as the birth of a child.
But only 60 percent of U.S. employees meet the criteria for protection under FMLA. And no federal law requires private-sector employers to provide paid leave.
About 16 percent of private-industry employees have access to paid family leave through their employers, according to a May 2019 federal report. It's most common among professional and technical industries, high-paying occupations and large companies.
One unusual example: Salaried employees at Netflix can take up to a year at full pay following the birth or adoption of their child.
Paternity leave
Key findings of "Expanded Paid Parental Leave Measuring the Impact of Leave on Work & Family"
Employees highly value paid parental leave–it enhances loyalty to their employers and their identity as caregivers.
The vast majority of women take the full amount of leave offered to them. Men also take a substantial amount of leave and express higher levels of satisfaction with their leave experience.
While respondents report they are generally well-informed about leave, there is still confusion about how leave is administered, especially among women.
Workplace support for employees taking leave is high. While women enjoy greater support for leave, men taking leave is becoming more acceptable.
The return-to-work experience is challenging with perceptions of less support, higher workload, and lower job satisfaction.
Career advancement is a chief concern for both men and women when taking leave and returning to work.
Men and women are equally concerned about their ability to combine work and family.
Men and women strive for an egalitarian approach to sharing caregiving and household duties but gender roles persist.
Rates of paid paternity leave-taking are relatively low and the majority of fathers who take paid leave take only one week or less, according to a 2018 study by Richard Petts of Ball State University and Chris Knoester of Ohio State University.
But a May 2019 study by the same researchers—examining 1,319 largely socioeconomically disadvantaged families—found that taking paternity leave, particularly two weeks or more, is positively associated with children's perceptions of fathers' involvement, father-child closeness and father-child communication.
"Increased attention on improving opportunities for parental leave in the United States," the researchers wrote, "may help to strengthen families by nurturing higher quality father-child relationships."
Meanwhile, Harrington's survey indicates that more employers—at least among large corporations employing mostly white-collar workers—are offering paid paternity leave, in part because of how well received it is among new fathers.
Harrington, who worked in the corporate sector for 20 years, says he was struck by how many men he surveyed felt comfortable taking up to three or four months off of work.
"These numbers are pretty impressive given that five years ago when we asked men about paternity leave, there was almost no expectation that they would get more than a week or so," he says. "And I think a lot of fathers wondered, Well, if I get it, can I really take it? So, we were impressed with how far these four organizations have come in terms of men feeling like it was OK to do."
Forty-seven percent of the men in Harrington's survey, when asked why they took paternity leave, said they felt they were expected to.
At the same time, when asked why they would not take parental leave, or take less than what was offered, 49 percent of the men (and 59 percent of the women) said they feared it would delay their career advancement.
It's also fair to note, Harrington says, that one-fourth of managers he surveyed struggled to find resources to manage the work that was left undone by the employees who took parental leave.
In addition, 30 percent of the men surveyed said their job responsibilities increased and 25 percent said their managers' expectations of them increased after they returned from paternity leave.
---
More on paternity leave
Opinion article: Financial Times: "The irresistible rise of the latte papa  — Future fathers will not have the same opportunities to catch up on sleep at their desks"
As-told-to article: ESPNw: Reddit co-founder Alexis Ohanian on the importance of paternity leave
News article: New York Times: "Paternity Leave Has Long-Lasting Benefits. So Why Don't More American Men Take It?"
Study: Academy of Management Proceedings: "The Effect of Taking a Paternity Leave on Men's Career Outcomes: The Role of Communality Perceptions"
Study: Sex Roles journal: "Paternity Leave-Taking and Father Involvement among Socioeconomically Disadvantaged U.S. Fathers"
Research article: Congressional Research Service: "Paid Family Leave in the United States"
Article: Society for Human Resource Management: "Availability, Use of Paternity Leave Remains Rare in U.S."