Most U.S. schoolchildren know more about the Amazon rain forest than the ground beneath their feet and more about penguins than the little birds perched on their back fence. Although Peter Walsh doesn't criticize the former, he and the rest of the staff of Little Peepers Forest Preschool are committed to remedying the latter.
Little Peepers is located at the South Shore Nature Center in East Islip, New York, and is a program of the Seatuck Environmental Association, an organization devoted to conserving Long Island's wildlife. It is one of a small but growing number of preschools in the U.S. that make conservation and a science-based outdoor education their programs' core. The daily activities of its small students, aged 3 to 6, may sound like a field trip every day, but the curriculum is actually a formal education in the most informal of settings: the forest, the beach, the salt flats.
"…There are definitely rules, and our staff is vigilant, but the children are allowed to learn about risk. You'll hear a 3-year-old asking a 4-year-old, 'Is that smart? Do you think that's a good idea?' They really talk to each other and help each other assess their actions." — Peter Walsh, education director, Seatuck Environmental Association
"We teach science, math, music, language — all the standard preschool curriculum — using nature as the guiding theme," says Walsh, the organization's education director. "Teaching in an outdoor setting is very fluid, very dynamic. If we want them to study shapes, we'll go outside and have the kids collect some things. Then we have them look at the items, sort them and talk about 'Well, what's different from one over the other?'
"In a traditional classroom when you do shape sorting, you're dealing with pre-cut shapes. They're exact. 'It's a star. It's obviously a star.' But a leaf? Well, what shape is that? The kids really interact with each other. They debate about it and come to an agreement."
Not only did the children in that instance learn about shapes, they learned how to discuss the evidence, process the facts and have their minds changed by their and others' observations. They can then take their collection of leaves and talk about the different textures, colors and patterns they observe.
"Pattern recognition is one of the early reading skills," Walsh says. "And in this setting, it just flows for them without feeling like they're sitting down for a big lesson. They may go and make a mud pie, and it might seem like 'just play,' but while they're making those mud pies, they're learning about mixtures and solutions. They get a stick, the stick breaks and they have to ask, 'What do I need to have this work? I need a bigger stick. I need to use it this way …'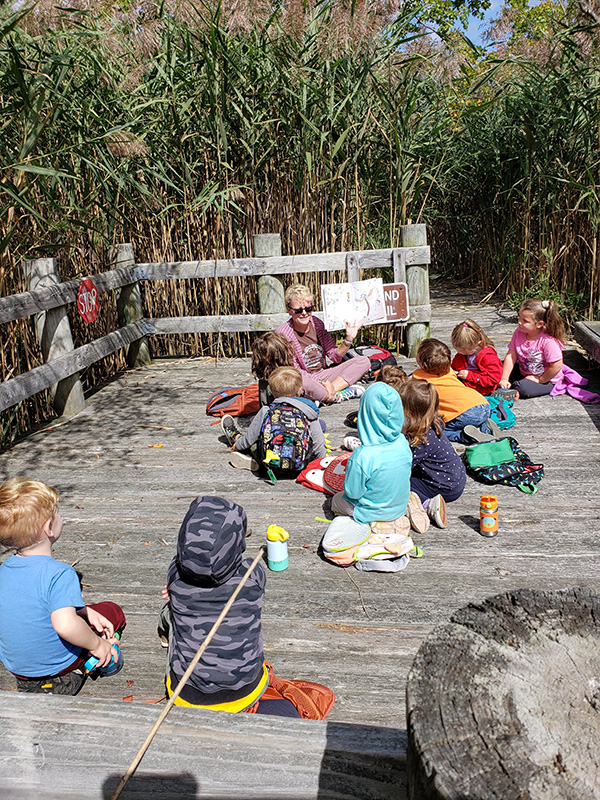 "They won't have the terminology for a while, but they will have a direct experience of what, for example, a fulcrum is. Those pathways get set in early childhood and that will serve them throughout their education."
When it came time to name the preschool program, all the staff had to do was look and listen to the forest around them. Springtime there is heralded by the chorus of little spring frogs that sounds like sleigh bells when they all get going. They're good climbers, Walsh says, who also like to be on the ground hidden in leaf litter.
"They're small, robust critters that are good climbers and make a loud noise," Walsh says. "Sound familiar? As we witnessed our young students running through the woods, jumping in puddles, exploring the dirt and climbing trees as they squealed with delight, we immediately made the connection with our native spring frogs."
Little Peepers' teacher-pupil ratio is an enviable one teacher to five children, Walsh says, which allows a great deal of personal interaction with each child for the full two and a half child-centered hours of their preschool day. The teachers are trained, certified and are united in their own connection to nature. They also, Walsh says, have a deep bag of tricks to rely on when nature spins the lesson plan in an unanticipated direction.
"You're planning on having today be leaf day and the kids discover a bunch of salamanders," he says with a laugh. "Suddenly, it's salamander day. As a teacher, you have to be really flexible and alright with that — a skill set that's not always easy to master."
Classes are held outdoors rain or shine, Walsh says, with the determining factor being the children's safety. The children are geared up for all kinds of weather, but because the Center is right on the water, high winds can come in with the nor'easters that barrel through the region. The kids predictably will be out in seven-degree winter weather, in snowstorms or in the rain, but when the wind gusts through the forest, branches and flying debris make staying indoors or playing in a protected area advisable.
Risk is always something to consider in outdoor settings and understanding and managing it are major skills the Little Peepers learn. The children are taught how to whittle and start fires. They learn to make tea over a campfire, and they are always, always climbing, Walsh says.
"'Stop, get down, you're going to hurt yourself' are definitely things you will never hear in our program," he says. "You'll hear, 'Are you making a good choice? Are you looking where you are?' There are definitely rules, and our staff is vigilant, but the children are allowed to learn about risk. You'll hear a 3-year-old asking a 4-year-old, 'Is that smart? Do you think that's a good idea?' They really talk to each other and help each other assess their actions."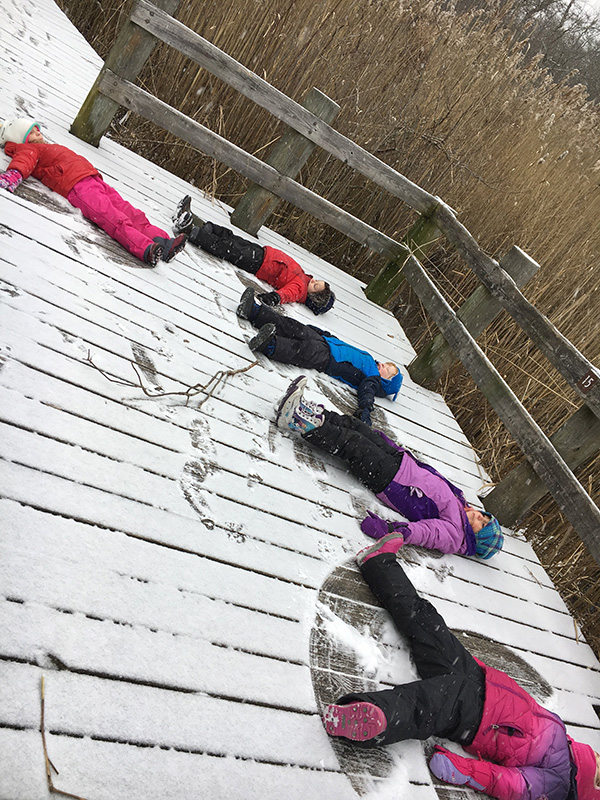 The children are a robust little cohort. Walsh says the program sees very few sick days and often that's when a child has an older sibling in elementary school. They're also an agile bunch. When groups of school children visit the center, program staff have observed that the visiting kids have trouble walking on uneven terrain. Elementary students navigating the trails are slow, unsteady and struggling to maintain their balance. The Little Peepers? Like little mountain goats.
Schools like Little Peepers offer a completely different paradigm from what children's time outdoors has become in most American schools, where recess is viewed as a way for children to burn off excess energy and playgrounds are often more designed for easy surveillance, avoidance of liability and control of the students. Play is viewed as discretionary and beside the point of education. With forest schools and other outdoor-based programs, play is the education and nature the lead teacher.
In creating Little Peepers, Walsh and fellow staff members at the Seatuck Environmental Association undertook a process initially inspired by journalist Richard Louv, whose 2005 book, Last Child in the Woods: Saving Our Children From Nature-Deficit Disorder introduced the term "nature-deficit disorder" to describe possible negative consequences to individual health and the social fabric as children move indoors and away from physical contact with the natural world.
Nature from the Get-Go: The Roots of Kindergarten
"The founder of early childhood education, Friedrich Froebel, began the first kindergarten—literally 'children's garden'—in the 19th century. These kindergartens had individual gardens for each child, enclosed by a communal garden. Children used their gardens as they wished, for play and experimenting, gaining firsthand experience. They helped with the communal garden, and often explored the surrounding fields and woods. Froebel believed that children should grow in harmony with nature. Other pioneers of early childhood education shared Froebel's emphasis on the connection between young children and nature."
— From the North American Association for Environmental Education's Early Childhood Environmental Education Programs: Guidelines for Excellence
"One of the challenges we face in the outdoor education field is how do we connect to the general public," Walsh says. "We've found that a great way is to reach people with young children. So, we got together with a team—one person who was an early childhood educator for 20 years and was the head of a preschool program, one who was head of the Nassau County Childcare Council. Some were informal educators like me, and then we met with people around the country who ran other programs."
In addition to being outdoor-based the curriculum was designed around the science of brain development. The outdoor experience is the pathway to the child's ability to self-regulate, juggle multiple tasks, use their judgment, be mentally flexible and empathize with those around them, as well as a dozen other intellectual assets that will shape that young brain for a lifetime.
"Those are all skills you're not really born with but that you're expected to go into school ready to handle. What we've seen is that our children transition beautifully into a traditional classroom setting. They stay on par with their peers until about third or fourth grade, then that executive function really sets them apart from their peers in a positive way."
---
Resources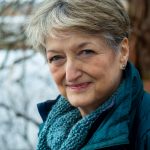 K.C. Compton worked as a reporter, editor and columnist for newspapers throughout the Rocky Mountain region for 20 years before moving to the Kansas City area as an editor for Mother Earth News. She has been in Seattle since 2016, enjoying life as a freelance and contract writer and editor.