Where do you go for the top news in Early Learning at the state level? Check out "5 Questions for the Governor," where we'll explore the top Early Learning challenges and successes in states across the nation. We're thrilled to partner with The Hunt Institute on this new series.
1. You are the 75th Governor of North Carolina. What makes North Carolina unique among its peers?

North Carolina is one of the fastest-growing states in America. People come because of the climate; the beauty of the mountains and coast; our cities and our rural communities; and our universities, community colleges and schools. They come because of good jobs and opportunity.
As Governor, I have a mission statement. I want a North Carolina where people are better educated, where they're healthier, where they have more money in their pockets and where they have the opportunity to live a more abundant and purposeful life.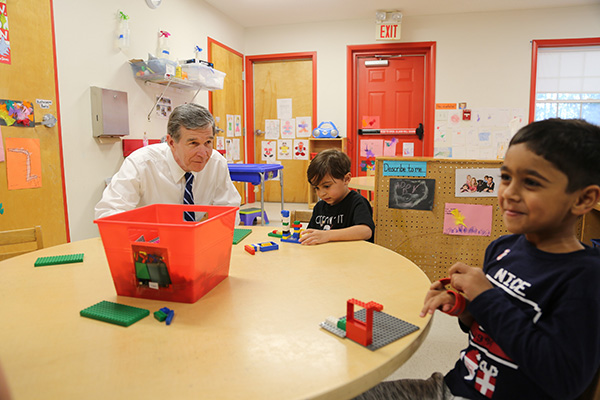 This mission starts with a commitment to early childhood education. North Carolina has a strong history of leadership, innovation and wise investments in high-quality early learning and nurturing healthy development. However, we must do more to expand access to ensure all children get the early foundation for learning they deserve.
North Carolina's students have a constitutional right to a sound basic education, as affirmed in the long-standing court case Leandro v. State of NC. We need to make significant investments in our public schools, strengthen our teacher and principal pipelines, and greatly expand early childhood learning opportunities for our most at-risk students to meet the state's obligation. We are working on a specific plan now to get the job done.
2. What did you learn about the importance of early learning as the father of three adult daughters?

My wife Kristin and I look back on those days when they were young and appreciate all of those moments with each child. We recognize that those early interactions and experiences were foundational to who our girls are today as adults. There's no doubt the foundation for future learning, health and well-being is built in the early childhood years. When we give all children a fair chance for a strong foundation in their first years of life, we give them a better future and create healthier and more vibrant communities for all of us.
3. North Carolina has distinguished itself across the country as a leader in early childhood. To what do you attribute the state's success?
Early childhood is an integral part of our education system from cradle to career. North Carolina's leadership and commitment to the hard work it takes to build strong early childhood programs with Smart Start, the first statewide early childhood public-private partnership in the country and NC Pre-K, one of the highest quality pre-k programs nationwide, are great examples. Our early childhood initiatives have also been strongly supported on-the-ground so that they work well for children and families. We keep our focus on what works best, using data, evidence and evaluation to guide our work toward the best outcomes for our state's children.
4. You recently directed the NC Department of Health and Human Services and the NC Early Childhood Advisory Council to work with public and private stakeholders to develop a comprehensive Early Childhood Action Plan. Why did you feel like a formal plan was important and how do you see the state making use of it?

My Executive Order in August 2018 instructed the NC Department of Health and Human Services to lead the development of the Early Childhood Action Plan, in coordination with my Early Childhood Advisory Council. Nearly 1,500 stakeholders, representing experts in early childhood, families from across the state and other leaders, provided input and feedback in drafting the plan.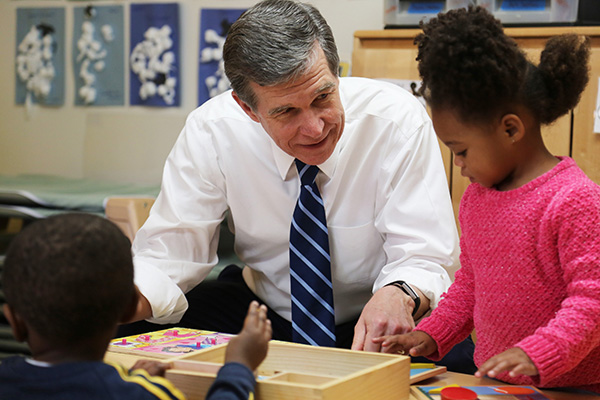 The plan shows what coordinated, statewide public-private action is needed to achieve 10 measurable goals for young children that address health, safety, family resilience and early learning outcomes. A public data dashboard tracking measurable targets for success supports the data-driven decision making in the plan.
Defining what we want for all children in our state, and then using metrics that tell us how we're doing will better serve our state's children and hold everyone accountable.
5. NC has a great asset in Smart Start, a network of 75 local non-profits focused on school readiness at the community level. What could other states learn from North Carolina's efforts to build early childhood leadership at the grassroots level?

When I served in the NC General Assembly, I supported Governor Hunt in creating Smart Start. The power of Smart Start is that over 25 years it built partnerships within communities so that everybody, from business, community leaders, educators to families, plays a role in the development and early education of young children. Strong partnerships within communities continue to thrive even in times of fewer resources.
Seventy-five local Smart Start partnerships, with oversight and support from the state organization, provide early childhood system infrastructure and a continuum of services for children and families from birth to age five in all 100 counties. Smart Start is designed to be responsive to community needs, so the local organizations use data to understand the needs, offer a variety of services and resources, and coordinate multiple funding sources to support early childhood development and learning in their community.
All photographs courtesy of the Governor's Office.