Julie Cerny's book,
The Little Gardener: Helping Children Connect with the Natural World,
is part how-to, part inspiration and part guide for adults to help cultivate a meaningful connection between their Little Gardener and the environment. In this interview with Cerny, we explore her inspiration for writing the book, the importance of ecological literacy and how her book can be used to engage
your
Little Gardener. It's no surprise that when children learn to grow and cook their own food, they learn about healthy eating. Also: It's planting season! Let's dig in.
What was your inspiration for writing The Little Gardener?
"There aren't many lessons that gardening can't teach us. Picking up a seed develops fine motor skills. Watering and mulching teach caregiving. And then all of this eventually yields food! I think the most significant lesson though, is a lesson in patience—realizing that good things take time, and that slowing down to nature's pace, is a remarkable feeling—for people of any age." —Julie Cerny, author, educator, gardener
One of my first memories is of being in the garden with my father, watering tomatoes, when I was 4 or 5. I remember thinking I was saving them from the heat of the day and then hiding myself away in the secretive shade of the cucumber trellis. My father has gardened for as long as I can remember, at first in the tiny backyard of our house in Floral Park (no kidding), Long Island. My father was a police officer and when he retired at the age of 42 (he got in when he was 18), he wanted to move the family to the country. So we moved to East Chatham, NY, to a beautiful old house on five acres.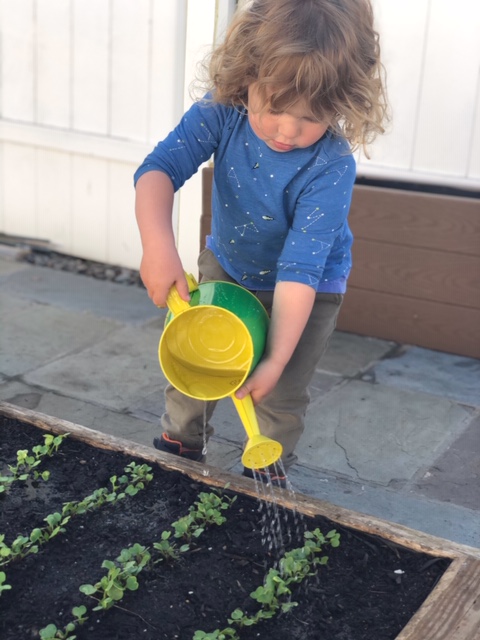 The first thing he did was put in apple trees and 25 years later, they're still growing. He also put in a quarter-acre vegetable garden; a lot of our vegetables came from that garden. These early experiences formed the foundation of my relationship to nature and my desire to become a garden educator. I wanted to help children have similar experiences early in life. That's what compelled me to write this book.
Tell me about how you became a teacher and gardener.
I studied Environmental Studies in college and first started teaching environmental education programs to inner-city youth in Syracuse, NY: nature interpretation programs with elementary and middle school students. Then I worked as an outdoor educator for the Taconic Outdoor Education Center in Cold Spring, NY, where we did animal tracking, maple sugaring, pond studies and bird IDing with kids of all ages. That made me want to have a deeper experience that focused on nature as food and that would make me a better teacher, so I moved to Colorado to work at Tomten Farm, an off-grid high-altitude organic vegetable farm. After two years, I returned and was hired as the Education Director and Garden Manager for
The Sylvia Center
at
Katchkie Farm
, a nonprofit in the Hudson Valley that connects children to healthy eating through growing and cooking food.
You talk about Ecological Literacy in your book. Can you explain what that means?
Ecological literacy means having a basic understanding of how natural systems work, how we are a part of them, how they enable our survival and the survival of all life on this planet. And then using that understanding to create more sustainable human communities. It's vital that children grow up—from the earliest age—understanding that the natural world provides for them and that they are capable of engaging with natural systems. When children and their families work in a garden and eat what they have grown together, these connections are easy to experience and remember.
I think the most important thing we can be teaching our children right now is that they are part of the natural world, and I believe that gardening is the most effective way to teach this.
Why is it so important to introduce really young children to the natural world through gardening?
Gardens are one of the few places where very young children can be agents of change and care. Gardening allows children to have an active and direct relationship with plants, animals, insects, soil and weather. Gardens provide a place where children can
collaborate
with nature. And when young children garden, they experience a direct connection between nature and the food that they eat.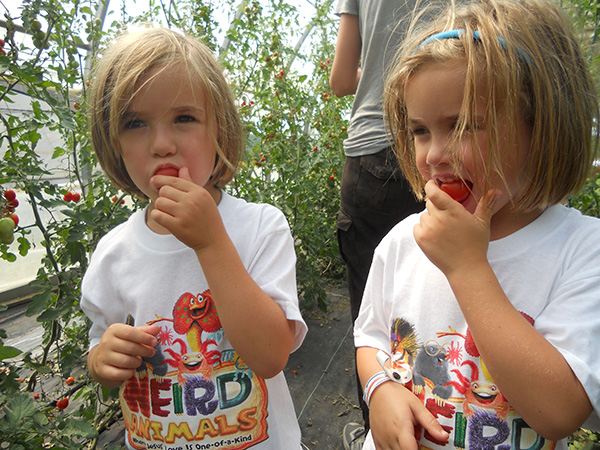 They become more confident in themselves. They see what they are capable of accomplishing when working with nature and not against it. And they learn that their hands and their minds can create something that can affect their world in a way that has real, tangible results that contribute to their own well-being, and to that of their family and community. The connections children form with nature while gardening create vital relationships that will inspire them to participate in environmental stewardship.
5 Tips for Gardening with the Littlest Little Gardeners
Rule of thumb: the bigger the seed, the easier to handle. For your wee gardeners, start with peas, corn, sunflowers, radishes, beans, melons, cucumbers and squash.
To help the littlest gardeners space seeds the appropriate distance apart, big gardeners can use popsicle sticks to mark where seedlings can be transplanted from a pot into the ground.
Read more…
Can you share some tips specifically for engaging children 0-5 in gardening?
When a baby is just a few weeks old, sit outside and pinch some wild mint between your fingers and hold it up to her nose.
Starting at about 2, let your littlest gardener get her hands in some soil and see what seeds feel like.
At about 3 years, your littlest gardener is really ready to start planting, watering and harvesting with you. She can have her own garden box with seeds, gardening gloves, and a trowel. Or plant seeds in glass jars on a window sill.
Note: Gardening supply stores often carry garden tools that are just the right size for our 4-5 year-olds. It lets them be extra helpful in the garden by loosening up the soil, hoeing furrows for planting and helping to keep the weeds at bay. There aren't many lessons that gardening can't teach us. Picking up a seed develops fine motor skills. Watering and mulching teach caregiving. And it all yields food! I think the most significant lesson, though, is a lesson in patience—realizing that good things take time and that slowing down to nature's pace is a remarkable feeling—for people of any age.
---
About the Author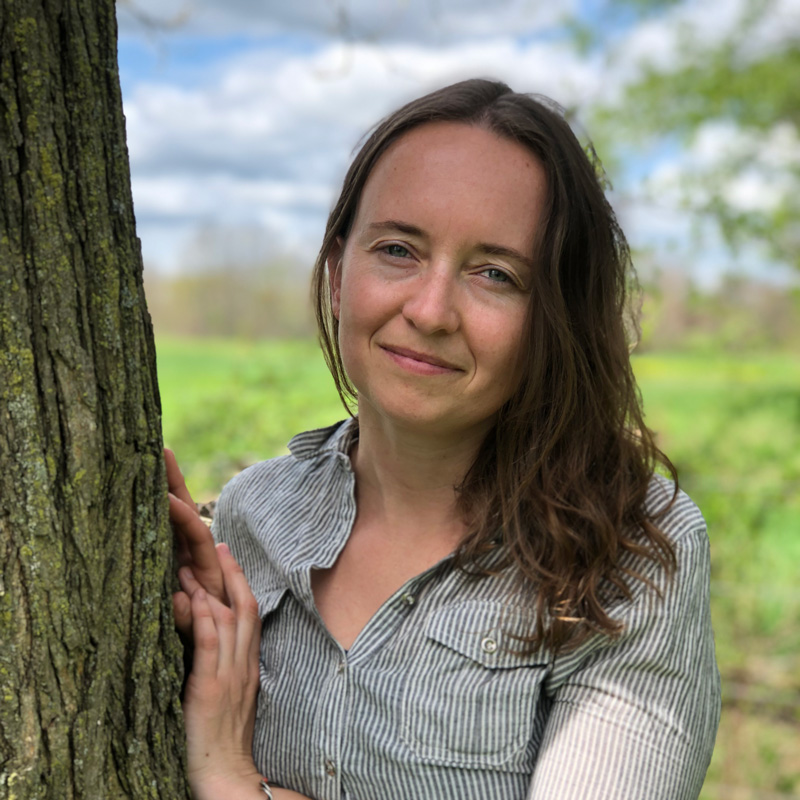 Julie Cerny
is an educator, gardener, and homesteader living in New York's Hudson Valley. Julie holds a B.S. in Environmental Studies from the State University of New York College of Environmental Science and Forestry and a Certificate in Permaculture Design from Cascadia Permaculture. Julie has lived in a teepee, a tent and a yurt, and has farmed off-grid at 9,000 feet in Colorado's San Juan mountains. She adores fireflies, hakurei turnips, frozen custard and turning off her phone for days at a time. She currently lives and works at The Farm at the Landing in Stuyvesant, NY. Order "The Little Gardener: Helping Children Connect with the Natural World" from your local bookstore, from Bookshop (
https://bit.ly/37qEM5b
) or Amazon (
https://amzn.to/2SLtq6h
).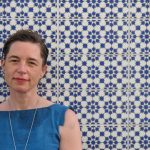 Anna Hammond is the Founder and CEO of Matriark Foods, a food company that makes healthy, low-sodium products for institutional foodservice. Until 2018, she was the executive director for The Sylvia Center, where she collaborated with farmers, institutions, funders and foundations committed to solving food insecurity through education and reimagined food systems.