Because we can't take our Early Learning Nation Studio on the road during this time, stay tuned as ELN recaps Top Takeaways from important webinars, town halls and virtual events from the Early Learning field. Read them all and join the conversation! And visit our Early Learning Nation channel on YouTube for interviews with leaders from education, child development, business, politics and more. 
---
The trauma of COVID-19 is widespread but not evenly distributed. Some communities are suffering more than others. The Commonwealth of Virginia has seen encouraging numbers lately, but of course it is not out of the woods.
A recent Town Hall for Richmond-area parents featured Dr. Danny Avula (director of the Richmond City Health Department), Jenna Conway (Virginia Department of Education, Department of School Readiness), pediatrician Bergen B. Nelson, MD, John Richardson-Lauve (ChildSavers) and J. David Young (FRIENDS Association for Children), among others. Chanel Bea of the Virginia Community Foundation for a Greater Richmond moderated the conversation, which conveyed a mood best captured by Dr. Avula when he said he felt "cautious confidence about expanding use of child care." Here are five takeaways from the Town Hall:
1.Over-communicate. In normal times, officials and administrators might assume a single reminder email will suffice, but these are not normal times. Communicating more than is generally considered necessary is a way to underscore the importance of the information. Conway said, "Health care professionals who are regularly exposed to COVID-19 emphasize communication as the key to helping people understand how serious this is."
One example of a message that bears repeating: vaccinations still count. Pediatricians and families have been taking advantage of telemedicine during the pandemic, but Dr. Nelson says not to delay in-person visits, especially for regularly scheduled vaccination. "Measles and other non-COVID diseases are extremely serious," Conway reminded the participants.
2.Good habits flatten the curve. Although children have lower infection and contagion rates, habits like hand washing and mask wearing still matter. (An added bonus of all the hand washing, reports Conway, is that they have seen much less strep throat and other common illnesses.) If children are old enough to put a mask on by themselves, they are old enough to wear masks. Don't assume they will be able to stick with it at first. "Before you go to the store or to school," advised Richardson-Lauve, "practice at home. Play dress-up with the mask to normalize the experience and to set expectations."
3.Lean into the honor system. Even with contact tracing and other measures to reduce risk, we'll never have a complete picture of where every child and teacher has been and who they've come in contact with, so we have to trust each other—and earn that trust. Teachers will have to remember physical distancing when socializing with one another. "The old days where your kid had a little fever and you sent her anyway?" said Conway. "That's not going to fly anymore." The same goes for staff. "There's no honor in coming to work sick," she added.
4.Guidelines are there to inform, not replace, judgment. Context-specific judgment works better than blanket rules that don't account for variables like the size of the facility and pre-existing health conditions that exacerbate risk. As Conway put it, "Ask yourself, what is the least worst option?" Dr. Avula reminded participants that child care centers can "consult directly with your local health departments to operationalize guidelines."
5.Early child educators are showing how to adapt and innovate. In Young's facility, each child has a separate bin of supplies and only gets toys that can be quickly and easily disinfected. Deciding that having his staff take public transportation wasn't worth the risk, Young made arrangements to have vans pick them up.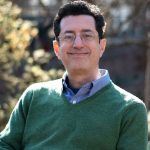 Early Learning Nation columnist Mark Swartz writes for and about nonprofit organizations. Author of the children's books Werner Herzog Eats His Shoe, Lost Flamingo, Magpie Bridge and The Giant of the Flood as well as a few novels, he lives in Takoma Park, MD, with his wife and two children.