Because we can't take our Early Learning Nation Studio on the road during this time, stay tuned as ELN recaps Top Takeaways from important conversations, panels, town halls and virtual events from the Early Learning field. Read them all and join the conversation! And visit our Early Learning Nation channel on YouTube for interviews with leaders from education, child development, business, politics and more.­­­­­­­­­­­­
Like a lot of children, Elinor is bursting with questions and unafraid to get a little dirty in the quest for answers. Unlike most children, she has floppy bunny ears. That's because she's a cartoon character featured in a new PBS Kids science series for ages 3-6, along with her two best friends, a bat named Ari and an elephant named Olive.
She's kind of a big deal. PBS Kids reaches 14 million children with programming and 19 million with games and other high-quality, evidence-based content. Tania Ghee, PBS's director of Early Learning Program Development, emphasizes the extensive preparation and collaboration that go into a seemingly simple program. For example, it took four years to develop Elinor Wonders Why for the classroom and the home.
Here are 5 Top Takeaways we learned from a September 8 webinar presented by the Campaign for Grade-Level Reading.
1. The creators are real scientists—and parents. Elinor is the brainchild of Jorge Cham, a self-confessed "lifelong nerd" with a robotics degree and creator of PHD (Piled Higher and Deeper) Comics; and Daniel Whiteson, a physicist at University of California Irvine. Cham's daughter Elinor presumably has human-sized ears.
2. Elinor and distance learning go together. A ton of English and Spanish resources can be found on her PBS Learning Media page. Topics include Finding Animals, Caring for the Environment and the Five Senses.
Ever wonder how Velcro works? So does Elinor!
3. The supplemental materials are just as important as the show. Shannon Bishop, Director of Content at PBS Kids Digital, says the team has posted seven games, five color pages and five printable activities so far. The games are tested on real kids. "They don't worry about how to play," she reports. "They just jump right in." She knew it was working when she saw the test audiences really getting into the activities, holding their little hands up to their eyes to make binoculars.
4. STEM starts early. That's the title of a 2017 paper stating, "Whether it is gardening, building forts, stacking blocks, playing at the water table, or lining up by height in the classroom, children demonstrate a clear readiness to engage in STEM [science, technology, engineering and math] learning early in life." (Read more here.) Sara Sweetman of the University of Rhode Island, science advisor to the U.S. Department of Education's Ready to Learn Children's Programing grant, says, "Scientists are people who hold onto their childlike curiosity and behaviors." This must be what Cham means when he talks about "science and engineering as a way of life."
5. Taxpayer support makes Elinor. Through the Ready to Learn Initiative, PBS Kids partners with the U.S. Department of Education's Office of Innovation and Early Learning. The purpose is to develop innovative educational television and digital media for young children and their families. Geared toward early learning and school readiness, with a particular interest in reaching low-income children, it builds on existing brain science. Shelley Pasnik, director & vice president of the Center for Children and Technology, points out that research into how successful a program is at achieving these goals is a Department of Education requirement. The young bunny scientist and her pals would approve of the rigorous scientific method.
👉  Meet another PBS Kids protagonist: Molly of Denali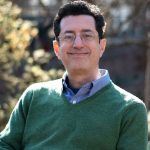 Early Learning Nation columnist Mark Swartz writes for and about nonprofit organizations. Author of the children's books Werner Herzog Eats His Shoe, Lost Flamingo, Magpie Bridge and The Giant of the Flood as well as a few novels, he lives in Takoma Park, MD, with his wife and two children.