The Milwaukee Art Museum is a glorious place. The payoff begins before you enter the doors with that gorgeous architecture of flying buttresses, pointed arches, ribbed vaults and a central nave topped by a 90-ft-high glass roof. The structure rises like the prow of a ship, perfect as it overlooks Lake Michigan.
But the real payoff? The Collection. With a history dating back to 1888, the Milwaukee Art Museum's Collection includes over 31,000 works from antiquity to the present, encompassing painting, drawing, sculpture, decorative arts, prints, video art and installations and textiles. The Museum's collections of American decorative arts, German Expressionist prints and paintings, folk and Haitian art, and American art after 1960 are among the nation's finest.
And here's the thing: Kids are welcomed and nurtured here, and parents, caretakers and educators are given resources to help them introduce the thrilling world of art—and maybe a lifelong love of art—to children. In this feature, Dianne Choie, Youth & Family programs coordinator, highlights their popular "Museum Moments" offering. And never fear, you'll never hear Choie say, "Shhhhh…" to kids in the Museum. NOTE: The Milwaukee Art Museum is open for in-person visits. Read more about its COVID-19 protocols.
---
As a staffer at the Milwaukee Art Museum (MAM) and a museum lover since my childhood days visiting the Metropolitan Museum of Art with my family, I'm comfortable and energized in museums. For many people, though, museums can be intimidating spaces. On top of their often impressive but imposing buildings, and deep reverence for the objects inside, most non-children's museums have many rules about not touching, not running and not making sounds. Further, I've frequently heard adults with children say things like, "She's only 18 months, she doesn't really understand what's going on" or "Maybe we'll come to the museum when the kids are older and can appreciate it."
At MAM, we work to change this perception of museums and offer specific ways to help everyone in our community—of all ages!—feel invited, welcomed and excited by their local art museum. We do this via a variety of programs: our ArtPack Station, our monthly Play Date with Art program for children to age 5 and our Studio Tour Workshops, Youth Studio Classes and Summer Art Camps.
"Museum Moments": Our Partnership with Vroom®
We've partnered with Vroom, an initiative of the Bezos Family Foundation, which is dedicated to promoting learning and facilitating brain building in the first five years of children's lives. Vroom Tips™ are activities based on brain science that encourage adults to engage in with children to age 5, anytime, anywhere and at no cost.
The Vroom model of encouraging adults and young children to actively explore the world together inspired the development of the MAM's "Museum Moments" activities that guide adults in looking at art with young children at MAM (or any art museum) through games and conversation. The goal is to help adults feel more confident, even if they're not art experts, to share a love for art with children. And, this helps empower adults and kids to explore what they see and hear to continue the learning and play at home or anywhere.
Five Tips for Exploring Art Museums with Kids
Anyone can find colors, imitate facial expressions or make different sounds, and "Museum Moments" add a new twist to encourage families to do those things using artwork from this remarkable collection. Our hope is that families (and later, the grown-up children with their own families) will find enjoyment and connection in art museums and gain a sense of belonging.
This summer, we expanded our Museum Moments cards to include six different activities for each age from 0 to 5. In creating new activities, I considered the galleries and favorite artworks that families repeatedly visit when they come to the Museum. I also thought about the kinds of games my sister and I played in art museums when we were kids, including making up stories based on an image and looking for shared colors, subjects and themes between different artworks.
Before the state's Safer at Home order began, we offered Museum Moments cards to visitors to borrow (free) during their time in the Museum. We have now posted, as a PDF, the updated cards (available in both English and Spanish) on our website for visitors to print or view on their smartphones. Once it is safe to distribute materials in the Museum, we plan to offer card sets to visitors with young children to take home and use again and again when they're looking at, and learning to love, art.
"We are proud to work with the Milwaukee Art Museum to share the science of brain building with families and communities," says Anthony Detrano, Vroom senior program manager. "Vroom makes learning joyful and easy: whether you're in the museum or at home, Vroom Tips fit into families' everyday lives."
We are thrilled with the access and engagement that "Museum Moments" have provided for the Museum's very youngest visitors. We hope that with the expansion of our program, we'll reach even more families and bring them into more art spaces. We hope you'll give "Museum Moments" a try with your little ones, too!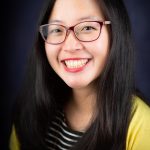 Dianne Choie is the Youth & Family Programs Coordinator at the Milwaukee Art Museum. She is responsible for the Museum's ArtPack Station, runs the monthly Play Date with Art program for children to age 5, and teaches Studio Tour Workshops, Youth Studio Classes and Summer Art Camps.