Because we can't take our Early Learning Nation Studio on the road during this time, stay tuned as ELN recaps Top Takeaways from important conversations, panels, town halls and virtual events from the Early Learning field. Read them all and join the conversation! And visit our Early Learning Nation channel on YouTube for interviews with leaders from education, child development, business, politics and more.
---
On October 20, Promise Venture Studios (Promise), hosted a pop-up "Show+Tell" in partnership with the Center for Grade-Level Reading focused on innovations in early childhood social and emotional development (SED). Kate Wylde and Vance Lewis, senior program managers at Promise, served as online hosts.
👉 Read more: Promise Venture's Latest Entrepreneur Showcase (June 2020)
It is widely understood that sound SED leads to stronger life outcomes and that trauma or adverse childhood experiences can disrupt healthy SED. During the 90-minute series, attendees heard nearly a dozen early childhood research experts and innovators pitch their solutions to promote and prioritize healthy SED among children, parents and communities. Our takeaways below highlight some of the featured companies.
1. Interventions for kids
Better Kids helps young children with big feelings, using interactive games and augmented reality all through the app store. Their application, Wisdom: The World of Emotions, is full of activities that promote mindfulness and fun. It also features resources and actionable tips for parents.
Hattie the Happy Hippo and Fanny the Fear Frog are just a couple of the characters developed by The Feeling Company for their educational toolkit. Each feeling is associated with a character that appears as a puppet, on apparel, in storybooks and more, to aid both parents, caretakers and teachers in social and emotional education.
Committee for Children is committed to expanding social emotional learning beyond the school setting through educational toys and their mindfulness app Mind Yeti. The app features research-based audio sessions designed with kids and their adults in mind.
2. Parent and caregiver support
Power of Two offers at-home parent coaching using the evidence-based Attachment and Biobehavioral Catch-up To improve overall caregiver and family outcomes, this program addresses the intergenerational cycle of trauma and helps parents to productively reflect on how their own childhood experiences may affect their parenting.
Kidango, the largest early education provider in Northern California, recently launched a consulting, training and certification program aimed to empower all care providers, from parents to teachers to school administrators. The model targets mental health, racial and social justice for overall capacity building as they look to increase their impact across the United States.
3. Relational health
By leveraging the primary pediatric care appointment, the Video Interaction Project focuses on prevention to promote healthy parenting behavior. If parents opt in to record a playtime interaction with their child, they receive real-time coaching tips that focus on the strengths of the interaction. Families leave the appointment with a video and a plan to strengthen their interactions at home until next time.
Brilliant Detroit was born in response to neighborhood needs. Sixty percent of children under the age of five live in poverty in Detroit, which is three times the national rate. The facilities serve as a neighborhood hub providing education, healthy and family supports specific to the community. There are currently eight hubs across Detroit, with growing interest for additional locations.
Search the Venture Database for contact information, videos and pitch decks, and subscribe here for updates from Promise.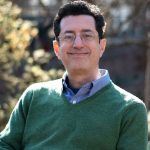 Early Learning Nation columnist Mark Swartz writes for and about nonprofit organizations. Author of the children's books Werner Herzog Eats His Shoe, Lost Flamingo, Magpie Bridge and The Giant of the Flood as well as a few novels, he lives in Takoma Park, MD, with his wife and two children.