Fleeing from death threats and domestic abuse in Honduras, Diana braved the journey to the United States with her three young children.  After Diana received a deportation order that would have sent her back to the persecutors she had fled, she reached out to an organization she'd heard about from a friend, the Asylum Seeker Advocacy Project (ASAP).
When Diana joined ASAP, she was still breastfeeding her youngest child, who was born in the U.S. This mother of four young children was on the brink of being detained and deported. ASAP gave Diana the tools to stop her deportation and separation from her children. Diana reopened her asylum case. ASAP then helped her to get her work permit and social security number while her asylum case is pending. She can work legally, support her family and access early childhood learning resources.
There are many families like Diana's in New York City, who struggle with the prospect of deportation and separation from their children, not knowing how to work legally in the U.S. or to access city and state benefits that are available for all New Yorkers, regardless of their immigration status.
Enter FUEL for 50, a groundbreaking initiative powered by Robin Hood's Fund for Early Learning that partners with nonprofit programs to support families raising young children across New York City.
By 2020, ASAP had 5,000 members, most of whom were Central American mothers. Since then, ASAP has gone through exponential membership growth, helping 150,000 asylum seekers get a work permit in less than two years. In 2023, ASAP's community of members now comprises nearly 500,000 adults seeking asylum in the United States. Including children, the number of asylum seekers served by ASAP exceeds 700,000.
Sarah Oltmans, Robin Hood's chief of grant strategy, describes ASAP as "the perfect FUEL for 50 partner, because of the reach they have as well as the trust that they've built with their members." She adds that asylum seekers, many of them parents of young children, often lack the family and community connections needed to find work and to navigate life in New York City.
Last month, ASAP made it to the second round of Robin Hood's FUEL for 50 initiative, which is dedicated to making New York City an "early learning metropolis." Awardees receive $250,000 to advance their work supporting parents and caregivers of young children.
"I am the daughter of a Cuban refugee and a Guatemalan immigrant," says ASAP cofounder Conchita Cruz. "I know from my family's experience how difficult navigating a new community can be for people who have moved to the U.S. from different countries, especially if they don't have family or a network in place here to guide them."
Cruz adds, "My parents were the first in their families to come to the United States. I watched them orient family and friends to life here, including enrolling their kids in early childhood programs like Head Start, health care services and other essential resources, but not everyone who comes to the U.S. has community ties or family to help orient them. My hope is that ASAP can fill that gap for many of our members."
ASAP was founded in 2015 as an all-volunteer effort. Cruz and three other cofounders—all daughters and granddaughters of immigrants and refugees themselves—volunteered at the U.S.-Mexico border, representing families detained by immigration authorities. Many families were being released and moving to areas like New York City but had little guidance about the next steps in their immigration cases. These families became ASAP's first members.
"We believe that the federal government should be giving people that information," says Cruz. "But since they don't, we are filling that gap by keeping in touch with asylum seekers so they can ask us questions. We can't represent all asylum seekers in the United States, but we can try to create resources for them and answer their questions."
By 2020, ASAP had 5,000 members, most of whom were Central American mothers. Since then, ASAP has gone through exponential membership growth, helping 150,000 asylum seekers get a work permit in less than two years. In 2023, ASAP's community of members now comprises nearly 500,000 adults seeking asylum in the United States. Including children, the number of asylum seekers served by ASAP exceeds 700,000. ASAP's Member Data Page reflects real-time, anonymous data about its members, including their country of origin and their destination in the U.S.
Cruz explains that while most ASAP members, like Diana, come from Latin America, members arrive here from all over the world fleeing direct government persecution, gang violence, domestic violence or other threats that their governments aren't protecting them from.
Unfortunately, even though the 1980 Refugee Act enshrines the right to seek asylum in U.S. law, U.S. immigration officials treat many asylum seekers with little to no regard for their rights or dignity. Last year, governors in states such as Texas began busing asylum seekers to northern cities as a political ploy. Such treatment makes many asylum seekers less likely to believe they will have access to social services or that local U.S. governments like New York City's would want to offer resources to them and their young children.
👉 Fact Sheet: Asylum in the United States (The American Immigration Council)
Because asylum cases are complex and immigration courts have tremendous backlogs, processing applications can take 10 years or more. While ASAP members wait, however, they are generally allowed to remain in the United States and are entitled to legal documents allowing them to take care of their families. "Having a social security number," Cruz notes, "unlocks a host of indispensable resources: getting a driver's license, getting access to health care, getting access to services for you and your young kids that otherwise you wouldn't have. For our members, it's huge."
👉5 Ways to Change the Asylum Process (ASAP)
Last year, ASAP filed a lawsuit and won a major victory over stalled renewals of work permit applications. "Thousands of our members had lost their jobs," Cruz recalls. "We got an extension of work permits for 540 days for all the immigrants who had been waiting to get their permit renewed."
👉Immigrants to Get Extension for Expiring or Expired U.S. Work Permits (Wall Street Journal)
Robin Hood's policy team, Oltmans says, targets structures that are acting as barriers to people moving out of poverty. "Conversations with our community partners drive our policy priorities," she says. "We want to hear about the issues that ASAP members have, so we can use our voice to address them."
The Fuel for 50 partnership, Cruz says, enables the organization to create and distribute resources about education, health and social services that it previously lacked the capacity to address. ASAP is piloting a program specifically for New York City members around early childhood and plans to scale it across the United States. This is especially critical now that thousands of asylum seekers are being bused to New York City, Philadelphia, Chicago and Washington, D.C. Families arriving at Port Authority with questions about how to make a life for themselves and their young children in New York City will have a new resource to help them get the tools they need to help their kids thrive here.
👉NYC asks feds to fast-track work permits for migrants (NY Daily News)
"ASAP doesn't set the agenda," Cruz says. "It's really our members who set the agenda, and a lot of them bring young kids to the U.S. or have kids shortly after arriving. ASAP members are asking for these resources. They want information about early childhood education and services. We're so grateful to Robin Hood and FUEL for 50 for helping us expand our programming in response, so we can provide this critical support to asylum seekers."
Double disclosure: One, I worked at Robin Hood from 2006 to 2010, and Oltmans was my colleague. Two, my wife, Jennie Guilfoyle, is an immigration lawyer and advocate for asylum seekers.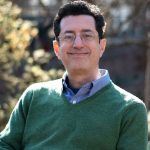 Early Learning Nation columnist Mark Swartz writes for and about nonprofit organizations. Author of the children's books Werner Herzog Eats His Shoe, Lost Flamingo, Magpie Bridge and The Giant of the Flood as well as a few novels, he lives in Takoma Park, MD, with his wife and two children.