Angelica Lerrga started caring for children in the basement of her sister's Colorado home in 2009, after her husband had been deported two years earlier. She and her two children were living in a mobile home and she couldn't cover all of the bills on her own. She needed "trabajar y cuidar a mis hijos," she said: to work and to care for my children.
So when her sister offered to let Lerrga live in her basement and care for both her and her sister's children, she took her up on the offer. Word got around that Lerrga was offering quality care, and more families came to her needing care for their children, too. She started taking on children outside of her own family.
It's been a struggle ever since. Today she cares for three children who were referred to her by friends: a five year old, a three year old, and one who isn't even yet two, "muy chiquitita," she said: very little. She charges $30 a day for the youngest child since she requires more care and supervision, and $20 a day for each of the other two. "No me gano mucho," she said: I don't earn much. But that's all that the parents can afford to pay her, and even as it stands parents complain about how much she charges. She once had a family that had so little money that they sent their baby to her with an empty bottle, and Lerrga had to spend her own money buying formula to make sure the baby was fed. She knew she had a duty to do it, even if it was a struggle for her—because it's not the baby's fault that its parents couldn't afford to send supplies.
Even her low rates are an improvement. Before she recently took a course at the local United Way, she was only charging $10 a day per child. She also didn't know how many children was too many to accept, and one summer watched eight by herself. But now she offers more enriching care—guiding the kids in her care to learn through play, teaching them colors, numbers, how to share.
Then there's the lack of predictability. She often abruptly loses income when parents lose their jobs or their shifts. She once had a child whose father worked in construction, and every time it rained he stayed home with his kid and didn't pay her.
She puts in long hours, starting at 5 in the morning and working until 3 every day. One parent works on a farm an hour away, another works an early shift at a tamale factory and another works an early shift at a meat processor. Lerrga makes so little, however, that she has to work a second job cleaning a restaurant at night after the children leave.
"Es difícil," she said: it's difficult. "No me descansa": the work doesn't let her rest. Even with the two jobs she lives paycheck to paycheck.
Lerrga's struggle has recently gotten much easier. She is now part of a new program being piloted in her state: the Thriving Providers Project, which sends out regular, guaranteed payments to home-based child care providers like her. Now Lerrga receives $250 every two weeks, no strings attached. "Me ha ayudado mucho," Lerrga said: It has helped me a lot.
The goal is to "reduce income volatility and increase economic stability among home-based providers." By doing so, the organization wants to explore what the knock-on effects are: Does it improve the quality of care? Do families have a better experience? "Our theory is when child care providers are less stressed and less burdened by economic volatility and instability, they can be more valuable caregivers." — Natalie Renew, Executive Director, Home Grown
Thriving Providers offers guaranteed, unconditional cash payments to home-based child care providers for between a year and 18 months. It grew out of the pandemic: in March of 2020, Home Grown, a national collaborative of funders, gave money to 13 emergency funds around the country to give cash payments to 2,500 home-based child care providers. Home Grown has always focused on these child care providers—including both those who care for other people's children out of their own homes and family, friends and neighbors who offer care more informally—because it's a frequently used form of care but it "is really under investigated, under invested in, and underappreciated," said Executive Director Natalie Renew. These providers were among those most likely to stay open in the early shutdowns to care for the children of essential workers, but there was little support for them within existing systems.
Even though the recipients of the pandemic emergency payments were from many different kinds of places and weren't necessarily like each other, it became clear that across the board "these relatively small amounts of cash were being used for very basic things: housing, utilities and food," Renew said. Home Grown realized that, even outside of a crisis like the early days of the pandemic, these providers were living in a precarious financial state and needed financial support.
The current iteration "leverages what we've learned in the guaranteed income sector," Renew said, and applies the lessons to child care, specifically care that's provided by family members, friends and in people's homes. Universal basic income pilots have essentially proven that "cash is best," Renew said. "We think providers know best what they need to run the best possible programs." Thriving Providers, therefore, offers the money without any conditions and "no expectations," she said. It stands in stark contrast with other forms of support that are available to child care providers, particularly the government subsidy system, which has a multitude of rules and regulations providers have to meet to participate and typically doesn't pay enough to cover the actual cost of care. Participation in the subsidy system also relies on parents to seek out funding, which is outside of providers' control. Payments are made based on how many children are enrolled, not on the amount of labor a provider puts in nor what would add up to a living wage.
The goal is to "reduce income volatility and increase economic stability among home-based providers," Renew said. By doing so, the organization wants to explore what the knock-on effects are: Does it improve the quality of care? Do families have a better experience? "Our theory is when child care providers are less stressed and less burdened by economic volatility and instability, they can be more valuable caregivers," she said. They'll be able to focus more on the care they provide and how they provide it when they're not constantly worrying about how to cover costs and pay the bills.
Lerrga is part of the program's first pilot in Colorado, which, in partnership with local nonprofit Impact Charitable, launched in the summer of 2022. It is now making payments to 100 providers. Many are similar to Lerrga: friends and family caring for children in a more informal way than a child care center. They are receiving the same payments as Lerrga, plus providers are offered access to tele-mental health services as a peer support group.
What Lerrga has experienced is typical: Joyceline Felix, a consultant on the Colorado pilot, said that what she charges is about average for family child care in Colorado. "A lot of families can't afford to pay these rates," Felix said. Home-based providers generally tend to have unstable incomes because they serve low-income families that are unstable themselves, and they also typically work second or third jobs to make ends meet, Renew said. Nationally, most earn less than $8,000 a year from the care they provide.
The Colorado pilot is already having a big impact. Over 80 percent of participants say that it's allowed them to continue being a child care provider, while over 86 percent say that it's helped them manage the fluctuations in their incomes, according to recent findings from surveys conducted by the Center on Early Childhood at Stanford University. "I don't have to work elsewhere," one recipient said. "I'm not stressing out so much about monthly bills." They're having less of a hard time affording food and health care, and paying for the basics has gotten easier. Their housing instability has been greatly reduced and their schedules have become more predictable. "I feel very supported and with less financial stress," a recipient said.
That, in turn, seems to be increasing the quality of care they can provide. The survey tracks seven measures of quality, including how often providers engage in back-and-forth exchanges with children or prevent difficult behavior, and all have steadily increased over the course of the program.
The goal, ultimately, is to get these kinds of programs in place in "as many places as possible," Renew said. Her organization partnered with local providers in Colorado to design the pilot, and as they did, they created a toolkit to replicate the program as quickly and cost efficiently as possible in other places. Home Grown is "actively planning in several other places," she said, including Nashville, New York City, Los Angeles and possibly statewide in Pennsylvania. King County in Washington is also partnering to build its own project.
Eventually, Renew said, she hopes to influence how all child care providers are paid—offering them more stability, predictability and financial security.
"Yo no creia caundo me dieron," Lerrga said: when she was told she would be receiving the money, she couldn't believe it.
But now with the money, "tengo suficiente por todos," she said: she has enough supplies for all of the children she cares for. She's able to buy the diapers and toilet paper she needs, as well as snacks and even some small toys for the children. She can buy ingredients for her sopita, a soup all of the children love whenever she makes it. It's also given her peace of mind, alleviating the stress she used to feel about being able to cover all of her bills, especially the high gas bills in cold Colorado winters. As the weather gets hot this summer she'll be able to afford to buy popsicles for the children—what was a luxury she couldn't afford previously—to help them stay cool while they play.
The money also came at an important time her personally. She had a baby a month ago, and when she was pregnant she was able to use the money to cover the cost of prenatal care since she doesn't have health insurance. After her baby was born, she was able to take a month off to recuperate while she had a friend watch her children. She didn't get any payments from the parents during that time, but the Thriving Providers money kept her afloat. "No iba a vacaciones," she said: I've never taken any vacations. She never took any time off at all before the payments—if she did she would lose money she couldn't afford to forego. This was the first time she'd ever stepped away from her work.
"Esta ayuda es muy importante," Lerrga said: this help is very important, and not just for her, but for all home care providers in her state receiving the funds. "Yo estoy muy agradecida," she said: I am very grateful.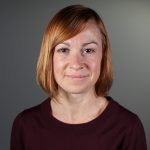 Bryce Covert is an independent journalist writing about the economy. She is a contributing op-ed writer at the New York Times and a contributing writer at The Nation. Her writing has appeared in Time Magazine, the Washington Post, New York Magazine, the New Republic, Slate, and others, and she won a 2016 Exceptional Merit in Media Award from the National Women's Political Caucus. She has appeared on ABC, CBS, MSNBC, NPR, and other outlets. She was previously Economic Editor at ThinkProgress, Editor of the Roosevelt Institute's Next New Deal blog, and a contributor at Forbes. She also worked as a financial reporter and head of the energy sector at mergermarket, an online newswire that is part of the Financial Times group.