Some of Tennessee's most vulnerable families could soon get relief from the high cost of diapers, as the state works to become first in the nation to offer a diaper benefit to its Medicaid families. The program will provide roughly half of the needed supply of diapers for a baby's first two years and is part of a suite of expanded benefits for families in TennCare, the state's Medicaid program.
With the state legislature approving $30 million in funding in April, TennCare will seek approval from the Centers for Medicare & Medicaid Services for the diaper benefit, which it hopes to receive in early January.
According to the National Diaper Bank Network (NDBN), one in three U.S. families is financially unable to provide all the diapers their children need, which exposes the child to potential health risks, makes it less likely for them to be accepted at child care where parents must bring diapers for each day, and increases the financial, physical and emotional stress on parents. The NDBN estimates that diapers for one Tennessee child for one month cost about $80, a crippling amount for struggling families—particularly those with two or more children.
Diapers are not covered by any federal assistance program, though they are a keystone for families' health and financial well-being. For a parent or caregiver making minimum wage, roughly 8 percent of their income will go toward diapers. Most families who are challenged with diaper insecurity fall short by 20 diapers a month, a number that can make the difference between having a job and being unemployed.
A study by the University of Connecticut's Center for Economic Analysis noted an increase of $11 in personal income for every dollar's worth of diaper aid that a family received, due to better health outcomes for babies and less time missed from parents' work and school. It's an investment that ultimately increases a state's tax revenues as families' financial picture stabilizes as they participate more fully in the workforce. The U.S. Health and Human Services' Administration for Children and Families, named unmet diaper need as a health equity issue. One study found that babies experienced 77 percent fewer days of diaper rash when funding for diapers and diapering supplies was provided.
In Tennessee, more than 300,000 of the state's population are children under age 3 and about 49 percent live in families earning less than 200 percent of the federal poverty level (about $30,000 for a family of four). As part of its expanded services, TennCare will adjust its income threshold for pregnant women to 250 percent of the federal poverty level, making the program available to an additional 2,400 new mothers per year.
In addition to helping families afford diapers, TennCare's additional benefits will establish continuous health coverage for children for at least their first year, regardless of changes in the parents' circumstances or eligibility, helping an estimated 10,000 children remain enrolled. It will also make permanent Tennessee's full year of postpartum coverage including dental and pharmacy benefits, which began as a pilot program in 2021, and will add lactation supports for enrollees.
"We're able to provide all these benefits and add additional people to our TennCare program through a unique waiver that we negotiated with the federal government, TennCare III," the program's director, Stephen Smith said in a statement. "The concept of this waiver is that Tennessee is rewarded for its efficient management of our Medicaid program, and that reward comes in the form of shared savings. These are additional federal dollars that we can reinvest back into the program to enhance benefits and services, and serve more people to accomplish these important objectives.
"A real benefit of this approach," Smith said, "is that we not only can provide more benefits and serve more Tennesseans, we can do it at no additional taxpayer expense."
Medicaid waivers are vehicles that states can use to test new or existing ways to deliver and pay for health care services in Medicaid and the Children's Health Insurance Program (CHIP). Tennessee is one of 10 states that has chosen not to expand Medicaid under the Affordable Care Act, electing to receive federal funds via a modified block grant. Under the waiver agreement negotiated with the federal government, the state will retain half of any federal savings its Medicaid program achieves. Tennessee's waiver was approved in January 2021 and is valid for 10 years.
Tennessee received $330 million of shared savings in its first full year of the waiver, says Amy Lawrence, TennCare's director of communications, savings that will be turned back into the Medicaid program.
TennCare recipients will not be taxed for the diapers they receive, Lawrence says. Tennessee's tax rate on diapers is 7 percent to 10 percent depending on the locality —one of the highest rates in the country. A bill to eliminate the tax on diapers, formula and baby wipes for all Tennesseans was introduced this year but failed to make it out of committee.
Michele Johnson, executive director of the Tennessee Justice Center, said the diaper benefit is welcome as far as it goes, but it doesn't go nearly far enough. The Nashville-based nonprofit advocates for Tennessee's approximately 1.3 million low-income families through class-action lawsuits and works to shape public policy. Medicaid expansion has been one of the center's key missions on behalf of the more than 300,000 uninsured Tennesseans.
"While we are grateful for any baby step towards a healthier state," Johnson says, "the state's investments in minor tweaks to the TennCare program are a far cry from meeting their moral responsibilities to the people who send them to Nashville to solve problems and lead.
"We continue to be at the bottom of the nation in most every metric of health and well-being due to leadership failures. We desperately need leaders willing to set aside politics and prioritize joining the rest of the industrialized world in choosing evidenced-based approaches to sound and equitable health policy."
A spokesman for Tennessee's House Democratic Caucus said that covering the cost of diapers and other provisions TennCare is promoting are necessary steps but, like Johnson, urged that Tennessee go farther.
"We know the need is there," said Ken Jobe, press secretary for the caucus, in an email. "TennCare's proposed funding numbers are encouraging. However, until the program is fully implemented, we will not know the full impact and actual number of families receiving these resources.
---
RESOURCES
For more on diaper need, see "For Want of a Diaper Families Are Getting Lost."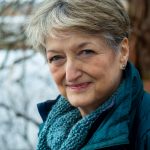 K.C. Compton worked as a reporter, editor and columnist for newspapers throughout the Rocky Mountain region for 20 years before moving to the Kansas City area as an editor for Mother Earth News. She has been in Seattle since 2016, enjoying life as a freelance and contract writer and editor.