Well before the rest of us started hunkering down and conducting most of our meetings via online video platforms, Promise Venture Studio, a nonprofit accelerator for social entrepreneurs, produced web-only events to celebrate innovations in early childhood education. Cofounded by Gabe Hakim and Matt Glickman in 2018, the nonprofit enterprise organizes "Show+Tell" interactive events presenting innovative parent support programs.
"Our team works to find and support promising social entrepreneurs working in early childhood," says Kate Wylde, program manager at Promise Venture Studio. "We look for leaders who are disrupting the field, and we facilitate connections to help them scale up as well as deepen their impact." Nearly 200 ventures have been showcased so far, including:
👉 Search the Venture Database for contact information, videos and pitch decks.
When I initially reached out to Promise Venture Studio, the team was preparing for its Early Childhood Pop-Up at ASU GSV. Originally scheduled for April, the prestigious annual summit (a collaboration between Arizona State University and Global Silicon Valley) has been moved to September. (Read about last year's summit.)
In response to the COVID-19 pandemic, the group has put together a special page for families, with
A guide for working with kids at home
Up-to-date caregiving advice
A searchable database of tools and resources
A dynamic blog with fresh and practical ideas
Dig deeper into the Promise Venture Studio website for more resources, including:
Short videos by senior advisor Kai-leé Berke, former CEO of Teaching Strategies, including ones about how to handle behavior challenges at home and the "Say What You See" technique
Expert talks by the likes of Ralph Smith (Campaign for Grade Level Reading) and Jack Shonkoff (Center on the Developing Child)
Read Berke's blog, Everything I Learned About Surviving a Pandemic, I Learned as a Preschool Teacher
In Wylde's words, "The field has been trying to make the case for early childhood for decades, and this crisis has only made the situation more dire. We're seeing a lot of innovation and creativity during this crisis. So many ventures in our network have stepped up. It's inspiring."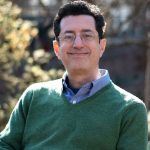 Early Learning Nation columnist Mark Swartz writes for and about nonprofit organizations. Author of the children's books Werner Herzog Eats His Shoe, Lost Flamingo, Magpie Bridge and The Giant of the Flood as well as a few novels, he lives in Takoma Park, MD, with his wife and two children.