When Chef Alicia McCabe encouraged her young daughter to try salsa for the first time, her little girl politely refused. "I don't like it today, but I might when my tongue grows up." McCabe now offers her daughter's response as a tip in her
Cooking Matters
classes as young parents learn how to broaden their children's tastes beyond mac and cheese and chicken nuggets. "If your child doesn't like any of the things you're offering, you can say, 'Maybe you will like it when your tongue grows up,'" she says. "This takes the pressure off the immediate moment and makes them excited about connecting liking vegetables with being grown up. At some point, most kids want to grow up, unless they're Peter Pan." This tidbit is just part of the wisdom to be gleaned in
Cooking Matters
, a national campaign employing chefs and an enthusiastic volunteer force to teach and inspire families with limited resources and limited time to shop for and cook healthy meals. The program is offered by Share Our Strength, a nonprofit whose mission is to end hunger and poverty in the United States and abroad.
Cooking Matters
programs reach more than 70,000 families nationwide, with 75 percent of the programs directed at parents and caregivers of children zero to 5 years old. Chef McCabe is director of
Cooking Matters
in Massachusetts, overseeing 72 six-week cooking and nutrition programs and more than 300 grocery store tours every year. In 2018, the program reached more than 4,500 participants, 60 percent of whom receive SNAP benefits. Chef McCabe is supported by a small staff and a giant volunteer force. More than 250 volunteers help guide the one-hour grocery store tours and assist with the multi-week sessions.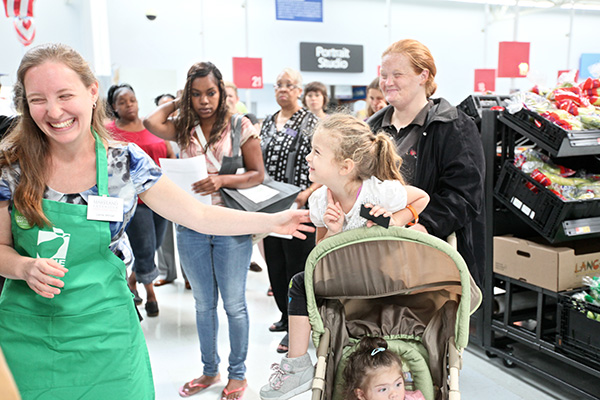 "
Cooking Matters
is a practical, skill-based experience that helps parents and caregivers with young children imagine what it would be like if it were easy to make healthy choices, and to integrate those choices into their lives," McCabe says. "We make the challenge fun. How can we find ways that healthy food can cost less and save time? How do we make mealtimes more peaceful? Time, cost and behavior around food, for most families it's a combination of two or three of these challenges that make feeding their families so stressful." While there's no magic recipe or a surefire technique,
Cooking Matters
provides the opportunity to build a series of progressive skills that give parents or caregivers confidence to try new things and experiment with strategies. Participants also learn from other parents and caregivers during the one-hour grocery tours the program offers in the full six-week course.
Cooking Matters
, in addition to teaching basic information, skills and strategies, also strives to create a community of sharing. As is true for most dedicated social-impact chefs, a long and winding road led McCabe to her role as director for Massachusetts'
Cooking Matters
. She started cooking in homeless shelters and soup kitchens in Southern California for 200 to 500 people a day. Then she worked as a cook in a Benedictine monastery; and then cooked on a boat. When she tired of the wandering life, McCabe enrolled in a short culinary program in Boston, simultaneously working at the Ashmont Grill, where the head chef, Chris Douglass, annually cooked for
Taste of the Nati
on (a fundraising event organized by
No Kid Hungry
, another branch of Share Our Strength). Thirteen years ago, Share Our Strength was hiring and McCabe got the job.
In this Early Learning Nation interview, Chef McCabe took time between sessions to discuss the work and its impact.
What are some of the most successful time-saving techniques you teach?
Chef McCabe: Meal planning is one of the biggest ways to save time. If you have an idea of what you're going to be making, you can be more efficient while grocery shopping and can cross-utilize your ingredients. You can chop all your onions on one day. Meal planning is the gateway to time saving: batch-cooking and cross-utilizing.
What's the best way to save money while eating healthy on a budget?
Chef McCabe: The biggest way to understand overall how to save money is understanding how to use unit price. You have to take some time to do the math, which can be a challenge when you're in a rush. But if you get into the habit, it will help you overall. For example, compare the price per pound of a butternut squash in its whole form — which is the cheapest way to buy it, the price of peeled and diced, which is the most expensive. You might save what looks like quite a bit of money buying the whole unpeeled squash, but if you figure in the time it takes to peel and the amount of waste you're losing in the peeling, it might make more sense to buy the prepared version. If you have time, always buy the unpeeled, but if you don't, you could be saving in the long run and getting more vegetables into your diet. Baby carrots are another one that might seem counterintuitive. A 5-pound bag of carrots is less expensive than a bag of baby carrots. But kids won't go into the fridge and pick out a big carrot — it's much easier and more appealing for them to reach into the bag of cute little pieces. Again, if you have time to peel and chop the bag of carrots, or that few cents make a difference in your overall budget, buy the 5-pound bag. We teach how to weigh the cost-benefits of different strategies.
We've talked about cost and time, but what about the yuk factor in integrating more vegetables, the mealtime battles around trying new things and the desperation all parents feel for a peaceful meal.
Chef McCabe: Modeling behavior is probably the single most important part of getting kids to like new things and to integrate vegetables into their diets. You have to like the food you're making and show that! And it has to be fun! You have to understand that kids' tastes are evolving and create opportunities to get them to try new things without pressure to like it immediately and want them to eat a whole portion.
10 Tips for Better Family Meals
For the full tips, visit Cooking Matters.
Set a realistic goal.
Plan when you'll eat together.
Be flexible with the time and place.
Cook it fast on busy nights.
Get everyone involved.
Focus on each other.
Talk about things that everyone can enjoy.
Set some ground rules.
Make mealtime a learning time.
Share the adventure.
When you're on a budget, you can't waste food, so I encourage our participants to rely on frozen vegetables when they want kids to try new things — that's a way to expose in little bits without wasting food or money. Buy a bag of frozen vegetables and just defrost a little bit. Do a taste test. Let's say broccoli: steam a few for 2 minutes, 5 minutes, then 10 minutes. Taste each one and see which texture you and your kids like best. Some people like it crisp, some medium, some mushy. Nothing is wrong. And everyone has a choice —sometimes just having the choice will create the adoption of the food. Try frozen sliced carrots this way, too. You can cook them at different lengths of time, or just defrost a few and have 3 separate dipping seasonings. A squeeze of lemon juice, a little butter and salt, and a salad dressing— or just "naked." Have your young ones try to see what flavoring works best for them— and use "pick one out of three." Chances are, they'll pick one. If not, try this with another vegetable. The point is, make it fun as early as possible. The question isn't "do you like it or don't you like it—but what do you notice and which one do you like best?"— get them to explore it. And if they don't like it right away? Maybe they will when their tongues grow up.
---
For recipes and tips on time and budget-saving techniques from
Cooking Matters
, visit
http://ma.cookingmatters.org/recipes
. Follow on Instagram:
@cookingmattersnational
. Download the free recipe app for Android users:
Cooking Matters
.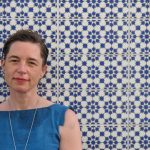 Anna Hammond is the Founder and CEO of Matriark Foods, a food company that makes healthy, low-sodium products for institutional foodservice. Until 2018, she was the executive director for The Sylvia Center, where she collaborated with farmers, institutions, funders and foundations committed to solving food insecurity through education and reimagined food systems.