Welcome to Feeding Our Children's Future, a new ELN series focused on innovations and challenges in early childhood nutrition, from neighborhood to national. The first article in the series explores the big, broad landscape of programs, policies and regulation. Stay tuned for interviews with community and nonprofit leaders, health practitioners, policymakers and top chefs. We'll even offer some cool tips and healthy recipes that'll thrill even the pickiest little eaters.
No, the quarantined home isn't a foxhole, although parents and caretakers may sometimes feel it's a battleground. We get it: with preschools and daycares closed for the foreseeable future, parents and caregivers are seeking engaging activities to keep the family sane and healthy. A great way to achieve both is by cooking together. It'll keep those littlest hands busy and help develop cooperative skills. And it's an ideal opportunity to model healthy eating habits with young children while getting nutritious and delicious meals on the table.
To help achieve this, I've turned to chefs known for community engagement, along with early childhood foodservice directors who work with kids, for their top tips and favorite recipes that are especially well-suited to tiny hands. These recipes are developed to engage preschool children in cooking while building a foundation for lifelong healthy eating. Perhaps it won't surprise you to learn that the more children are involved with making their own food, the more likely they are to eat it.
Even as you work to make food beautiful, delicious and nutritious, try to focus on this time as an opportunity for positive outcomes for children: development of small motor skills, better eating habits and a culture of cooperative community in the home.
Once life returns to normal, all of these recipes and tips can be adapted to your regular childcare setting.
The general principles of meal prep with young children are:
Make the healthy eating activities fun, engaging and hands-on
Keep things simple, using language that can be easily understood
Encourage the children to try new foods at mealtimes
Be a good role model —if you're excited about it (and patient), they will be, too.
Eat healthily in front of the children
Be mindful of health and safety issues (e.g. allergies, choking)
Note: These recipes can be adapted to pantry items you may have in stock. If you are able to get to the store safely or have groceries delivered, your choices are even greater. Vegetables, whether fresh, frozen or canned can be swapped out. If a recipe calls for a garnish you can't get, simply omit it.
7 Kid-Tested Recipes from Chefs and Foodservice Pros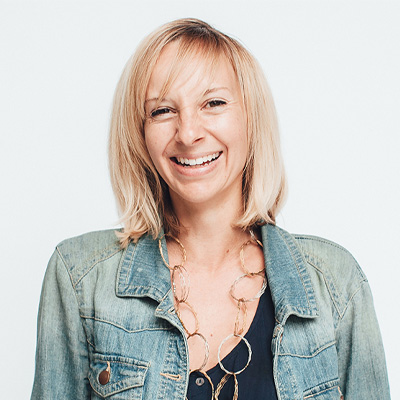 Dana Rizer is the Executive Director of FEAST, a nutrition and cooking education program for parents and caretakers. FEAST is part of the Everytable fast casual restaurant chain with a groundbreaking business model that adapts pricing to locations, opening access to healthy, affordable, family-friendly meals in food deserts and underserved communities, as well as affluent neighborhoods. FEAST offers an intensive 16-week program that combines the power of healthy food and human connection through Food Education, Access and Support, Together, to ensure that all families can live healthier, more nourishing lives.
Dana's failsafe recipe for young eaters: Overnight Oatmeal
This recipe can't get any easier. All you need are equal amounts of rolled oats and milk (or "mylk") of your choice. Add some cinnamon, vanilla, and a pinch of salt, stir it up and pop it in the fridge until morning. You can warm it in the microwave before serving, or try it cold, like a parfait.
How to get little ones involved in making this:
From measuring to mixing, this recipe is 100% kid-friendly. Be sure to involve them in the most important part: choosing which delicious toppings they want to make it their own. Bananas, peanut butter, berries, maple syrup or even a sprinkle of cocoa powder or chocolate chips can make this super healthy, ultra-fast recipe feel like a treat.
Overnight Oatmeal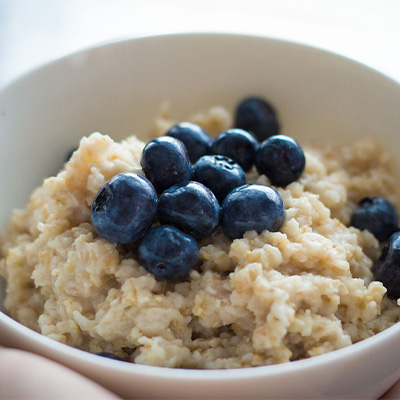 Serves 4
Ingredients:
1 cup rolled oats
1 cup unsweetened almond milk
1 or 2 drops vanilla extract
1 or 2 tsp honey
1 tsp cinnamon
1/4 tsp nutmeg
1/8 tsp salt
1/4 cup sliced almonds or other nuts
1/2 cup blueberries or other berries
Directions:
Combine all ingredients except the berries and nuts in a bowl or jar, mix well, and cover.
Refrigerate for at least 5 hours, or overnight.
Serve cold for breakfast, topped with berries and nuts. Enjoy!
Did You Know:
Oats are full of fiber, which makes them one of the best ways to fuel up in the morning. They're also healthy for your heart and can stabilize your blood sugar.
Cooking Tip:
Be sure to read the label! "Rolled oats" (and "instant oats") are best for this recipe. "Steel-cut oats" won't become soft overnight.
---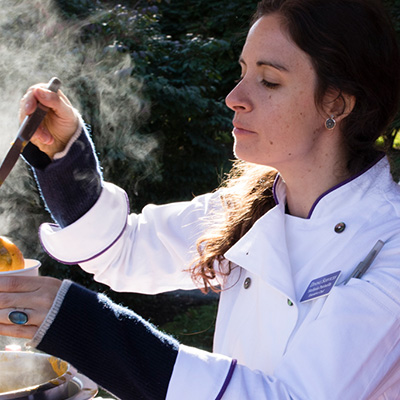 Stefania Patinella is a Chef and herbalist who has taught healthy cooking for 17 years to diverse audiences, from toddlers to doctors. She was Founding Director of the cooking and food justice programs at The Children's Aid Society, a community-based organization founded in 1853 to provide food, clothing and shelter for orphans. These days, Patinella is working on her upcoming book, The Anti-Inflammatory Cookbook: A Kid-Friendly, Physician-Approved Way to Transform Your Family's Health.
Stefania's failsafe recipe for young eaters: Sweet Potato Dumplings
This recipe is wildly popular with kids (and adults) of all ages. Because it's time intensive, it's usually not the first one I recommend to parents who want to start cooking with their kids. But with schools and daycares closed, this is the perfect moment to dive in and put little hands to work and bring some much-needed fun and a sense of accomplishment.
How to get little ones involved in making this:
Kids can measure ingredients, mash the sweet potato, mix the filling, and most fun of all, help to stuff, shape and pinch the dumplings. The pan-frying method is also very exciting for kids to watch—but is best left to adults because it sizzles and pops! The other reason I love this recipe right now is that it has two classic immune-boosting ingredients—shitake mushrooms and ginger. That said, if you make these dumplings with nothing but mashed sweet potatoes inside, they're still super good!
Sweet Potato Dumplings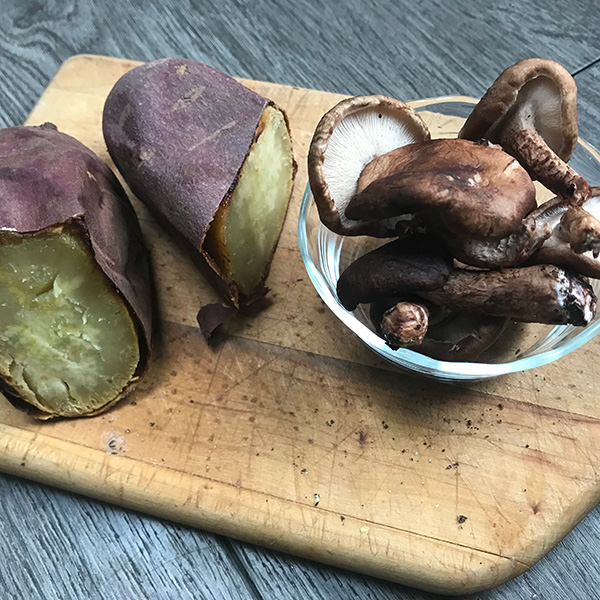 Makes approximately 35 Dumplings
Ingredients
For dipping sauce:
¼ cup soy sauce or tamari
1 tablespoon rice vinegar
1 teaspoon honey
1 tablespoon water
For dumplings:
2 small sweet potatoes (please measure in cups once cooked and mashed)
5 tablespoons sesame oil, divided
1, 2-inch piece fresh ginger, peeled and minced
2 small leeks, white and light green parts only, washed well and cut finely into half-moons (or substitute 1 small onion)
3 ounces shitake mushrooms, stems removed and sliced finely
¼ head green cabbage, cut very finely
2 teaspoons soy sauce
2 teaspoons rice vinegar
salt to taste
1, 12-ounce package dumpling wrappers
Prep:
In a small bowl, combine all the ingredients for the dipping sauce and set aside.
Bake sweet potatoes whole in the oven at 375 degrees for 30-40 minutes or until a fork goes through them easily. Slice the sweet potatoes down the middle long ways, scoop out the flesh with a spoon, and put it in a bowl (discard the skin). Mash with a fork until you don't have any lumps left.
While the sweet potatoes are baking, heat sesame oil in a sauté pan over medium heat. Add ginger and leeks and sauté for 3-5 minutes, until leeks are translucent but not browned.
Add shitake mushrooms, cabbage, soy sauce and vinegar. Sauté for an additional 10 minutes until the cabbage is well wilted. Remove from heat.
Add leek-cabbage mixture to the mashed sweet potatoes and mix well.
To make the dumplings:
Fill a small bowl with warm water and set it near you.
Put a spoonful of filling in the middle of a dumpling wrapper.
Using your fingertip lightly wet the outer rim of the wrapper.
Fold the dumpling wrapper in two so it creates a half-moon shape and pinch the edges together well.
Repeat until all the wrappers are used up (if there is leftover filling, serve with crackers or with rice)
Cooking:
Next, you will pan fry the dumplings. (Note that this will sizzle quite a bit when the water hits the pan, so make sure ONLY adults are doing this step. Kids should watch from a few feet away.) Heat 1 teaspoon of sesame oil in a frying pan. Place dumplings in pan in a single layer. When the underside gets browned and crispy (about 2 minutes), quickly add a splash of water (about 2 tablespoons) to the pan and quickly cover with a tight-fitting lid. Cook another two minutes and remove from heat. Repeat with the rest of the dumplings.
Arrange warm dumplings on a platter around the dipping sauce and serve immediately.
Note: For infants who are eating solid food, the filling (well-mashed or pureed) makes a wonderful food. Children 2 and up can enjoy the whole dumpling.
---
Banana Breakfast Bars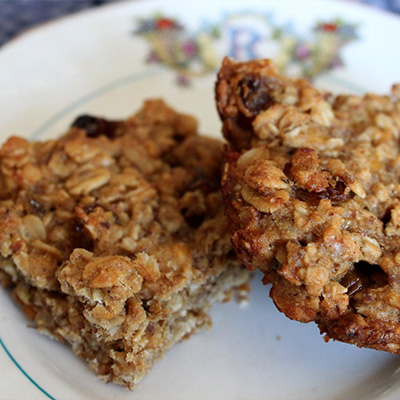 Yields 12 bars
These are a super healthy, sweet treat that's fun and easy. They're also very versatile. Don't have flax? Leave it out. Have dried cherries or apricots instead of raisins? Great. And whatever seeds or nuts you have in the house will work. Get kids involved in measuring, mixing and spreading the batter. You might want to double the recipe—just sayin', they go fast!
Ingredients
3 very ripe bananas, mashed
1/4 cup coconut oil, melted
1 tablespoon maple syrup or honey
1 teaspoon vanilla extract
1 1/2 cups rolled oats (not instant)
1 cup shredded coconut, unsweetened
1 tablespoon ground flax
1/2 teaspoon salt
3/4 cups nuts or seeds of choice, roughly chopped (sunflower seeds, pumpkin seeds, almonds, pecans, etc.)
1/2 cup raisins
Preheat oven to 350 degrees.
Combine bananas, coconut oil, maple syrup and vanilla extract in a medium-sized bowl and mix well until combined.
Combine oats, shredded coconut, flax, salt, nuts/seeds and raisins in a separate bowl and mix well until combined.
Combine dry and wet ingredients in one bowl. Mix well with a spatula until evenly incorporated.
Line 9 x 12 pan with parchment paper. Spread mixture out in an even ¾-inch layer.
Bake for 20 minutes or until golden brown. Let cool to room temperature.
Once cool, cut into 12 bars.
Note: These bars are appropriate for 2 years old and up. For infants and toddlers, set aside some mashed bananas, and if you wish, add a small amount of coconut oil and a touch of cinnamon!
---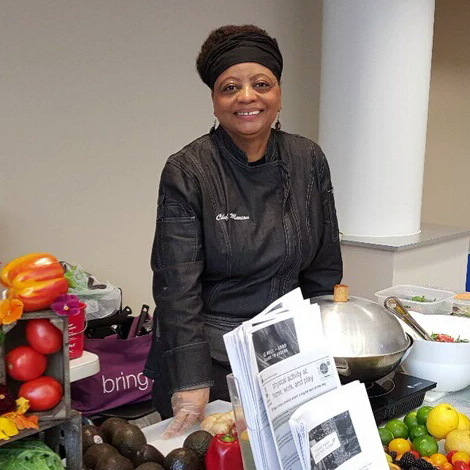 Marion Williams is Chef and Senior Program Director for Wellness in the Schools (WITS), a national organization dedicated to inspiring healthy eating, environmental awareness and fitness as a way of life for children in public schools.  WITS strives to end childhood obesity by partnering with schools to improve student outcomes and drive systemic, long-term change by providing nutrition and fitness education, scratch-cooked meals and active recess periods.
Marion's failsafe recipe for young eaters: Broccoli Tater Tots
Kids love tater tots! These homemade broccoli tater tots are easy to make and freezer-friendly. Make an extra batch to freeze for an easy dinner or lunch side dish.
How to get little ones involved in making this:
You can have children help wash the potatoes and broccoli in a bowl of water, and while you are cutting the potatoes, have them break apart the broccoli florets. Make a game out of lining up the little "trees" and then have children put the trees in the bowl one by one. This will fill up a nice amount of time while you prep other things in the kitchen.
Broccoli Tater Tots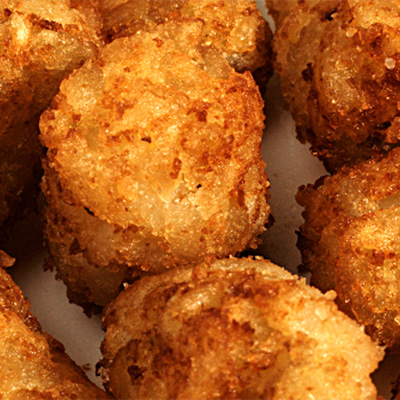 Serves 4
Ingredients
2 medium russet potatoes peeled, cut into 1/2-inch cubes
2 cups broccoli florets
1 large egg
1/2 cup panko or regular breadcrumbs
1/8 teaspoon salt
1/8teaspoon pepper
1/8 teaspoon garlic powder
Instructions
Preheat oven to 400°F.
Place potatoes in large stockpot and add enough cold water to cover. Cover and bring to boil over high heat. Reduce to low and simmer 3 minutes. Add broccoli; don't stir. Cover and cook 4-5 minutes, or until tender. Drain.
Mix egg, breadcrumbs, salt, pepper and garlic powder in large bowl until just combined.
Add potatoes and broccoli to food processor. Pulse 8-10 times until finely grated. Add to breadcrumb mixture and stir to combine. (If you do not have a food processor this is a great place to have children help mash potatoes and broccoli with a potato masher. It's fun to count out and pass from one child to another)
Use tablespoon to scoop potato mixture into 40 mounds. Shape each into an oval and place on parchment-lined baking sheet. (Have children use a tablespoon-size ice cream scoop to scoop out balls or just a regular spoon)
Bake 10 minutes; flip and bake 10 minutes, or until golden brown.
Serve plain or with any kind of dipping sauce.
Note: If freezing this recipe, make the balls and store in a parchment-lined container without baking.  When ready to bake, remove from freezer, do not thaw, spray sheet pan with cooking spray and bake at 325 degrees for 25 minutes.
---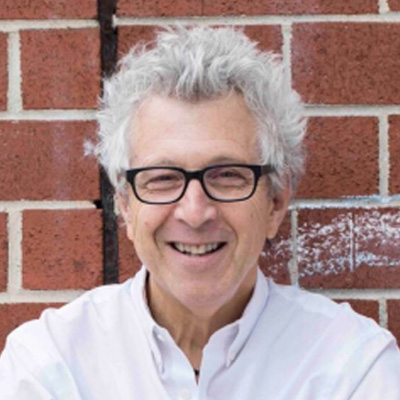 Philip Hoffman is the Executive Director of the Brownsville Community Culinary Center, a culinary training program, cafe and community center in Brownsville, Brooklyn. Brownsville has the nation's highest concentration of public housing. Currently, the center is being deployed as a meal pick up point for at-risk elders and families.
Philip's failsafe recipe for young eaters: Apple and banana pancakes for breakfast, lunch or dinner
This easy recipe makes for a great weekend breakfast, and can be a festive lunch-or-breakfast-for-dinner option.  Make the pancakes with your favorite mix or from scratch. For mix choices I love Bob's Red Mill Buttermilk mix—you only have to add egg, oil and water and they're ready to pour into the pan. Or make from scratch as indicated.
How to get little ones involved in making this:
This recipe is all about the topping for the pancakes. Have children help measure out the ingredients for the pancakes. Help hold their hands while they scoop out flour. Let them crack the egg (wipe off their hands right after) and don't be afraid of the mess. I made this many mornings with my daughters when they were little and I would simply get out all the ingredients and set them down on the floor with a big bowl and a couple of spoons. Let them peel the bananas and chop them into chunks with a butter knife. Don't forget that dressing up in little aprons and making chef hats out of paper can add to the fun! Sit them in their high chair at a safe distance from the stove while you caramelize the bananas and apples and perform a little stirring dance until each side has a dark brown crispy coating. Serve warm on top of the pancakes with maple syrup. A little indulgent in the sweet department but undeniably irresistible.
Basic Pancakes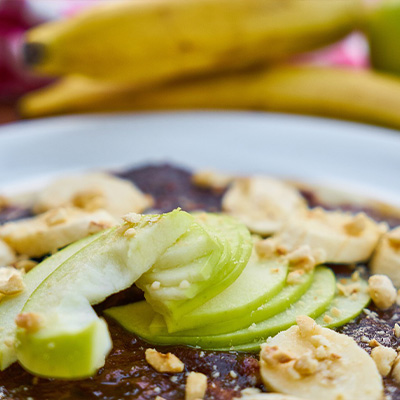 Serves 4-6
Ingredients:
2 cups all-purpose flour (or use buckwheat for more nutrition)
2 teaspoons baking powder
¼ teaspoon salt
1 tablespoon sugar, optional
2 eggs
1 ½ to 2 cups milk
2 tablespoons melted and cooled butter (optional), plus butter for cooking, or use neutral oil
Or use a pancake mix and follow directions on box.
2 Apples, 2 bananas, butter, sprinkle of sugar.
Directions:

In a bowl, mix together dry ingredients. Beat eggs into 1 1/2 cups milk, then stir in 2 tablespoons melted cooled butter, if using it. Stir butter and milk into dry ingredients, mixing only enough to moisten flour; don't worry about a few lumps. If batter seems thick, add a little more milk.
Cut up fruit.
Heat pan or griddle. Place a teaspoon or 2 of butter or oil on griddle or skillet and heat until just bubbling. Ladle batter onto pan making pancakes of any size you like (children love mini ones they can pick up with their fingers). Flip pancakes after little bubbles start to form on surface.  Cook until second side is lightly browned. Keep warm in over at 200 degrees.
In another pan, heat butter and sprinkle in a few tablespoons of sugar until it bubbles slightly. Throw in fruit and sauté until cooked through. If you want to speed up the apple cooking, put them in microwave for 1 minute or until soft. Then add to pan.
---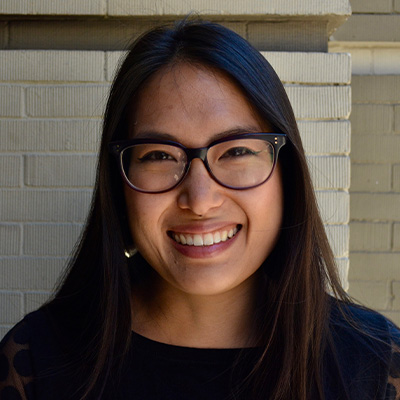 Jenn So has worked for more than a decade on issues of food access, policy and education. She launched Maine's Harvest of the Month program at the Maine Department of Education and most recently joined the team at Full Plates, Full Potential (FPFP), a nonprofit whose mission is to end child hunger through giving capacity-building grants that leverage federally funded food programs. FPFP has just set up a fund to support any public school in Maine that is closed due to the Covid-19 pandemic. These emergency funds will help schools pay for increased meals, packaging breakfast and lunch meals and transporting the food to eligible sites.
Jenn's failsafe recipe for young eaters: Roasted Butternut Squash and Mozzarella Quesadillas 
This is a delicious and easy meal that can be eaten for breakfast, lunch or dinner and adapted by adding an egg or any vegetable. If you want to get creative, make your own tortillas but store-bought ones are just as good.
How to get little ones involved in making this:
Children love to help assemble the ingredients on the tortilla. Older children can help cut the vegetables. Or just have them take the cut-up ingredients and put them in individual bowls. From there, they can assemble each quesadilla before it's cooked.  To eat them like a pizza, cut the quesadilla into little triangles using scissors.
Roasted Butternut Squash and Mozzarella Quesadillas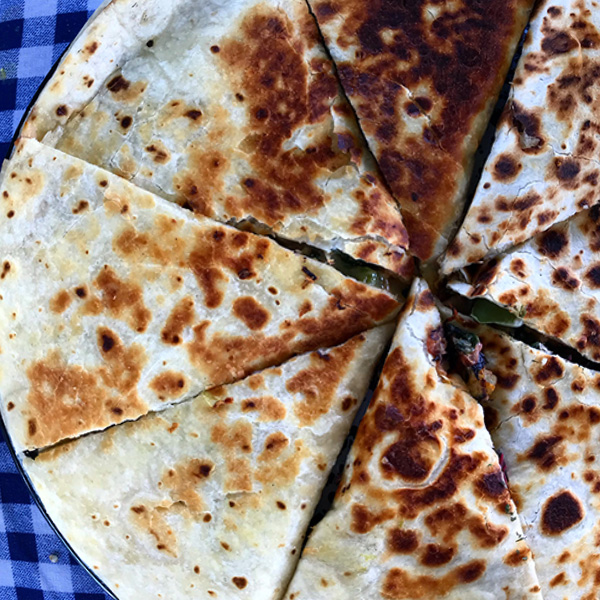 Serves 6
Ingredients:
1 medium sized butternut squash, de-seeded, peeled and diced into 1" cubes
1 red pepper, diced
1 small yellow onion, diced
1 tablespoon garlic, peeled, finely diced
1 tablespoon olive oil
Salt and pepper, to taste
3 cups fresh mozzarella cheese
1 whole-wheat tortilla each, 10 inch
1/2 cup green onions, sliced thinly
3 tablespoons cilantro, minced
3/4 cup tomatoes, diced
Procedure:  
In a large bowl, combine butternut squash, onion, red pepper and garlic with olive oil, salt and pepper. Spread on a greased cookie sheet and roast in a 400 F oven for 20-25 minutes, or until vegetables are cooked and slightly caramelized.  Remove from oven and set aside.
Spread out the tortillas on clean, parchment lined baking sheet or sheets. Place 1/2 cup of shredded mozzarella on one-half of each tortilla. Distribute roasted squash evenly on top of the cheese, followed by the green onions and remaining cilantro evenly divided as well.  Fold tortillas in half over contents to form quesadillas.
Place in a 350 F oven for 5-10 minutes, until the cheese is melted and the tortillas are warm. Serve with fresh salsa on the side.
Note: This recipe works great with sweet potatoes as well, and any leftover fillings can easily be batched up and frozen for future use.
---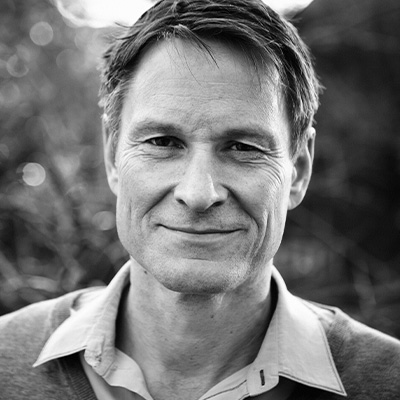 Claus Meyer is a Danish culinary entrepreneur, food activist, cookbook author, co-founder of Noma and catalyst for the New Nordic Cuisine manifesto. He is founder of The Melting Pot Foundation committed to driving social change and combatting poverty through initiatives related to food and hospitality, including breaking the picky eating habits of children and strengthening their ability to influence sustainable and healthy food choices.
Claus's failsafe recipe for young eaters: Vegetable soup with butter beans
This hearty and fragrant soup is pure comfort food and well suited to make with your kids. There are several tasks along the way that small children can handle (see tip below). It is also a great recipe for using what you have, including that forgotten carrot and quarter parsnip at the bottom of the vegetable drawer! Don't go shopping for the exact veg here – see what you have on hand and use the recipe as a template.
How to get little ones involved in making this:
There's lots for the kids to do here: let them wash the vegetables, either under the tap or in a bowl with water on the kitchen table. Kids upwards of 3-4 years can peel carrots and other root vegetables, if they just have time. And with a cutting board, a small knife and supervision, kids from 4-5 years can dice the vegetables. It's a good idea to let the kids use scissors to cut parsley – or cabbage, kale for instance – and other herbs. Kids can also grate cheese and help add pasta and beans to the pot, as long as you help them, and they only add a few at a time.
Vegetable soup with butter beans – and any vegetables you have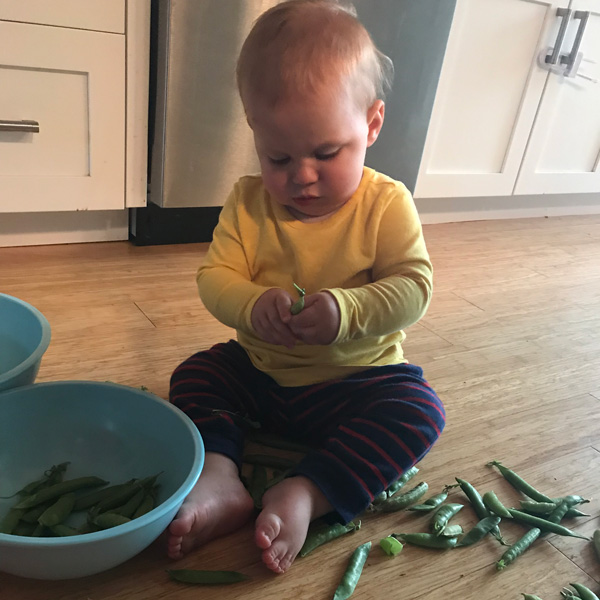 Serves 2 adults and 2 kids
Ingredients:
1/3 cup dried butter beans (or a 1 can of precooked beans, drained)
2 bay leaves
2 onions
2 cloves garlic
1 cup carrots (or any other root vegetable!)
¾ cup celery (or other vegetable e.g. courgettes, peppers, fennel etc.)
4 tablespoons olive oil
1 tablespoon tomato concentrate
½ tsp. chili flakes
1 twig rosemary
3 twigs thyme
4 cups water
½ cup cabbage (any type!)
¼ cup orzo or ditelli pasta (not spaghetti)
¼ cup parmesan cheese
Directions:
If you're using dried beans, soak overnight
Drain the soaked beans and boil in plenty of lightly salted water for about 45 minutes, until tender (if you're using beans from a tin, just drain, don't boil)
Chop onions and garlic, and dice carrots and celery.
In a large pot, fry the diced and chopped vegetables in olive oil for about 15 minutes over a low to medium heat, without browning
Add tomato concentrate and chili flakes and fry for a few minutes more
Add bay leaves, rosemary, thyme and water and let simmer for 30 minutes.
Meanwhile chop or cut the cabbage into bite-sized pieces. Add the cabbage to the pot along with the pasta and beans and let simmer for another 10 minutes. If the pasta soaks up too much liquid, add some water – it should remain a soup
Season well with salt, pepper and vinegar (let the kids taste, but be sure to let the spoonful of soup cool off)
Roughly chop the parsley and sprinkle over the soup along with freshly grated parmesan, as you serve with a good slice of bread.
TIP:
In my experience, most small children are eager to take part in cooking. They see their parents do it and become curious about this grown-up thing that involves heat and water, strange sounds and good smells—and creates food. Even very picky eaters will often happily help cook anything. So, it's really on the parents!
My number one advice is not to be in a hurry. Choose something that doesn't take too long in the first place, because once the kids enter the scene, it will take longer. Look for recipes that don't require too much precision or constant attention—don't expect the kids to stay focused for a full hour. In advance, scan the recipe for simple tasks that your kids can do, and just give it a try!
---
Anna Hammond is Founder and CEO of Matriark Foods, a food company that makes healthy, low-sodium products for institutional foodservice. Until 2018, she was executive director for The Sylvia Center, where she collaborated with farmers, institutions, funders and foundations committed to solving food insecurity through education and reimagined food systems.
Anna's failsafe recipe for young eaters: Pie with Any Fruit
How to get little ones involved in making this:  
I've been making this pie for 30 years with my sons, the children of friends, little ones I've taught and now my grandsons. It's "easy as pie." Plop your little one on the ground and get all of your ingredients ready. Then help them measure out the flour, salt, sugar and dump that into the bowl. Cut up the butter (if they're over 2, give them a butter knife and let them have at it). And then let them get their hands in there and smash it all up into pea-sized lumps. Sprinkle on white vinegar and have them press it into a pie pan. Peel cut apples into 8 pieces and let them break the pieces in half. Then let them sprinkle the sugar and cinnamon, and spoon the slices or arrange the apples in any way into the crust. Assemble as above and bake at 400 degrees until crust is brown — depending on your oven, anywhere from 35-50 minutes.
The last time I made this pie with my grandson, he walked around the kitchen for an hour saying "pie on my plate gramma?" until it came out of the oven and cooled long enough for the first slice. And the second. And the third.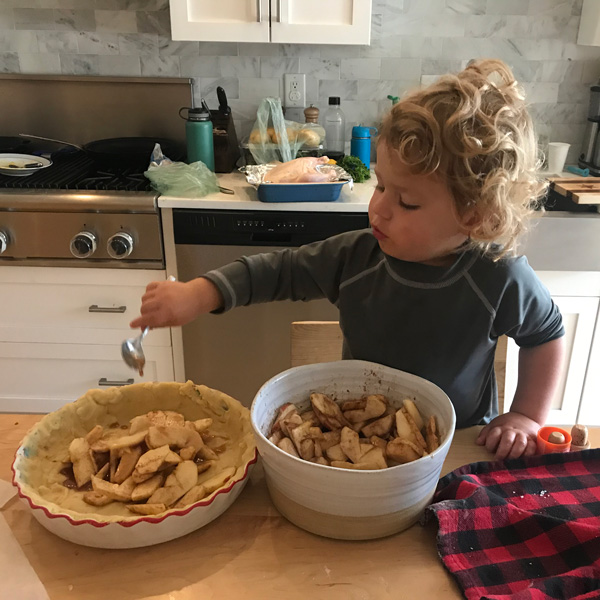 Ingredients:
1 cup flour
1 cup sugar
1 stick butter
1-2 tblsp white vinegar
A few apples or pears (or 4 cups of berries)
Enough sugar to coat the fruit
Cinnamon
A squeeze of lemon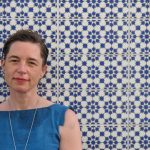 Anna Hammond is the Founder and CEO of Matriark Foods, a food company that makes healthy, low-sodium products for institutional foodservice. Until 2018, she was the executive director for The Sylvia Center, where she collaborated with farmers, institutions, funders and foundations committed to solving food insecurity through education and reimagined food systems.