The Founding Fathers built competition among the states into our system of government. With 50-plus laboratories for democracy, we're bound to come up with powerful and efficient ideas for optimizing life, liberty and the pursuit of happiness. At least that's how it's supposed to work.
Starting at Zero: Reimagining Education in America breathes new life into this ideal as it relates to early childhood education. Produced by the Saul Zaentz Charitable Foundation and Firestarter Interactive and directed by Willa Kammerer, Starting at Zero is a beautifully shot and compellingly argued case for expanding the definition of public education to include infants and toddlers. With persistent gridlock in Washington, D.C., states have greater incentive than ever to make learning better for today's families and tomorrow's workforce.
Comprising over 60 interviews with leaders from various sectors (including five governors and 11 children), the documentary showcases how some states are investing, innovating and inspiring their way to better systems for their youngest residents.
👉 Upcoming screenings of Starting at Zero
👉 Host a screening
👉 Starting at Zero on Facebook
A relative newcomer to early learning, Kammerer found it "inspiring to be aligned with the wholehearted commitment" of the interviewees and the film's funder, Saul Zaentz Charitable Foundation. She began work on the project in 2017, when it originated as a short film about Alabama's successful reinvention in the field. Public and private dedication and collaboration radiating out from the capital city of Montgomery remains the core of Starting at Zero, but the detours it takes to Montana, Virginia and North Carolina, among other states, showcase both momentum and variety.
Turning it into a 63-minute production, Kammerer says, demanded a far greater investment of time than she initially anticipated. "We trusted the journey," she says, "and made many discoveries along the way."
👉 Listen: Kammerer speaks to "City Lights" host Lois Reitzes (WABE Atlanta)
Setting the tone for the documentary, Javaid Siddiqi, president and CEO of The Hunt Institute, asserts that in the United States, "Governors play the most critical role" in early learning. James B. Hunt, Jr., former governor of North Carolina and the namesake and board chair of The Hunt Institute, calls early learning "the secret sauce" of economic growth and an equitable society. (Hunt is still known as "the Education Governor.")
Montana governor Steve Bullock declares that early learning "may be the most important thing we can do in public office." In a noteworthy example of interstate collaboration, his office seeks out the advice of Jeana Ross, Secretary of Alabama's Department of Early Childhood Education. Ross, who recently retired, emerges a standout voice in the documentary, not least for the uniqueness of her office—a secretary-level position reporting not to the state education department but to the governor. Credit for Alabama's success goes to a series of governors who take consecutive ownership of the initiative. Normally unsung public officials are also celebrated, as well as partners from business and philanthropy. Jera Stribling of Alabama Giving boils the continuous improvement of her state's initiative down to four words: "slow expansion, high quality."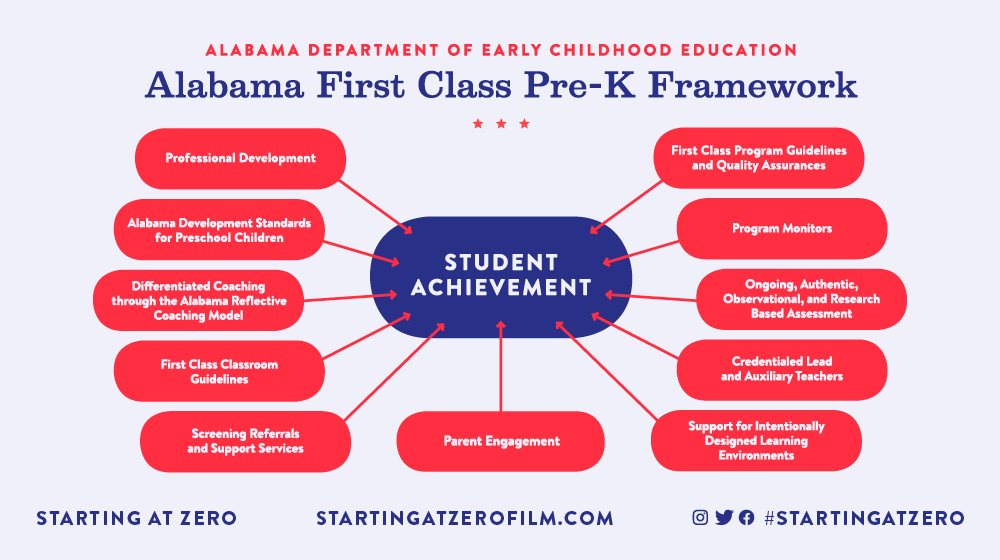 Support takes many forms, including annual gatherings to inspire and inform teachers. At one such event, Dorothy Flowers, an Alabama First Class Pre-K teacher, announces, "What I've learned here, I can see it on my children's face."
The business argument for early education emerges in remarks from Phil Bryant, former governor of Mississippi, who highlights the importance of developing "soft power skills" from a young age, and Gregory Canfield, Alabama's Secretary of Commerce, who argues, "Education is economic development, in a practical sense." Jeff Coleman, Chairman, Coleman Worldwide Moving, explains, "Legislators listen to the business community."
Of course, plans don't succeed without dedicated professionals carrying them out, and Starting at Zero lovingly lingers on the experience of educators. In the words of Jim Squires, Senior Research Fellow, National Institute for Early Education Research, Rutgers University, "It's not the pan, it's the chef." Cynthia Jackson of Educare tells the filmmakers that it all depends on "teachers who are self-actualized, who are loving, caring people themselves." Rachel Wagner of the Devereux Center for Resilient Children exhorts teachers, "Blend social-emotional learning into everything you do."
Starting at Zero is packed with insights and startlingly commonsensical remarks. For me, the moment that crystallizes the overall argument of the film occurs when Aaliyah Samuel, formerly of the National Governors Association, states, "School readiness starts at birth." Katharine Stevens of the American Enterprise Institute, backs up the claim by noting, "In our single-minded focus on fixing the K-12 schools, we've been missing something very important."
According to Kammerer, the Zaentz Foundation made it clear from the start that the documentary would be first and foremost a tool for policymakers and the early education field. "We see it as a demonstration of the potential for digital content to educate, inspire and—we hope and believe—really have a chance at impacting policy."
---
Related:
Article/Film: Brain Matters Documentary Attracts Global Interest
Article/Film: No Small Matter: New Film Explores Policies, Realities of Early Childhood Learning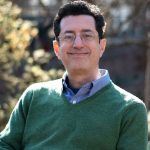 Early Learning Nation columnist Mark Swartz writes for and about nonprofit organizations. Author of the children's books Werner Herzog Eats His Shoe, Lost Flamingo, Magpie Bridge and The Giant of the Flood as well as a few novels, he lives in Takoma Park, MD, with his wife and two children.