If parents and caregivers had hard evidence of a tool that would positively influence their child's IQ, vocabulary and other language skills throughout their childhood and into adolescence, it's a fair bet that they would line up to get their hands on it. The good news is that evidence exists, and the tool is readily available. The even better news for parents and caretakers? It's free and simple: talk, listen and respond to children when they're babies and toddlers. It's all about
the conversation
.
Torrents of words and human sounds wash over a baby from birth: it's the social interaction that make those words stick—and make the language centers of the baby's brain light up like a Christmas tree.
A 10-year study
has shown that the amount of interactive talk with adults that children experience in their first three years of life is directly related to their verbal abilities and IQ in adolescence. Researchers with LENA (Language Environment Analysis), a national nonprofit that helps communities accelerate language development in children birth to 3, began studying families in 2006 to observe the amount of adult words and back-and-forth conversations children were exposed to in their daily lives. "For years, we've stressed the importance of what we call 'conversational turns' as one of the most predictive measures of child outcomes," says Dr. Jill Gilkerson, LENA's chief research and evaluation officer. "We were in a really unique position of having that early data and then being able to locate those kids in adolescence and have them participate in language and cognitive tests. Longitudinal studies are rare in this field and we now have long-term, empirical evidence of the benefits of early language exposure." For the original study, Gilkerson and her team enlisted more than 300 families with children 2 to 48 months old to participate in daylong LENA sessions for six months using a device that captured talk between the child and their caregivers. Often referred to as a "talk pedometer," the LENA device doesn't recognize individual words, but uses speech recognition algorithms that estimate word counts based on syllables, consonant distributions, duration and other characteristics.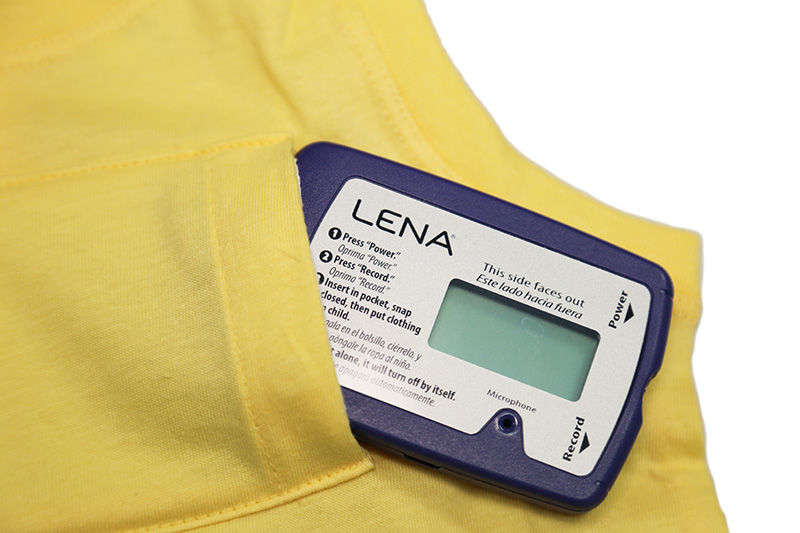 The device weighs about two ounces and is small enough to slip into the pocket of a little vest the child wears. Parents were asked to turn the device on at the beginning of the day, leave it on and let it run out by itself. The information was then transferred to a cloud-processing system where the LENA software analyzed the captured audio and presented clear reports that are shared with parents and caregivers. The audio was deleted right after this processing so there's never a record of what has been said. Here's how it works. The LENA algorithms are trained to identify and differentiate adult and child speech from TV, electronic media and background sounds. It automatically estimates the number of conversational turns between child and adult. The data show that those are the interactions that figure so dramatically in later outcomes: Children who experience more conversational turns as toddlers do measurably better academically and socially as adolescents. "Conversational turns" refers to the back and forth talk between adult and child—even before the child has actual words. Gilkerson compares it to a verbal "serve and return" like ping pong. Gilkerson's research and other important studies demonstrate that it isn't the sheer number of words a child is exposed to but these conversational turns that make the difference in a child's brain development and language learning. Torrents of words and human sounds wash over a baby from birth: it's the social interaction that make those words stick—and make the language centers of the baby's brain light up like a Christmas tree.
"The number of those conversational turns, especially at 18 to 24 months, has been shown to be the most predictive of child language development, as well as long-term cognitive outcomes and language outcomes," she says. "They're a measure of what the child is actually engaged in, not just passively listening to adult words, but their actual experience with language." The LENA technology offers a particularly hopeful solution to the documented "word gap" between children in lower socio-economic circumstances and middle- to higher-income families. The gap—which
some researchers
say amounts to a 30-million-word advantage by the time better-resourced children reach age 4—does exist, but the LENA research proves that remedies can be available to every family. Using the LENA analysis, researchers have been able to provide parents, caregivers and early childhood educators with rapid feedback about their verbal interactions. "We're able to show parents information about their LENA day compared to a normative sample," Gilkerson says. "If it's low, we can share techniques for improving those interactions, and when they make changes, they can see increases in the objective data, which can be very motivating. On the other side of it, it's been great to be able to show some families what a wonderful job they're already doing. Some of them are already really interacting with their children a lot—and it can be validating for them to be able to see that.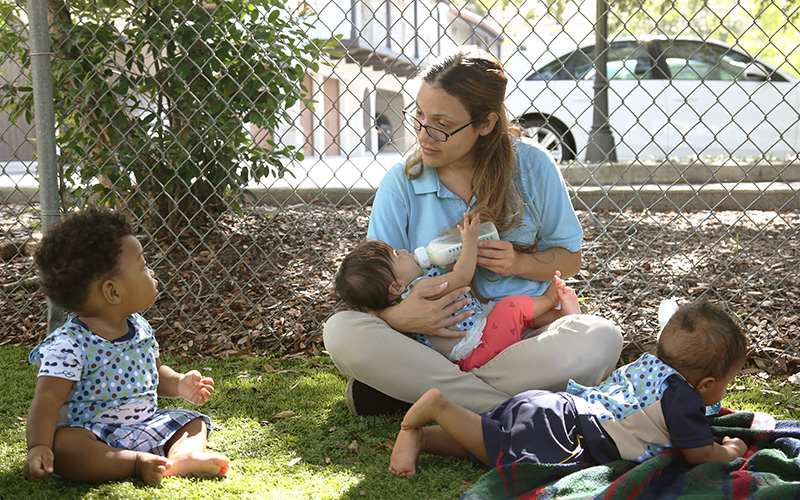 "It's not necessarily the case that all high-income parents are talking a lot with their kids," she says. "There's a gigantic range within all socioeconomic groups. There's a distribution (with more interaction at higher-income levels), but it's important to know that we can change those trajectories through intervention. We can provide feedback and get those parents engaged." Particularly with lower-income parents who may be working multiple jobs and experience a great deal of pressure on their time and resources, Gilkerson and her team stress that incorporating conversational turns doesn't have to be something "extra" to add to an already overburdened daily reality. "For a parent who's working long hours and experiencing a lot of challenges, it might not be top of mind for them to provide a language-rich environment for their child," she says. "But if we can just educate them on the importance of talking with their child—even when they aren't yet able to talk to you, it does make such a difference. Even just having a few minutes at the end of the day to sit and read a little. They don't have to read a book from cover to cover—it's all about having a conversation about the book. Let them interrupt, ask questions and talk, talk, talk with them. If a parent can do that daily, then they can really improve things for their child."
14 Talking Tips
LENA offers research-based talking tips for increasing early talk, such as "Get down on the child's level," and "Take turns. Don't do all the talking." (Always good advice!).
Explore them all.
LENA has developed comprehensive coaching curriculums that couple with the data from their technology to support parents, teachers and home visitors. The programs are implemented by trusted community partners like libraries, school districts and state agencies.
LENA Start is an evidence-based community program in which parents use LENA's technology and meet for 10 weekly sessions (virtually or in person) to increase conversation with their young children. A facilitator introduces 14 tips for talking with their children and the group discusses the tips, then goes home to try them and returns to discuss how the experience went. The program started in 2015 with two sites; it's now up to 31 active sites, reaching more than 4,800 children.
In addition to being a great way for parents to learn the skills of incorporating quality talk into daily routines with their small children, it's also a great way to build social capital in the community, she says.
LENA Home launched in its current form in 2016 and has reached more than 4,700 children so far. The program supports home visitors who work one-on-one with families to increase their focus on talk and positive adult-child interactions. Other LENA tools are also available for speech pathologists, researchers and others who need scientifically reliable speech-language measurements for babies and young children.
LENA Grow, started in 2017, is a research-based professional development program for infant, toddler and pre-K teachers that couples LENA's "talk pedometer" technology with strengths-based coaching that doesn't pile more onto their schedules. It is currently operating in 162 centers and has reached more than 9,700 children since its inception.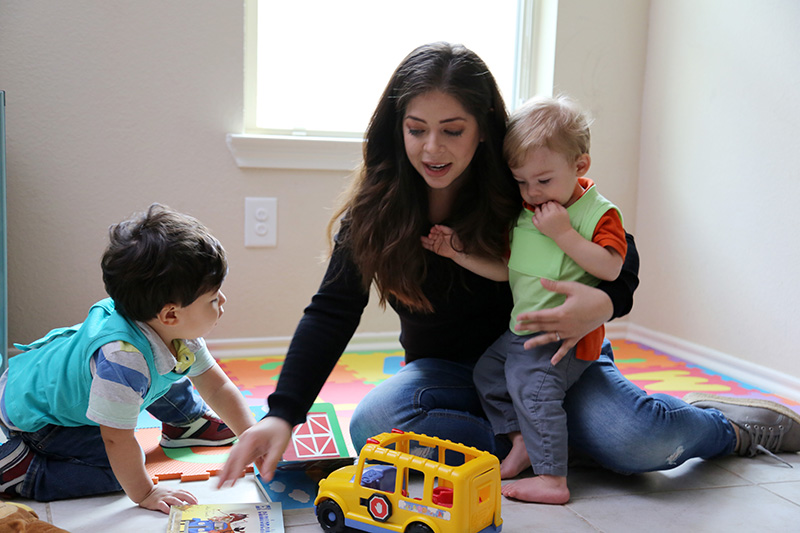 "I'm most excited about LENA Grow," Gilkerson says. "If we really want to move the needle and have a large, population-level effect, we want to train the people who will be interacting with a lot of children. "I've been so encouraged by the fact that teachers really love this data. A lot of people in this field are not given ongoing opportunities for growth and professional development. Having someone acknowledge the importance of their work and being provided with a tool that can give them feedback can be very elevating for them. Most of them are attracted to the field because they love being able to help the children in their care. "There are so many children who spend more than half of their waking hours in childcare or preschool at a time when their little brains are growing so quickly. Think of how many children a childcare professional can impact over their lifetime." Organizations globally are now using LENA programs to enrich their communities' language environments for children and to build early literacy skills, strengthen families and increase school readiness. This
interactive map
offers details. Think how many children in the world these programs can affect and how many verbally adept, intelligent, socially engaged adolescents—soon to be adults—that translates into. Just think.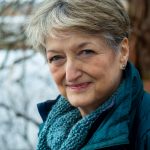 K.C. Compton worked as a reporter, editor and columnist for newspapers throughout the Rocky Mountain region for 20 years before moving to the Kansas City area as an editor for Mother Earth News. She has been in Seattle since 2016, enjoying life as a freelance and contract writer and editor.