Elliot's Provocations unpacks current events in the early learning world and explores how we can chart a path to a future where all children can flourish. Regarding the title, if you're not steeped in early childhood education (ECE) lingo, a "provocation" is the field's term—taken from the Reggio-Emilia philosophy of early education—for offering someone the opportunity to engage with an idea.
We hope this monthly column does that: provocations are certainly not answers, but we hope Elliot's Provocations helps you pause and consider concepts in a different way.
---
Happy New Year! As 2023 kicks off, I wanted to highlight five early learning trends to be watching this year. I believe these are themes that will define, for better or worse, the direction of the early care & education sector — in some cases, for many years ahead.
1.

The Child Care Cliff Cometh
For a child care system already buckling, the road ahead looks treacherous. Pandemic relief funding has already started to run dry, and by 2024 the spigot will be turned off entirely. Forced to take even small wins where they can be found, advocates (including myself) cheered Congress increasing child care funding by $2 billion in their omnibus package, but this is the merest drop in a giant bucket given the $53 billion that is expiring. No one should be taking a victory lap. The fundamental challenge—crippling staff shortages from uncompetitive wages—hasn't changed, and the strain on remaining staff is only piling up. Many, many programs are facing down an existential crisis, and are reluctantly preparing to take the only action they can:
raise parent fees
. The question for 2023 is whether lawmakers respond to the enormity of this problem with a response of the same size. As
I wrote in Deseret News
, "The issue cannot wait until 2024 … Getting educators, especially well-qualified ones, back in classrooms will require significant amounts of permanent public funding and the time to recruit and train staff." One variable is how influential advocates and organizers can be, and whether philanthropy will double-down on politics: child care has begun to get more muscular, but is still a relatively lightweight field when it comes to lobbying and advocacy. The first chance for action will come as state legislatures begin their 2023 sessions, sessions that—especially in states like Minnesota and Michigan which have new political dynamics after November's elections—are truly pivotal. Ultimately, however, states can carry the water but so far. Which leads to the second major theme of the year…
2.

Is Bipartisanship Possible?
I don't know if you're aware, but a divided government doesn't tend to get a lot done. With a fractious House Republican majority taking the helm, there are open questions about whether they will be inclined to move any significant legislation whatsoever. I am not, however, hopeless. If there is any middle ground to be found, it is surely around family policy. Conservatives have had something of an awakening (spurred in no small part by the overturning of
Roe v. Wade
) around the need to support working families with actual policies instead of platitudes. Recently, more than two dozen right-leaning thinkers
signed a statement
of 'pro-family policy principles' which included the need to "Acknowledge the out-of-pocket and opportunity costs associated with becoming a parent, and advance policies that would make having children more affordable and achievable." Similarly,
National Review
editor Ramesh Ponnuru had an
op-ed after Christmas entitled
, "Family-Friendly Federal Policy Should Be a Priority." While these pundits tend to emphasize child tax credits and marriage more than child care, they are surely aware that child care is the, well, elephant in the room.
I've
written
several
times
about the fact that the Senate GOP actually put forth a child care bill that embraces many Democratic priorities — absent, of course, any actual funding. While that bill has now expired, it ended this last Congress
with fully 15 Republican co-sponsors
, not just moderates and retirees but staunch conservatives and presidential hopefuls. 2023, then, will be something of a put-up-or-shut-up moment for Congressional Republicans. If they are willing to come to the negotiating table and talk dollars and dedicated funding sources (and if Democrats are willing to ensure existing choice-based principles remain intact), perhaps a breakthrough is possible. If not, then this year will puncture yet another bag of hot air as America's parents and children are left stranded once again.
3.

Scrutiny for For-Profit Chains
While questions swirl about the future of U.S. child care, one facet has come under increased scrutiny: investor-backed for-profit chains. These companies, mainly backed via private equity, have been rapidly snapping up market share as independent programs fail. I wrote some pieces
examining their policies and political practices
, and in December the
New York Times
' Dana Goldstein
published an explosive investigation
. Among other revelations, Goldstein reported that the chains (despite their public assertions) were lobbying behind the scenes
against
universal child care policies — policies that would, incidentally, restrict their profit and require them to pay their educators well. Perhaps most galling, many chain executives showered Sen. Joe Manchin with campaign contributions the month after Manchin killed the Build Back Better Act with its $400 billion in transformative child care funding. This scrutiny is likely to continue as the chains grow. States could begin looking at potential regulatory steps, and it is easy to imagine more researchers and policy analysts turning their attention to this long-ignored piece of the sector. With Sen. Bernie Sanders taking over the powerful Senate HELP committee, Congressional action is also feasible. Either way, the issue of mixing profit motive and toddlers isn't going away.
4.

Deepening the Climate Change & Early Childhood Connection
If you've followed my work at all over the past year, you know I strongly believe that there is work to be done
at the crossroads of early childhood and climate change
. The good news is that last year saw progress in this area. The
Early Years Climate Action Task Force
has had three important public listening sessions, and will have three more this year en route to publishing a major Early Years Climate Action Plan in the fall. That plan will provide a roadmap for how early childhood stakeholders can help systems adapt for the climate era while reducing emissions, and how climate stakeholders can invest in early childhood as a way to build short- and long-term societal resilience. Similarly, as more evidence emerges about the direct and causal negative impacts of climate change on young children, so too has evidence
been growing
around the positive impacts of young children's access to nature. If efforts to green child care play areas, increase shade, combat heat islands, and improve park proximity pick up steam, it will have a double-benefit for children and the climate.
5.

Early Childhood Meets World
The raging storm that swirls around early care and education can create whiteout conditions, making it difficult if not impossible to see more than a few feet ahead. Yet two things can be true: the technical and policy challenges facing the sector are immense, and there are bigger moral and value-laden questions at stake. Those engaged around early childhood have an immense opportunity to pull back and shine a spotlight on the larger picture. Put simply, securing tens of billions of dollars to stabilize the child care system and start building an effective one is a critically important but incomplete goal. There are broader issues here: what does America owe its families? Do children provide value to society that goes beyond their role as future units of economic productivity? How can we espouse principles of freedom when so many parents have their choices about family size and where to live and how to pass down their stories to the next generation constrained not by preference but the availability of care? What, in essence, is this all
for?
The early childhood sector has serious moral weight, since we deal not with widgets or stock prices but with vulnerable children and young families. This affords the chance to paint a hopeful moral vision and to situate policy benchmarks, such as child care funding and paid family leave, as vital enabling elements of that vision. As my colleagues Joe Waters and Ian Corbin
recently wrote in Newsweek
: "There is no getting around our need for spiritual renaissance. A culture of daring, future-facing innovation is best fostered by dedicated groups that willingly pool risk and reward, but this kind of pooling—also known as solidarity—generally springs up where there is a deep, shared vision of what is good and beautiful and worth pursuing." The balancing act for early learning in 2023, then, will be fighting tirelessly for very practical solutions while building that solidarity in all directions. A spiritual renaissance requires grappling with the child care problem not merely in terms of return on investment or school readiness, but in terms of interdependence and the very future of our nation.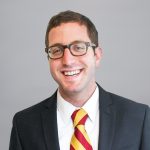 Elliot Haspel is a nationally-recognized child & family policy expert and commentator, with a specialty in early childhood and education issues. He is the author of Crawling Behind: America's Childcare Crisis and How to Fix It, and a Senior Fellow at the think tank Capita. Elliot has appeared on television as an analyst, including on The PBS Newshour with Judy Woodruff, and his writings have appeared in a wide variety of top publications, including The New York Times, The Washington Post, and The Atlantic. Elliot holds an B.A. in History from the University of Virginia and an M.Ed. in Education Policy from Harvard's Graduate School of Education.
Elliot also writes a free semi-monthly newsletter, The Parents Aren't Alright.