The laws of supply and demand have never quite applied to child care, and no state exemplifies this conundrum as much as California. On one hand, families struggle to find care, limiting their ability to find and keep jobs. According to the Center for American Progress, before the pandemic, 62% of Californians lived in child care deserts—the highest rate in the nation. On the other hand, providers—who in theory should be able to take advantage of the demand—can barely make ends meet. A Los Angeles Times report from early in the pandemic found 1,200 California child care providers permanently shutting down, with disproportionately more closures in rural areas and the northern part of the state.
👉 Read more on ELN: Bringing Unlicensed Care out of the Shadows
Jessa Santangelo, VP, Business Development and Community Impact at WeeCare, has spent the past several years trying to make the math add up for families and providers. "If there are so many parents that there aren't enough spaces," she says, "then all of these providers should be filled to the brims with waitlists, but there are larger ecosystem problems going on."
Public subsidies should help supply and demand to add up but often don't work the way they should. Santangelo cites one glaring gap: only 6% of income-eligible babies and toddlers in Los Angeles County receive subsidized child care.
With its new WeeSubsidy offering, the company is trying to make a sustainable difference at the system level. Funded through the California Department of Social Services (CDSS), the program is taking on inefficiencies in the way funds are distributed—streamlining waitlists, matching families with quality caregivers and allowing for near-instantaneous reimbursements. WeeCare is also awarding over $1 million in CDSS subsidies to in-need families.
Reducing administrative costs has the potential to make some of those California deserts a little less dry. Normally, more than 55% of the $1.2 billion California spends on subsidies goes to staffing, but in WeeCare's model, it is less than 40%.
"If the savings were applied to the state's overall budget, it would add 2,000 more children for every 10,000 currently receiving subsidized child care services. This would provide them with high-quality care, nutritious meals and a safe and nurturing environment, which will have a long-term impact on their development and the well-being of their families," Santangelo explains.
WeeCare has been a valuable partner for Sandra Segura, owner and operator of Segura Sandra Family Child Care. After working at a school for children with special needs, she launched her own business a year ago, in a house behind her Bakersfield, Calif. Home. The app made it easy for families to discover her, and it automates registration and other functions. She anticipates that WeeSubsidy will be a boon for migrant families that work in the fields that surround Bakersfield.
According to Santangelo, WeeCare was originally focused on helping new, in-home preschools get licensed, supporting them with opening a business. Upon her arrival in 2018 (after working as a behavioral therapist working with children with Autism and traumatic brain injury), she helped the company to realize the potential in helping existing providers. "We realized just how much they were struggling," she recalls, "so we worked on providing support services for existing child care providers before resuming the supply building."
Today, WeeCare supports nannies, sitters and after-school centers as well as family child care businesses. The company works with employers on child care benefits and municipalities to expand access. WeeSubsidy, she says, is designed to address equity issues that have gotten more severe since the pandemic. The number of providers that will even accept families on government subsidy is decreasing. "It's not because they don't love and care for those kiddos," she says. "It's because they've got their own mortgages to pay."
👉 Read more on ELN: Economists Find Investing in Child Care Will Dramatically Reduce Costs, Increase Mother's Employment and Increase Quality Care
Antiquated paperwork and other inefficiencies in the system compound the injustices faced by caregivers operating on narrow margins. Payment from the state, for example, can take as long as 60 days. "We're paying providers within 72 hours," Santangelo says, "and that small change can have huge impacts."
Waitlists are another issue. Currently, subsidy agencies prioritize families that have been waiting the longest. "In theory," admits Santangelo, "that sounds great, right? But when you actually start analyzing that and you realize they're calling families from 10 years ago, whose children may be in high school now." WeeCare's selection algorithm, in contrast, identifies the highest-priority families.
Currently, WeeSubsidy assistance is available to families living in ZIP codes in Los Angeles and Kern counties that Local Planning Councils have identified as in-need, with plans to expand throughout California and to other states.
"We're on a mission to make more use out of the available dollars that already exist," Santangelo says.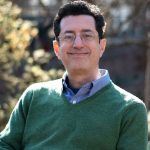 Early Learning Nation columnist Mark Swartz writes for and about nonprofit organizations. Author of the children's books Werner Herzog Eats His Shoe, Lost Flamingo, Magpie Bridge and The Giant of the Flood as well as a few novels, he lives in Takoma Park, MD, with his wife and two children.