It looks like just another ordinary day at the Children's Museum of Manhattan (CMOM). A dozen mothers and about 30 children are exploring the hands-on PlayWorks exhibition, making art, cuddling or enjoying a snack.
But something is different.
For one thing, all the moms are wearing identical black pants and white shirts.
For another, armed officers are standing all around the perimeter of the exhibit.
👉 Parenting from Prison, Preparing for Coming Home
My recent Zoom interview with Leslie Bushara, CMOM's chief program officer; and Kelvin Chan, managing director of Early Childhood at Robin Hood, explored Family Connections. It's an experimental program that allows incarcerated parents to spend two hours with their children each month, away from Rikers Island—New York City's largest jail. CMOM trips for the women started in 2018, and the first trips for incarcerated men and their children began in October 2022. Robin Hood is a funder of the program.
Bushara, who helped to initiate the program with support of then-Mayor Bill de Blasio and his wife Chirlane McCray, says, "Parents in custody are spending time with their children in a learning environment that is designed to support bonding, connection and healthy relationships."
👉 See this program featured on CNN
Spreading the Word about Family Connections
Advocates for incarcerated people are taking inspiration from Family Connections, and it is being replicated in Chicago and Kansas City. Next month, Chan and Bushara will present at
South by Southwest (SXSW)
in Austin, and in April she is highlighting the program in Louisiana at the
annual gathering of children's museums
.
Because nobody—not even the staff—is allowed cellphones during the visits, she notes that there are no distractions for parents and their children, which allows for a deeply focused experience.
"The majority of women on Rikers are moms," says Chan. "The majority of men on Rikers are dads. This partnership with the Department of Correction represents a formative step towards humanizing the population on Rikers." He adds that the participants are pre-trial, meaning they haven't been convicted.
CMOM is in the process of installing permanent exhibition elements at Rikers, as it has done in more than 40 homeless shelters around the city. So why have the encounters at the museum rather than at the jail? Although children are allowed to visit, Bushara explains, the experience is far from ideal. "It can take two hours to get through security with multiple checkpoints," she says. "It is a very difficult experience for young children with many restrictions, including how much time they can spend with their parent in custody and a lot of the women say, 'I don't want my child to see me here.'"
Kelly Escobar, Ph.D., director of the Fund for Early Learning, notes that for young children, the environment can be just as important as the people they are with. "Prison visitation rooms are not welcoming. It is important for children to feel secure, excited, welcomed and loved, and the spaces at CMOM are special and warm. In them, it is easier for children and parents to connect, to have meaningful interactions, to feel like a family once again."
The incarcerated participants come by bus in shackles and handcuffs, but they are provided with street clothes as an alternative to DOC jumpsuits. The children, accompanied by their custodial caregivers (grandparents, older siblings, family friends), wait inside CMOM to greet them. Sometimes there are tears. Sometimes there is awkwardness. But there is always great emotion.
One young father said, "I thought I would be sad when my daughter left, but instead I feel hopeful. Like I know the next step to take to make good, get out of Rikers and be a good dad."
Fulfilling CMOM's mission to serve all children and families, the trips support close, healthy relationships between incarcerated parents and their children—for the good of both parties, as well as society. Naturally, they are conditional upon good behavior, and they have the added benefit of allowing DOC personnel to see women in custody as parents, not as criminals. They have also proved to be a powerful incentive to comply with the rules of conduct. Rikers officers report an improvement in behavior across the board, a pattern they hope continues after incarceration.
👉 Broken Bonds: Understanding and Addressing the Needs of Children with Incarcerated Parents (Urban Institute, 2008)
One participant told Bushara, "It made me realize how much time I'm missing with my child, and I can't get time back. I need to do better. My child needs me, and I need my child. I have to get out of Rikers and stay out." She reports another saying, "I feel hopeful. My family feels hopeful."
👉 Transforming Parent-Child Connections in Incarceration
Chan views the program as a means of preventing repeat offenses. "Our mass incarceration machinery is dehumanizing," he says, "and the system propagates adverse childhood experiences. This is the first step towards building those protective factors that are so necessary to end the intergenerational transmission of trauma, injustice and inequity."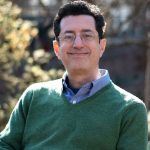 Early Learning Nation columnist Mark Swartz writes for and about nonprofit organizations. Author of the children's books Werner Herzog Eats His Shoe, Lost Flamingo, Magpie Bridge and The Giant of the Flood as well as a few novels, he lives in Takoma Park, MD, with his wife and two children.