The statistics on maternal mortality rates in the United States are, to put it bluntly, appalling. The U.S. has the highest rate of maternal mortality of any high-resource country—in 2021, there were 32.9 deaths per 100,000 live births. This is more than 10 times the estimated rates for other high-income countries: Australia, Israel and Spain, for example, all hover between 2 to 3 deaths per 100,000 live births. The number of women who die giving birth in the United States each year has almost doubled in the last two decades. And when it comes to dying from pregnancy-related complications, Black women are three times more likely to fall victim than white women in the U.S.
Anu Sharma was almost part of this statistic. After developing gestational hypertension during her pregnancy, she endured a grueling two and a half-day long labor that ultimately ended in an unplanned c-section with a near-hemorrhage in the operating room. After four days in recovery, she was sent home with instructions to come back for her six-week postpartum visit, even though, as she put it, "objectively, by the time it was all done, I'd become a high-risk patient."
Thirty-six hours later, she was in the emergency room, having diagnosed herself with postpartum preeclampsia. "When I showed up, I was on the verge of a stroke. I had quite literally saved my own life."
Looking back on it, she says, "It was one of those things where you could see the story in reverse, and you could see where the gaps in care were. It just blew my mind that something as universal as giving birth is such a fraught thing in the U.S. And a lot of it, in my view, came down to a care model that is incomplete [and] does very little to inform patients around risks, especially when they're vulnerable."
It was this experience (along with a professional background in the health care industry) that inspired Sharma to found the Millie Clinic in Berkeley, Calif., a maternity clinic devoted to holistic care throughout the pregnancy journey from preconception to 12 months postpartum. Everything about Millie is designed to fix what's broken with the current maternity-care model. Sharma wanted to build "something that really puts the patient in the center and acknowledges the experience that they're going through, holds the pieces together into something that feels like a more coherent experience, and then provides clinical care that's right-sized, more proactive and more complete so we can create better outcomes for birthing parents and really give their babies a strong start in life."
One of the most striking aspects of the Millie model is who oversees patients' care. Traditionally, when a person decides to start a family, they have to choose if they're going to opt for a midwife or an OB-GYN. But at Millie, there's no need to choose: You get both. "The model of care that makes the most sense for low-risk pregnancies is actually a midwifery model," Sharma says. "We've seen strong outcomes in terms of minimal interventions and higher rates of patient satisfaction, and lower costs. And then, we bring in that OB perspective in their prenatal care management. Both models of care—the midwifery model as well as the medical model, which is the prevailing standard in the U.S.—are important, and bringing them together is essential."
Also, notably different from the traditional model: Millie's focus on support and education for the postpartum parent. For most postpartum patients, Sharma says, "You're a pregnant person getting all this care and you bring a baby home, and then there's this checkout process, and it's like you're out in the wild. That's when you need all the support and handholding, and hopefully you remember what you learned in your prenatal classes, but God forbid if you actually have a question, where do you go?"
In contrast, Millie places an emphasis on that "fourth trimester," during which parents can struggle the most. "We do a home postpartum visit in the first week after birth, because that's a high-risk period for both the mom and the baby. We want to be able to more proactively assess risk and put people in the right care pathways."
In addition to several postpartum visits, Millie provides office hours for patients who have questions about, for example, their recovery, newborn care, feeding the baby and finding community-based resources. "And then we have whole host of services that wrap around the clinic, whether it be lactation or mental health and relationship support, or nutrition in the postpartum period."
Millie does not currently accept high-risk patients, but they hope to change that as their services evolve. "If a patient in our care does become high risk," Sharma says, "we either co-manage them with an MFM [maternal fetal medicine specialist] in our referral network or transfer care, as would be most appropriate."
Throughout the pregnancy journey, patients benefit from a much higher level of support than they would at a traditional clinic, with in-app tools, remote health monitoring, and a personal "Millie Guide": a doula to assist you as you plan for birth and postpartum life. Most importantly, Millie takes several insurance plans, as well as Medicaid. This is no bespoke service only available to people with higher incomes.
Millie opened one year ago in Berkeley, California — fueled by a $4 million seed round — and Sharma says there are plans to go nationwide, although she doesn't yet have specifics. She says the team is also looking at maternity care solutions that are not necessarily clinics. "There's a lot that you can do to provide care, to reach communities where it's most needed, where a clinic is not necessarily the right answer. And so we're working in both directions to identify these markets, and then lay the foundations for expansion there, but also innovating on care delivery formats."
It won't be easy, she admits, adding: "It's difficult to build companies like this for sure. We spent two, two and a half years before the clinic ever opened its doors, building the clinical model, the tech enablement of that model and then putting together the clinical team, building this physical space where the care took place, and health system partnerships and insurance coverages, and [figuring out] how we make ourselves known to patients in the community."
The challenges of building anything in health care however, have more to do with system-level challenges than they do with anything else. Therefore, it matters deeply what markets they choose: "You want to have like-minded health system partners. You want to make sure you have coverage by insurance." Those important factors will drive where Millie goes next.
Sharma also acknowledges that the nationwide OB-GYN and midwife shortage presents a challenge. Still, "we feel less concerned about being able to build out the clinical team because even today we have people who have built careers and have experiences working in some of the best health systems in the Bay area, and they still choose to come work with us, and I think it's because we're building something that resonates with them as care providers. It's the care they've always wanted to be able to provide to patients, which has not been possible in the systems in which they work."
The rewards, so far, have made it worth the struggle: all of the "Millie babies" born this year have had good outcomes. Sharma and her team are still gathering the data from their first year, but, she says, "top line is, it's a good thing all around. I think the Millie model has proven itself out."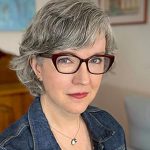 Alice Bradley is a Brooklyn-based writer and editor. She has written for numerous magazines and sites, including Salon, Health, Parents and Real Simple, and was a contributing editor to Creative Nonfiction. She co-wrote the humor book "Let's Panic About Babies!"