While we're taking Early Learning Nation Studio on the road less often during the pandemic, we're offering recaps—Top Takeaways—from important conversations, town halls, webinars and virtual events from the Early Learning field. Visit our 
Early Learning Nation channel
 on YouTube for interviews with leaders from education, child development, business, politics and more.
---
On Thursday, September 21,
Trust for Learning
and
All Our Kin
teamed up for a webinar titled "Educator-Led Movement Building: Lessons from Grassroots Leaders." The moderator was Chrisanne Gayl, chief strategy & policy officer of the Trust for Learning. (Disclosure: I consult to this organization.) Chiefly, the panelists focused on the March 2022
Morning Without Child Care
and legislative victories for family child care providers in Connecticut, but these five takeaways should resonate with advocates everywhere. Here are the 5 Top Takeaways:
1.

The Morning Without Child Care took a broad coalition.
Marina Rodriguez, All Our Kin's senior director in New Haven, called the event "truly a collaboration from all corners of the sector." The providers, who had educated state's young children during the height of the pandemic, often at significant personal sacrifice, turned out in great numbers to make sure their voices were heard. Their activism is credited for unlocking $120 million in stabilization funding, and the event inspired a
nationwide day of action
. "It was amazing to see everyone come together," said Nichelle Waddell, owner of Watch Me Grow Daycare in Stamford, Conn. "When our voices are heard, we do make a difference."
2.

The zoning victory relied on partnerships and patience.
Starting in October, providers like Waddell will be able to expand their programs from six children to 12. As
Emily Tate Sullivan explains in EdSurge
, "The law…protects home-based child care providers by prohibiting zoning requirements that treat them differently than the residents of other single- and multi-family homes, a practice that has historically hamstrung those who wish to care for and educate children in their homes." Waddell described the dilemma that providers like her faced, "I was constantly having to turn families away, because one person out of 23 [on a zoning committee] could block me." She mentioned the time a police officer and wife came with their three-month-old: "They were begging me, but I had to deny them because of zoning. That broke my heart, but it made me more determined to keep fighting."
The stakes were high. "I had two young children," she recalled. "I was scared. All Our Kin welcomed me with open arms and made me feel like I was part of the family." The Zoom hearing ran from 7:00 p.m. to 11:00 p.m., with 15 All Our Kin team members and educators in attendance, and the measure received unanimous approval that night. "I had never been a part of anything bigger than myself," Waddell said. Jade Thomas, Connecticut Early Care and Policy Fellow, acknowledged the participation of the Yale Law School Community & Economic Development Clinic (
read the resulting report
) as well as the
CT Association for Human Services
,
Connecticut Early Childhood Alliance
, the
National Women's Law Center
and the
Low Income Investment Fund
.
3.

Direct service and advocacy are better together.
Thomas highlighted the fertile intersection of programming and policy advocacy, noting that All Our Kin had decided to take on policy because "educators were running into barriers that couldn't be addressed through programming alone." Training, mentorship and policy education have all become part of how the organization does business. Pushing for administrative and legislative change, she cautioned, can be a slow and frustrating process, but the payoff is worth it. Systems change at the community and state level advances equity for the workforce and for families and communities.
4.

The ones living the reality should inform policy.
"Too often, policy is shaped by those who aren't living the reality," said Jessica Sager, cofounder and CEO of All Our Kin. Building on this observation, Thomas said the most effective and equitable way of addressing the shortage of infant-toddler slots is "building a coalition by identifying the people who are directly affected by the issue," adding: "If we want change the system, we have to follow their lead." Rodriguez recommended: "Honor the culture of educators. Remember, they have a lot to lose. Not everyone has the privilege of not having think about the consequences of activism." Noting that her own early care journey started a quarter-century ago when her son's Head Start teacher invited her to volunteer in the classroom, she added, "This work is about my life story. My family and I were able to move up and out of poverty."
5.

Emotions are welcome.
Rodriguez also emphasized the importance of being present and responsive to the needs of educators. "Providers have our direct numbers," she said. "They can reach us directly to complain or celebrate." Asked by Gayl about All Our Kin's commitment to
the principles of ideal learning
such as "Children and adults learn through relationships," she affirmed, "Emotion and values are at the center of everything we do." Waddell concurred, saying, "With advocacy, it has to be about more than yourself. This is about those who come after." Gayl added, "In the post-Covid era," there's a significant spotlight on early childhood education." With public and policymakers waking up to the systemic inequities and the potential solutions, she recommended taking advantage of this moment in time.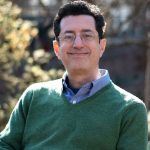 Early Learning Nation columnist Mark Swartz writes for and about nonprofit organizations. Author of the children's books Werner Herzog Eats His Shoe, Lost Flamingo, Magpie Bridge and The Giant of the Flood as well as a few novels, he lives in Takoma Park, MD, with his wife and two children.