The roots of the word
television
are ancient Greek τῆλε/
tele
, 'far' and Latin
visio,
'sight'. And ever since it arrived in American living rooms in the 1940s, producers have aspired to somehow shrink the distance between programming and audience. Now the digital age has created a gateway to connect with audiences anytime, anywhere and to provide an endless array of passive and active engagement with media.
"But none of this tech power will make our children's lives better unless it is deployed to strengthen the power of human relationships. The legacy of pioneers such as Sesame Street, Fred Rogers and Nickelodeon is that they all promoted a kinder citizenry and a shared future for all children. That's needed now more than ever." — Michael Levine, Senior Vice President of Learning and Impact, Noggin
For parents of young children concerned about screen time, ubiquitous media has long created tension, but the past year has highlighted the potential of high-quality digital programming to keep kids, and their parents, learning and connected even while they're stuck at home. "Just as stone tools were the technological breakthrough of early humans, today's kids have digital platforms to access the worlds' information at their fingertips!" says Michael H. Levine, Ph.D., senior vice president of Learning and Impact for Noggin, Nickelodeon's early learning service. "These now ubiquitous means of communication and learning weren't even contemplated three decades ago." This whirlwind history traces significant advances in the quest to make educational children's television and new forms of media an engaging experience—instead of one where the viewers are merely passive recipients.
The precursors: seeing yourself in the classroom. From the very beginning of the medium, children have been hooked and parents have been concerned: Is my child watching too much? Is it harmful? Could it maybe be a bit beneficial (because I have laundry to fold)?
In my
recent Early Learning Nation interview with Henry Louis Gates, Jr.,
the scholar and television host fondly remembers watching
Ding Dong School
—which premiered in 1952— and following along as Miss Frances led activities.
Ding Dong School
was shot with low-angled cameras to simulate the point of view of preschoolers. The following year saw the launch of
Romper Room
, which wasn't just one show but rather a broadcast concept that started in Baltimore and soon spread to dozens of other cities, each with a different host. The original, Miss Nancy, became known for holding up the frame of a hand mirror and calling out names of the viewers she could "see" in their homes.
Romper Room
taught math, spelling and etiquette. The popularity of Captain Kangaroo, which premiered in 1955, tilted children's television in favor of entertainment rather than education. Essentially, Miss Frances, Miss Nancy and Captain Kangaroo pioneered distance learning before the term came into existence, and the examples they set can be instructive for today's teachers who find themselves on the other side of the screen from their young students. As
Tabatha Rosproy
, the first-ever Early Childhood Teacher of the Year
remarked on an October 2020 Hunt Institute panel
, "Teaching is about 90% theater. Kids are going to know if you're excited to see them or if you're frustrated."
The man with the cardigan sweater: seeing into your heart. Mister Rogers' Neighborhood, featuring the soft-spoken and infinitely patient Fred Rogers, premiered in 1968. It may have seemed like just another children's series at the time, with the host interacting with puppets and singing songs, but over time it has come to be appreciated as an almost transcendent vehicle for children to get in touch with their emotions.
Ellen Galinsky—chief scientific officer at Bezos Family Foundation and author of the bestselling
Mind in the Making
—who worked with him,
writes in Early Learning Nation
, "Fred was a seeker of truth and it's because of this impassioned seeking that we, or at least I, continue to turn to him." The show went off the air in 2001, and Fred Rogers died in 2003, but his kind spirit lives on in a well-received documentary, a feature film starring Tom Hanks and the PBS Kids series
Daniel Tiger's Neighborhood
.
Big Bird & friends: seeing people like you on screen. Sesame Street, which premiered in 1969, the same year we landed on the moon, represented a "giant leap" for children's television. Creators Joan Ganz Cooney and Lloyd Morrisett adhered to a rigorous curriculum instead of selecting lessons based on what felt right.
They enlisted the brilliant puppeteer Jim Henson to create unforgettable characters that interacted with live actors. In addition, they conscientiously built a community that its intended audience would recognize as their own. In his foreword to David Kamp's
Sunny Days: The Children's Television That Changed America
(2020), drummer, bandleader and writer Questlove acknowledges: "There were plenty of cities on other shows…. But none of these cities were familiar to me the way that
Sesame Street
was. It was urban, maybe the most urban show on the air. On
Sesame Street,
'urban' meant what it is supposed to mean: a cityscape filled with different kinds of people, as well as busy stoops and storefronts where those people went to talk and joke and eat and sing. This was a community in the literal sense, which, to us kids watching at home all over America, became a community in the figurative sense." Nickelodeon, which was founded by the educator Geraldine Laybourne in 1979, became the first children's channel on cable television. It took some vital lessons from
Sesame Street
and added dimensions and characters of its own, notably the bilingual Dora the Explorer, who debuted in 1999. Levine, who was previously Founding Director of the Joan Ganz Cooney Center at Sesame Workshop, told me, "
Sesame
set the stage for a plethora of innovation in the children's media space. They built the mold, and companies like Nickelodeon and its offshoot Noggin, pioneered important new projects like talking back at the TV so that children could imagine playing along with their beloved characters."
👉 Read more: Molly of Denali's Native Smarts
Home video and the Internet: seeing what you want, when you want. While innovations in content have continued since Sesame Street, the big story of the past few decades is the technological innovations that seem to hand control to children and their adults.
First, VCRs made the content "on demand"; then DVDs and video games made it portable; and now YouTube and other streaming services allow children to instantly conjure virtually any favorite character, song or lesson in the back seat of the car. Along the way, television, or video elements became part of a more interactive multimedia landscape. The advent of touch screens, Levine acknowledges, is both a boon and a burden – enabling new levels of interactivity (including games) but also raising the expectation in young children that
everything
should be tappable (even books). The web's power and risks have prompted organizations like
Common Sense Media
and publications like
Tap, Click, Read,
which Levine co-authored with Lisa Guernsey, to help parents make better choices.
Seeing people like you in history. For Levine and his colleagues at Noggin, the next stage for young audiences has arisen in response to both the COVID-19 pandemic, which is keeping families at home; and the national reckoning with the legacy of racism.
A new music video series,
Rhymes Through Times
, celebrates historical African American leaders, starting with Ruby Bridges and Thurgood Marshall. Informally known as "Hamilton for Preschoolers," the series is a collaboration with Christopher Jackson (the original George Washington in
Hamilton
) and Lion Forge Animation (
Hair Love
). An upcoming project called "Big Heart" will tap musical talent including rapper Aloe Blacc to tackle broader social-emotional lessons, which Levine says should be part of the national conversation around learning loss. "Our families live in an era of transformational crisis and opportunity," says Levine. "Certainly, new media forms are evolving every day to help us remain productive, connected and entertained. But none of this tech power will make our children's lives better unless it is deployed to strengthen the power of human relationships. The legacy of pioneers such as
Sesame Street,
Fred Rogers and Nickelodeon is that they all promoted a kinder citizenry and a shared future for all children. That's needed now more than ever."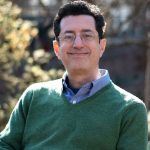 Early Learning Nation columnist Mark Swartz writes for and about nonprofit organizations. Author of the children's books Werner Herzog Eats His Shoe, Lost Flamingo, Magpie Bridge and The Giant of the Flood as well as a few novels, he lives in Takoma Park, MD, with his wife and two children.